Gord's Alberta Golf Notes: Summer Recap
Details

Category: Inside Golf
Published: 2022-09-20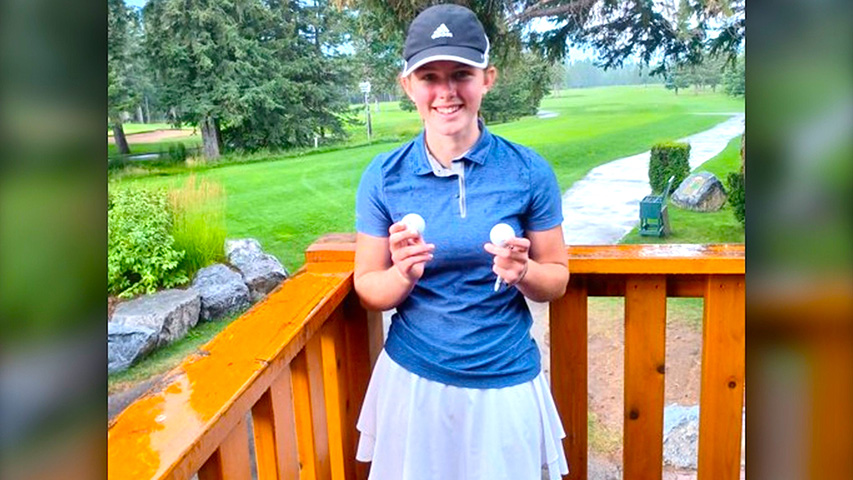 By Gord Montgomery, Inside Golf
Yes, it's been a hot and busy summer at Alberta golf courses in 2022 but as September starts to turn into cooler weather (after this so-called "heat dome" makes itself scarce), there was a lot of news to pass on from the past few months.
After two years of dealing with COVID-19 issues, the public appears to be feeling safer and as such, tournaments, of the amateur, the fund-raising, and the professional varieties, were back in full swing at a large number of facilities.
Even though gas prices soared during the early summer months, many rural courses still saw great numbers at their tracks, although a few reported there was a slight downturn in numbers for a while when gas was running at over $1.60/L.
One of the major highlights of the 2022 season had to come for a youngster at a southern Alberta course. During the club championship at the excellent Canmore G&CC, Adele Sanford, a relative novice in the game having only played for a short time and who was competing in her third tournament, recorded not one, but two aces in the same round. And not only that, the teenager did it on back-to-back par-3 holes, the 12th and 15th.
One of Alberta's nicest golf pros, and a great player to boot, was up to his old tricks as he once again walked away with the top prize in Alberta PGA tournament action. Riley Fleming, who teaches at Lynx Ridge GC in Calgary, took advantage of his home track and won the 2022 Club Car Championship. The sharp-shooting teacher showed students what competition is all about by carding a sterling 14-under par over two days of play. This was the third time he's won this title, also claiming top honours in 2018 and 2020.
Speaking of PGA events, this time, the PGA of Canada held their 2022 PGA Seniors' Championship of Canada (for players 50 and over) at the Connaught GC in Medicine Hat. There, BC's Jim Rutledge topped the field — on his 63rd birthday no less — to take the title. For his efforts, Rutledge — who plays out of the Uplands Golf Club in Victoria — earned $7,000. Alberta had four other players in the Top 10, with Calgary's Scott Allred from Elbow Springs GC leading the way by finishing tied for second, four shots behind Rutledge and Kent Fukushima, who placed fourth. They earned cheques of $3,250 and $1,800 respectively. Finishing in ninth place was Phil McCluskey from the RiverBend G&CC in Red Deer while Andre DiBartolo from the Edmonton Garrison Memorial Golf & Curling Club and Randy Robb from the Mickelson National Golf Academy in Calgary tied for 10th place.
The fabulous Red Deer G&CC played host to the top senior amateur players from across the country and beyond with the National Senior Men's Championship. When all was said and done, an American, Rusty Strawn from Georgia, who was on a roll coming in after having just won the American Senior Championship, walked away with the top prize after carding a 5-under-par score of 283 over four days to edge out another American, Mike Lohner from Texas, by three shots. Ken Griffith from the host club finished alone in third place at even par. Other top Canadians in the event included Frank Van Dornick from Camrose, AB, in fifth; Dave Bunker from Ontario in sixth; Grant Lee from Red Deer and Jay Doyle from Winnipeg who tied for seventh; and then rounding out the top-10 were Norm Bradley from Kelowna, B.C., and Kevin Temple from Calgary, who finished in a tie for ninth place.
While no Alberta juniors managed to cop a medal at the 2022 Canada Summer Games in Ontario, one from the south end of the province came close. Logan Graf narrowly missed out on a medal, as he wound up in fourth place. One thing he can hold onto though, at least for a few years, was a course record of 7-under par during his second round. Then Graf, along with teammates Georgia Barr, Cole Bergheim, and Jayla Lucy managed to place fourth overall in the mixed team event.
Not to ignore those playing in Alberta further north, Peter Hlushak from the Windermere GC in Edmonton worked for an extra seven holes to edge out Brae Rogalczyk from Olds in the U15 division of the Alberta Junior Boys Championship played at Alberta Springs.
Interestingly enough, even with the number of rounds continuing to surge this summer, a couple of golf courses changed hands. The Water Valley GC just north of Calgary was the first, when its former owner received an offer too good to refuse and passed the reins over to co-owners Pat Thomas and Jeremy Dueck. Then, further north and just west of Edmonton, the par-3 layout known as Duffy's Challenge (named for the former owner's dog who kept an eye on things) changed hands as the Morrison and Polson families teamed up to take on the operation of this tough track. They also changed the name to Glacier Greens GC and look to make many improvements as they get their feet on the ground after a mid-June takeover.