Two Courses In One At The Retreat, Spa & Links At Silvies Valley Ranch In Oregon
Details

Category: Inside Golf
Published: 2022-05-28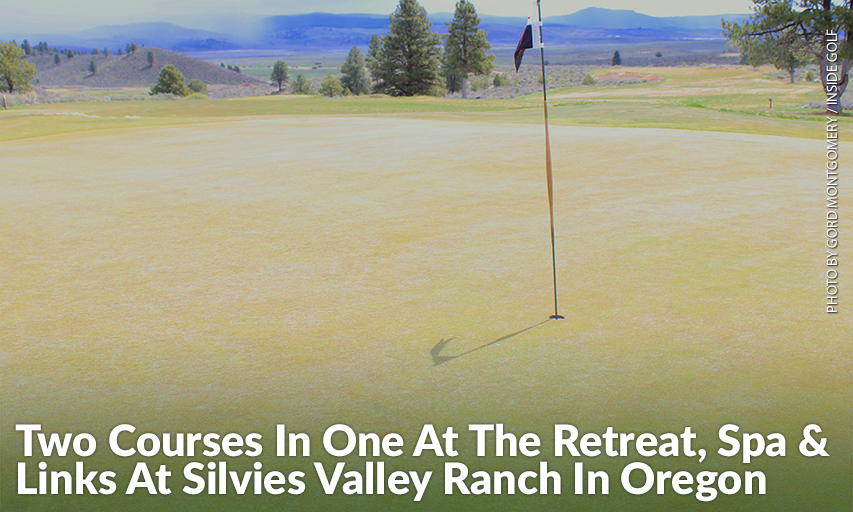 By GORD MONTGOMERY, Inside Golf
SENECA, Oregon — All right, here's a golfing math problem for you: How do you fit 36 holes of golf into 27 greens, 18 fairways, and 29 tee boxes? Let me help you with that query because, essentially, you need a Master's degree in calculus to figure it out.
Simply put, the Craddock and Hankins courses coexist for the most part over this winding, undulating terrain in eastern Oregon. To understand how this works on this course — uh, these courses — one day you play clockwise. The next, you play counter-clockwise. And yes, on the Hankins track, that is a bunker immediately in front of the tee box on the 17th hole, which is a bit unnerving, to say the least.
To clarify more, let's let Silvies' Director of Golf, Dave Lewis, explain the eccentricities of these courses, one of only three reversible courses in the world. The other two? The Old Course and The Loop in Michigan.
"People don't get it," the pro began about how these two tracks inhabit virtually the same ground. "We have 36 holes of golf and they are distinctly different. They just happen to be on the same dirt" that encompasses around 170 acres of land as opposed to the 350 acres a normal 36-hole facility would use.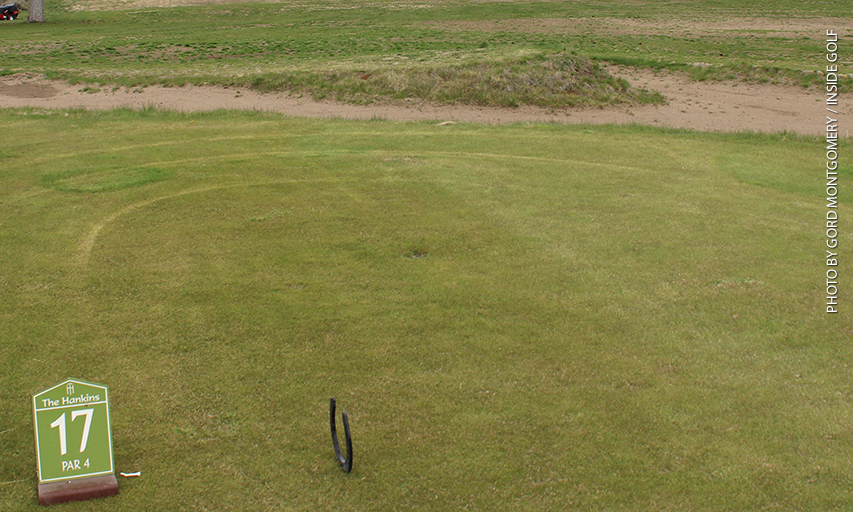 To Say Having A Bunker Immediately In Front Of The Tee Box, Like Here On No. 17 On The Hankins Course, Is A Bit Unusual & Unnerving But It Serves Its Purpose As A Hazard On The Craddock Course.
This idea sprang from the mind of the property's owner Dr. Scott Cambell, who at that time was a non-golfer. But he knew a man who knew a man, Dan Hixson, who was a course architect. "When they came up with this idea," Lewis said of the eventual collaboration between owner and designer, "it was going to be four reversible holes. Then it was 'How about six?' then, 'How about we just do the whole thing?'"
What's been created are two layouts that boggle the mind when you play them. Go one way and, really, you don't see the other design. Turn around and play the other way and it's essentially the same thing. Sure, every once in a while, you see something you remember from the day before, but it's not overly obvious.
There are nine double greens here, but only one hole per green per day. You play the same fairway 12 times with seven of the eight par-3s being standalone entities. The courses run on a north-south line, and as you go north you head uphill into the pine trees. Turn around, go downhill, and you're confronted with sagebrush and the valley.
"These are two utter distinctly different looks for your brain," the pro continued. "And people swear that, 'I haven't been on this hole!' but yes, you were yesterday. It was just a different part of the fairway." And the fairways here are massive, seeing as how they play home to two holes going opposite directions. In fact, the opening landing area off the tee on the Hankins layout is an astounding 235 feet wide!
One weak complaint that has been broached about these courses is there are no yardage markers. But having those is an impossibility as you're on the same fairway as yesterday but going a different direction, so the yardage you may be looking at would be inaccurate. Other than that minor point, there's no complaining about these two unique tracks.
The Hankins 18 plays to a total distance of just over 7,000 yards from the back tees, winding down to 6,575, 6,280, and 5,300 yards as you move forward. The sister Craddock track is much the same length, playing 40 yards shorter off the back deck, and reducing to 6,340, 5,533, and finally 4,338 yards.
Chief Egan and McVeigh's Gauntlet ... and Goat Caddies!
While the reversible courses are fun and intensely interesting, there are also two shorter layouts here for golfers. The first, the Chief Egan course is a par-3 nine-hole layout that's great for warming up. It's flat and easily walkable (no power carts allowed) and is family- and goat-friendly.
Goat? Yes, the four-legged variety can act as your caddie here (although they don't have much to say about the line of a putt) and at The Gauntlet, where they earn their pay in peanuts. Mark Conn, the resort's Director of Sales and Marketing, noted the goats are there for more than just picture-taking.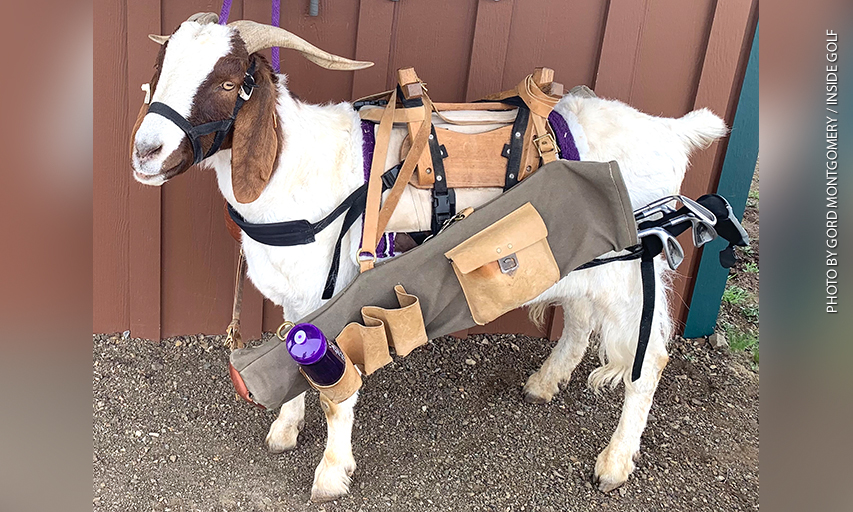 One Of The Best Things About The Tough Course Known As McVeigh's Gauntlet Is The Ability To Use A Goat, Like Charlie, To Tote Your Sticks — And Yes A Few Beer If You Wish — Up & Down The Rugged Terrain On The 7-Hole Loop.
"When McVeigh's was built, it was too severe to take golf carts on," he said of the winding, up-and-down teeth-chattering tee shots and approach whacks that face those brave enough to come to this foreboding spot of a mere seven holes. But what seven holes they are.
The first is a straight uphill shot of "only" 87 yards, but miss the green and the sagebrush gladly swallows up your errant missile. The second hole isn't much easier — a cross-canyon blast of 157 yards that sets your ego back a notch or two. Miss the green ... lose another ball.
The first sign of real relief on The Gauntlet, other than finding a wayward shot hiding in the sagebrush, comes on hole three, a par-4 trek of 197 yards with a fairway that's maybe 25 yards wide. But comfort is close at hand at the tee box with the Beer Tree (actually it's a Yeti cooler full of liquid courage). After a sip or two, you're on your way and enjoying the company of the caddie (Charlie the goat, in my case) who was really good — he didn't laugh once at any of my "baaaaad" shots!
Read the full goat caddie story here or tune into YouTube at Gord Inside Golf to see a 1-on-1 talk with Charlie, the goat caddie.
For more on these great layouts, go to silvies.us.