No Doubt About It, Charlie Was The G.O.A.T.
Details

Category: Inside Golf
Published: 2022-05-21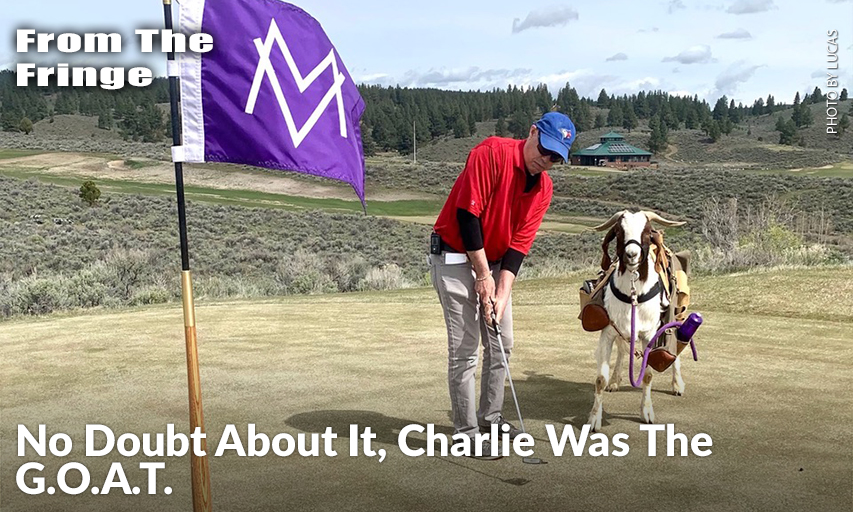 By GORD MONTGOMERY, Inside Golf
SILVIES VALLEY RANCH, Oregon — Right from the start, my caddie, Charlie, and I hit it off at the challenging course called McVeigh's Gauntlet here in rural Oregon. I'm not exactly sure what the attraction was. Perhaps just a simple case of animal magnetism.
Whatever, Chuck —  as I came to call him as we become better acquainted over that tenuous 7-hole stretch — trotted alongside me doing a fine job. Other than stopping to munch on grass — and poop on occasion — he was a joy to be with. Sure, he didn't read putts at all and his intermittent comments on my swings or ball flight was simply "Baaaaaaddddd." Overall though, he was the G.O.A.T. of caddies I've ever used.
Poop? Eat grass? Oh, did I forget to mention Charlie the G.O.A.T. is in fact a goat? Well there, now I've said it. Actually, to be nationality-correct, Chuck is a purebred American Range goat.
As one of only two golf courses in the world to use goats as caddies, The Retreat, Links and Spa at Silvies Valley Ranch in eastern Oregon is a very special place. And the round with Chuck, on a course that's a demanding walk and a golf-ball-eating track full of hills, rocks, and sagebrush, was a joy.
Chuck was a real trooper, asking only to be paid peanuts — "Salted ones, please," for his work. While he's a workhorse — please excuse that mixed four-legged metaphor there — his rule is he won't carry a full set of clubs. But, you only need a few clubs here and because of that, you can add a few extra pack pounds with cans of all-important adult beverages a.k.a. beer. And trust me, on the Gauntlet, those pops are a very welcome medication.
But this is about Charlie, not how many beers a human tosses back before even reaching the Beer Tree on the third tee!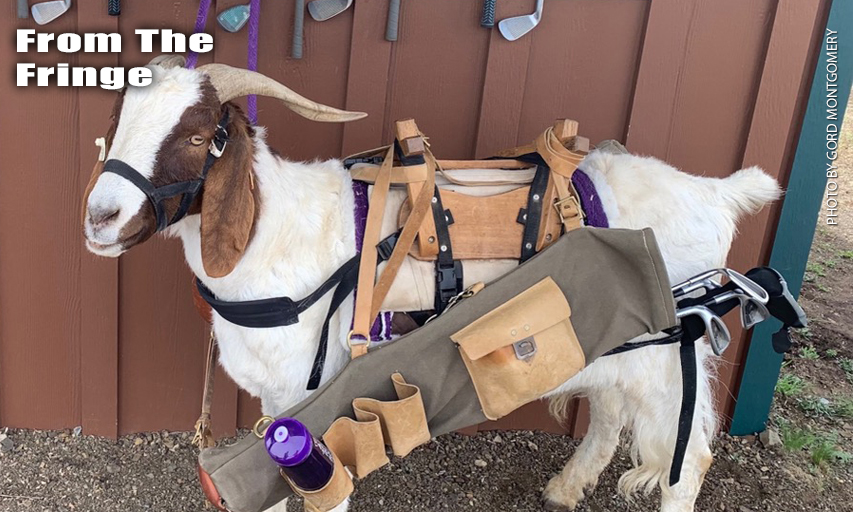 Charlie With His Custom-Made Saddlebags That Hold Up To Six Clubs, And More Importantly, Up To Six Beer!
Chuck (remember, we're buds now) can carry up to six of your sticks, along with balls and a human snack or two, remembering to be careful to place those out of his reach in his custom saddlebags. Otherwise, when he hears the rustle of food coverings, he's immediately focused on that and golf/caddying be damned!
Now, this trip around the links wasn't all smiles and peanuts. We had a slight conflict when Charlie (this was before we became good friends) decided to fertilize the first green ... and then just carried on as if nothing happened! We had a quick discussion then and there about proper course decorum and etiquette and from then on, everything was just fine.
At least until I figured Chuck deserved a reward for his work with an early treat of a few peanuts. "No!" exclaimed his handler, Lucas. "If you feed him peanuts now, he'll figure he's done for the day and just lie down and not get up!"
And there was no way I was carrying my clubs, balls, and beers over the final three holes even though it was mostly downhill. So sadly for Chuck, he had to do the wait-to-be-served thing until we finished.
Interestingly enough, Chuck is a rather shy dude. But with some sweet talk and, yes, a couple of handfuls of peanuts, I managed to convince him to do a 1-on-1, face-to-face interview that is now on YouTube and Facebook.
While I was all business in asking my questions, someone else decided pushing me around as much as possible — maybe "mugging me" is a more appropriate term — to get to the peanuts I had to offer was a much better idea, so things got a little shaky. But in the end, it all worked out.
To watch the interview with Chuck, go to Gord Montgomery on Facebook and Gord Inside Golf on YouTube.