Hakula Wins At Habor Hills
Details

Category: Inside Golf
Published: 2020-10-05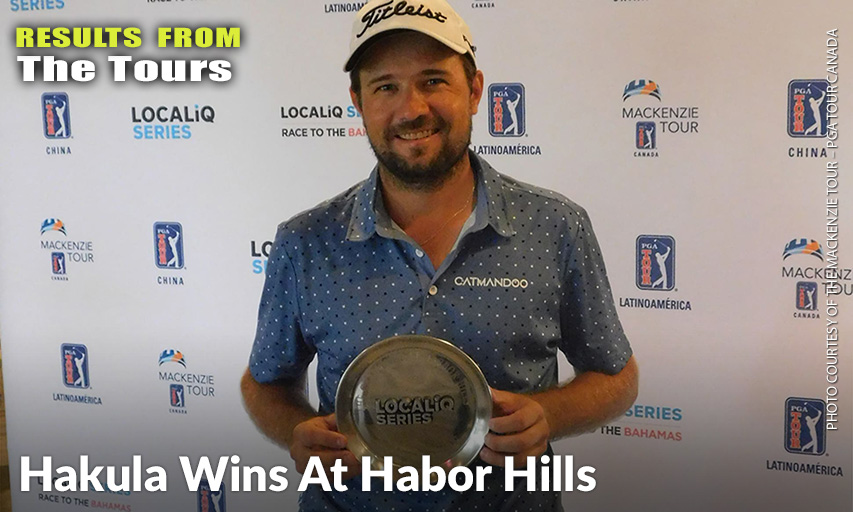 LADY LAKE, Florida—The birdie putt that put Toni Hakula into a tie for the lead late in the final round of The Challenge at Harbor Hills dropped from 60 feet. The birdie putt that gave him the win was a four-footer. Both putts, one on the 16th hole and one on the 18th, were crucial as the former Texas Longhorn via Finland won the sixth LOCALiQ Series event by a shot over Americans Cole Miller and Kyle Wilshire and Argentina's Jorge Fernández Valdés.  
Hakula was masterful in the final round as he improved his score each day of the tournament at Harbor Hills Country Club. After opening 66-64, he put together a seven-birdie 63 Friday that was just enough to give him his first LOCALiQ Series title, a win to go with his PGA TOUR Latinoamérica Bupa Match Play title in 2018.
After his unlikely birdie bomb on 16, Hakula stood on the 18th tee knowing Kyle Wilshire had posted at 16-under. Hakula and his playing partners, Miller and Fernández-Valdés, were also at 16-under with the par-5 finishing hole to play.
"I birdied it the first two days," Hakula said of Harbor Hills' closing hole. "I know I can't reach it in two (shots), but I can get it out there close if I hit a couple of good shots."
Hakula's two strokes came with his driver in his hand, and, yes, both were "good shots."
"I thought I would give it one more big lash with the driver and another off the fairway, too, and just hope to make birdie and see what happens after that," he added of his drive that split the fairway and his second shot that left him 50-plus yards to the pin.
Holding a wedge for his third shot, Hakula pitched to about four feet, the ball settling below the hole. Fernández-Valdés had a similar-length pitch from the fairway, but he got under his ball and left it well short of the green. Miller was to the left of the green, on a slope above the hole behind a bunker for his second shot.
"[The ball] was actually sitting up a bit, and I knew I could get a little spin on it. Right at the last second, I played it a little higher on the slope, which I wish I wouldn't have done," Miller explained. "I wish I would have gone a little more right at [the hole] to leave a little easier uphill putt. I thought it was going to spin right more and come down the hill."
Instead, Miller left what he called "a little curler" from about six-and-a-half feet that didn't drop. "I didn't mis-read it. I think that's the only putt I would want back from today," Miller added. "I just didn't hit it with the speed I had in mind. With a little more speed, it definitely would have held its line."
That left Hakula as the player who could win outright without forcing a playoff. The Helsinki native calmly drained his putt to record the win, his first since his dominating performance in Cancun when he won all six of his matches and coasted to his lone PGA TOUR Latinoamérica triumph two years ago.
Hakula laughed, thinking of the putt that put him in position to win—his unlikely birdie putt on the 16th that rolled and rolled and rolled . . . and rolled some more before finally going in.
"That was a bonus. It was one of the first times this year we had a bigger crowd watching us. It was fun to make one in front of a little crowd and get some cheers," Hakula said of the putt he made that drew him even with his playing partners. "I was just trying to give it a good whack and hoped it stopped within a couple of feet for a stress-free par. And it happened to drop in."
Miller gave Hakula a fist bump and even raised his putter after it fell in. "He hit such a perfect putt there. That was incredible to see. It's not like that happens all the time," Miller said of Hakula's heroics.
Even in defeat, Miller could only talk about how much he enjoyed his final round. "It was just a lot of fun today. This is why I play golf, and I would think this is why everyone plays golf," Miller said. "All of us in our group today played really well, and it just so happened the person who made a couple more putts at the end came out on top."
Did you know Toni Hakula was a member of the 2012 NCAA Championship-winning Texas Longhorn team? That victory was the school's third national title.
Through Jacksonville Championship
| Pos. | Player (Home Tour) | Points | Previous Position |
| --- | --- | --- | --- |
| 1 | Bryson Nimmer (Mackenzie Tour) | 1,419.000 | 1 |
| 2 | Carson Young (Mackenzie Tour) | 747.967 | 2 |
| 3 | Toni Hakula (PGA TOUR Latinoamérica) | 664.500 | 21 |
| 4 | Hayden Shieh (Mackenzie Tour) | 640.000 | 3 |
| 5 | Stoney Crouch (Mackenzie Tour) | 552.333 | 4 |
| 6 | Cooper Musselman (Mackenzie Tour) | 509.500 | 5 |
| 7 | David Pastore (Mackenzie Tour) | 472.150 | 6 |
| 8 | Alex Smalley (Mackenzie Tour) | 412.000 | 7 |
| 9 | Cole Miller (Mackenzie Tour) | 356.083 | 24 |
| 10 | Rowin Caron (PGA TOUR Latinoamérica) | 337.417 | 8 |
NOTE: THE TOP-TWO FINISHERS ON THE POINTS STANDINGS WILL EARN INVITATIONS TO FUTURE, TO-BE-DETERMINED PGA TOUR TOURNAMENTS.
The Challenge at Hidden Hills is the second event of the Arcis Golf Florida Swing, which rewards the top-two performers in the three LOCALiQ Series tournaments in Florida. With his victory at Harbor Hills, Toni Hakula moved into second place in the standings, 13.667 points behind overall leader Carson Young. Cole Miller, a runner-up this week and a tie-for-fourth finisher in Jacksonville a week ago, moved into the third slot, with David Pastore and Rowin Caron rounding out the top five with one week to play. Arcis Golf, the premier operator of public, resort and private golf clubs in the United States, has a current portfolio of 60 properties located coast to coast in 13 states, including The Club at Weston Hills—the site of the final event of the Arcis Golf Florida Swing next week in Fort Lauderdale. Arcis Golf will present a $7,500 bonus to the top finisher, with the second-best performer taking home $2,500.
ARCIS GOLF FLORIDA SWING STANDINGS
Through Jacksonville Championship
| Pos. | Player (Home Tour) | Points |
| --- | --- | --- |
| 1 | Carson Young (Mackenzie Tour) | 563.667 |
| 2 | Toni Hakula (PGA TOUR Latinoamérica) | 550.000 |
| 3 | Cole Miller (Mackenzie Tour) | 308.333 |
| 4 | David Pastore (Mackenzie Tour) | 252.250 |
| 5 | Rowin Caron (PGA TOUR Latinoamérica) | 245.000 |
| T6 | Jorge Fernández-Valdés (PGA TOUR Latinoamérica) | 208.333 |
| T6 | Kyle Wilshire (Mackenzie Tour) | 208.333 |
| 8 | Chris O'Neill (Mackenzie Tour) | 182.500 |
| 9 | Michael Johnson (Mackenzie Tour) | 133.250 |
| 10 | Camilo Aguado (PGA TOUR Latinoamérica) | 129.500 |