Gord's Alberta Golf Notes: Birds Of A Different Kind; More Tourney Wins; Nothing Stopping Fleming
Details

Category: Inside Golf
Published: 2020-08-24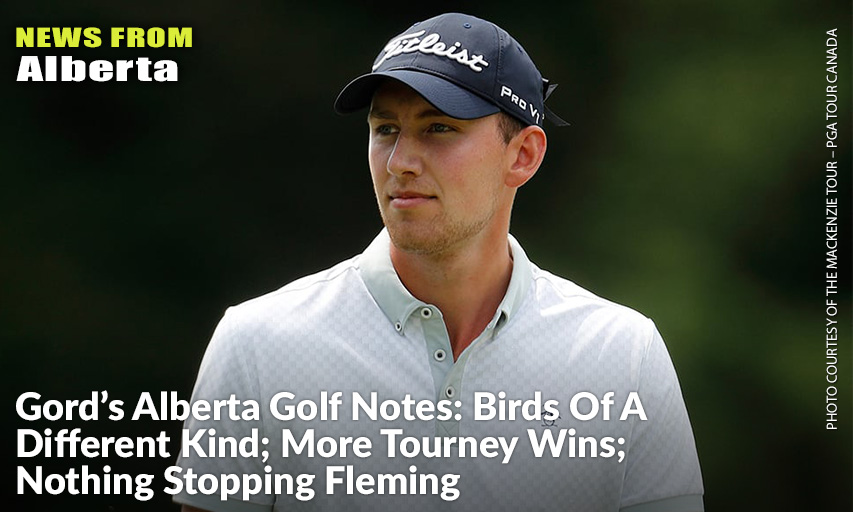 There were birds aplenty at a recent stop on the McLennan Ross Junior Tour at the Stony Plain Golf Course, but these were they type no one really wanted to see. You see, these birds were protecting an injured partner and as such took to dive-bombing some young ladies who were on the penultimate hole in their round. According to Dunc Mills, the head honcho of this popular tourney circuit, the girls were approaching the 17th green when two hawks suddenly became aggressive in providing security for an injured compatriot. That caused quite a commotion and halted play, at least until Alberta Golf's Grant Cammidge, who is the former head pro at the track, stepped in to distract the angry feathered missiles. Fortunately, that worked, the hole was skipped, and everyone was able to finish the tourney.
A young pro from Calgary has already started to make a name for himself, as Evan Holmes claimed a win in the Sun Life Series on the beautiful Mountain Course at Bear Mountain in Victoria, B.C. It was the first of four stops on this mini-tour which is essentially taking the place of the Mackenzie Tour – PGA TOUR Canada, which is in hibernation because of COVID-19. Besides cashing the winner's cheque, Holmes pocketed another $2,500 thanks to the generosity of some present and past Canadian PGA TOUR players, including guys like Mike Weir, Stephen PAmes, who formerly lived in Calgary, Mackenzie Hughes, Nick Taylor, and others. That's a way they feel they can help the young up-and-comers make ends meet in a tough business to earn a living. The tour has one more stop at Bear Mountain before heading to Ontario for two stops.
Also on the pro side of the game, it appears as if nothing is going to stop Calgary's Riley Fleming from pocketing the majority of the money the province's pro association puts up for tournament play. Fleming, one of the nice guys in the golf industry, won his second major provincial title in Red Deer in mid-August, by capturing the PGA of Alberta Championship, which was again hosted at the River Bend G&RA in Red Deer. Fleming, from Lynx Ridge in Calgary, edged out fellow Calgarian, and defending champ, Wes Heffernan, by two strokes, the difference in their final round scores of 65 and 67. The win for Fleming followed his title at the Assistants' Championship, where, who else but Heffernan finished second. 
At the Alberta Match Play Championship, it was back-to-back wins for Max Sekulic, from Calgary (anyone else notice a trend here?) as he took down Tommy McKenzie (dare we say, he too comes from Calgary) at the scenic, and challenging Jagare Ridge GC in Edmonton.
A new golf course architectural firm, headed by a big Alberta name, has taken hold and appears to be gaining a great reputation in a hurry. Under the name of WAC Golf, the trio of (Rod) Whitman who hails from Wild Rose Country, (Dave) Axland, and (Keith) Cutten the group has gained acclaim for their cutting-edge design work. Whitman is of course best known in his home province as the designer of the Old Course at Wolf Creek Golf Resort and is also well-known nationally as the guy who created the famed Cabot Links course in Nova Scotia. On their website (wac.golf) Whitman states, "The most enduring golf courses aren't created on a drawing board in a downtown office. They're built by golf architects who spend an extraordinary amount of time on-site, in the dirt, throughout an entire project. It's the guys with dirt under their nails who will never build the worst courses and have a better chance to build the best."
While green fee play is up, substantially across the province, it seems as though one end of the golf business is hurting this year — that of food and beverage. While the majority of golf courses seem to have full tee sheets almost every day, the one area that's missing in a strong economic season for Alberta courses is tournament play. While the greens fee guys and gals make up for the lack of tourney registrants, nothing can make up for those missed banquet dollars for post-event celebrations. We'll have more on this conundrum in a longer article next month on InsideGolf.ca.