Canada's Aaron Cockerill Ready To Travel The World On European Tour
Details

Category: Inside Golf
Published: 2019-11-26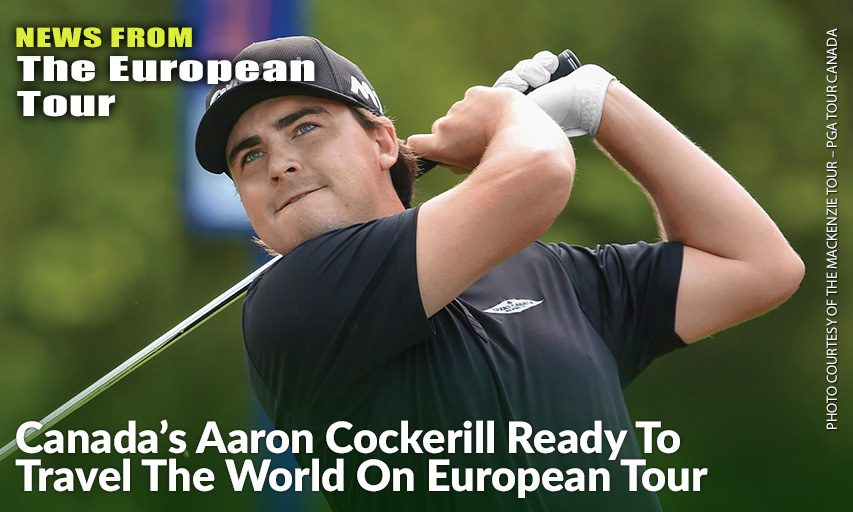 By JOHN CHIDLEY-HILL, Canadian Press
Aaron Cockerill only needed to glance at his phone to find proof that he'd qualified for the European Tour.
Cockerill finished seventh overall at the Q-school event in Tarragona, Spain, on Wednesday, finishing 16-under overall at the six round event to earn a partial exemption on the Euro Tour this season. His cell has been ringing constantly since.
"Oh god. My phone hasn't stopped buzzing for a couple of days," said Cockerill during a layover on his way home to Stony Mountain, Man., 35 minutes north of Winnipeg. "It was cool to see a lot of people that I've run across in the past reach out, message me and all the kind words that everyone's had to say.
"I just had a seven-hour flight and I'm pretty cheap so I don't normally buy the Wi-Fi but I bought the Wi-Fi and I was basically going through my phone for seven hours responding to people and going through social media."
The 27-year-old Cockerill struggled in the first round, firing a 2-over 73 but recovered with a 66-69-67-68-69 line at Lumine Golf Club to finish nine strokes behind winner Benjamin Poke of Denmark in front of a crowd that included his parents.
"My parents had never been over to Europe before and they decided to come over, so that was pretty special to have them there," said Cockerill. "It's a hard game, so it was pretty emotional. When I was done it was exciting and a relief."
Cockerill has spent portions of his professional career on Canada's Mackenzie Tour and the Challenger Tour. He's also played in events in China and Australia. He's excited for the new challenge the European Tour represents.
"The world ranking points, the purses, the schedule, it's a massive difference. It's probably the second biggest tour in the world behind the PGA Tour, right?" said Cockerill. "I'm super excited to play. Other than the PGA Tour it's probably the best tour you can play."
Cockerill doesn't yet know what tournaments he'll play on for the entire season since he has a limited exemption as a Q-school qualifier.
However, he does know that he'll be playing in the Alfred Dunhill Championship in Malelane, South Africa next Thursday, then compete in the AFRASIA BANK Mauritius Open on Dec. 5 before heading Down Under for the Australian PGA Championship in Gold Coast on Dec. 19 before returning to Manitoba for Christmas.
Just days into the new chapter of his career, Cockerill's still processing what it means to be on the European Tour.
"I've thought about it a little bit, but I'm also trying to figure out so many things right now in terms of schedule and flights for the next one that I haven't had too much time to think about it," said Cockerill. "It's exciting to be playing in these bigger events. Some of the guys I know who got through last year turned it into a lot more, like full cards for the next year and better schedules. It's just really exciting."