Taking On Vernon's Big Three – The Rise & Predator Ridge (Part 2)
Details

Category: Inside Golf
Published: 2019-10-08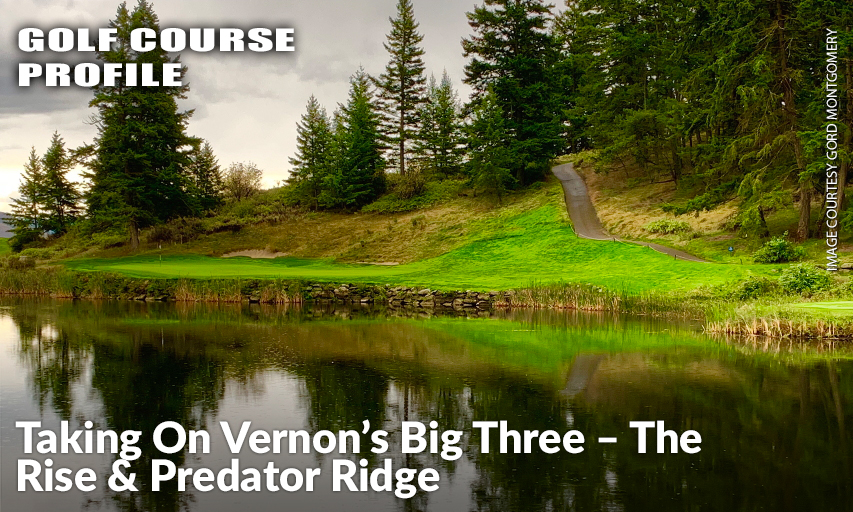 By GORD MONTGOMERY, Inside Golf
Having warmed up on more modest terrain at the Spallumcheen Golf & Country Club and Vernon Golf & Country Club, iG writer Gord Montgomery was ready to test his skill, and wayward shot-making abilities, at higher elevations in the North Okanagan as he headed upward and onward to challenge The Rise and Predator Ridge Resort's two courses.
VERNON, British Columbia — A bit of a drive upwards in Vernon can change your perspective of golf in a big way. The dramatic elevation changes tossed your way at both The Rise, a Fred Couples Signature Golf Course, and the two outstanding tracks at Predator Ridge Resort, The Predator and The Ridge, mean you'll be using every club in your bag. At the same time though, you'll be using every shot your phone camera can handle with stunning hilltop views of Okanagan Lake and the mountains beyond.
The Rise
The Rise is in the middle of a small-scale renovation due to an ownership change. Those changes will make it somewhat more player-friendly on this demanding layout. Yet at the same time, the new owners are looking to keep it as a true test of mountain golf. The biggest change coming down the line is the plan to put a clubhouse smack in the middle of the 18th fairway. That process will change the hole from a par-4 to a par-3, but other on-course changes will make up for the lost yardage there.
General Manager Ian Renton started by explaining why the nines have again been flipped where you now begin on a par-5 as opposed to a shorter par-4 hole in the recent past, that now becomes No. 10. "This was to take it back to what it originally was," he noted of what Couples saw as the proper way to start a round here. "One was a great starting hole and 17 and 18 were such dramatic views, so it was a great way to end the course."
As to the opener, a par-5 measuring out at just under 500 years off the Blue tees, which was once deemed to be too difficult a way to begin, Renton stated, "I think it's easier than it looks. It's downhill and a lot wider than it looks." That being said, there is a severe drop to the left of the fairway and a creek that guards the front of the green which is wide, but narrow. "The comments have been the course is tough but like everything, if you play the proper tee and hit it straight, it's a fun course to play."
Hitting it straight out here is a big thing. There are some tricky holes, and several blind tee shots that keep you on your toes. Because of that, if you have a moment waiting for the group in front of you to clear, take a drive ahead to see where you want to go if you're new to this track.
As for other work being done at The Rise, the ultra-difficult second test, an uphill dogleg left should become a bit tamer. No, both your tee ball and your approach are still going to be steeply uphill with an elevation change of somewhere between 200 and 300 feet. To help soften that challenge, the hole will become a five par rather than a fou. While you may have a few choice words after completing this task, remember, this is the only steep uphill challenge here, and you're rewarded later on with holes having a downward slope to them.
"It's probably the toughest par-4 hole in the valley so we'll lengthen it a bit," said Renton about easing the pain on the second hole. He then added that No. 11, at present a par-3 will have one stroke added to it in order to keep The Rise's scorecard reading as a par-72.
Overall, The Rise is a true challenge but a fun play. The big thing here, aside from securing a par or two, are the views and the elevation changes, which means your camera, as well as all your clubs, will get a great workout as you tour this acclaimed design. And remember, go in with a positive attitude toward this layout. Remember that bogeys aren't necessarily evil things here and pars are to be celebrated.
For more on The Rise, go to TheRiseGolf.ca.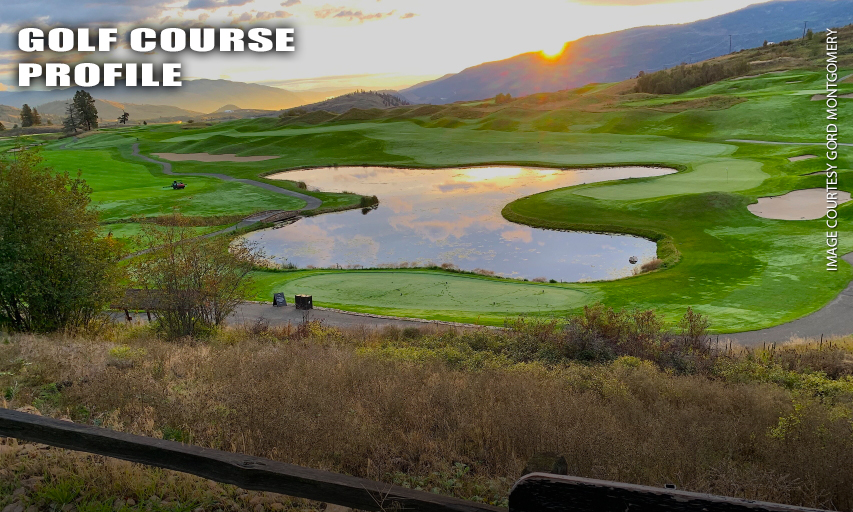 An Early Morning Sunrise In Vernon Highlights The Opening Hole Of Each Nine At The Famed The Predator Course.
Predator Ridge Resort
Across the lake lay two outstanding courses at Predator Ridge Resort. The first track, The Predator course, came into the spotlight as the host of a Telus Skins Game in 2008, starring Mike Weir and Fred Couples among others. As such, this was a tough test back in the day which has now been softened somewhat and changed a bit.
Speaking to this half of the resort's 36 holes, Claus Larsen, the Director of Accommodations, noted it's a hybrid links style of play. "It's still 90 per cent in its original state. It's still a very tough challenge of golf. A lot of people say this is their favourite; a lot of people say The Ridge is their favourite. So we cater to everybody now."
On The Predator, one faces rolling, sloping fairways and large greens, highlighted by varying slopes. The two holes that stand out here are both on the back nine, with one staring you down as soon as you make the turn.
The 10th is a par-5 uphill beast of 526-yards and more, which is guarded by a phalanx of bunkers as you approach the green. Come  up short of a rather narrow putting area and you're faced with an uphill sand shot, where if you're long, your sphere tumbles down another hill on the far side of the green making for another tricky shot.
The other notable hole one the inward nine is the other par-5, the 14th, which requires a tee shot over a big lake regardless of where you tee it up. Carrying that hazard isn't overly tough — as long as you don't try to cut too much of it off. Landing safely though only means another carefully placed shot toward the green below you, that's again guarded by bunkers and the edge of the lake on the right-hand side of the green.
"The Predator was the original course and was a very tough, but very fair course," noted Larsen.
Having wrapped 18 up there, you move onto The Ridge course. While it may be deemed somewhat easier, it can also provide challenges. The thing is, this scenic beauty took some of the pressure off its big sister.
"It got to a point and time where we got so busy we saw the need for a second course,"  Larson pointed out, leading to the building of the resort-style layout, The Ridge. It's acclaimed as being more accommodating "to the average golfer."
"With its elevated tee boxes and views of the lake, it's very, very stunning," Larsen said of the second 18 that was put in play. "But it also caters to the short golfer so they can all feel good."
This track is extremely photogenic but it can play long, over 7,000 yards if one desires so it's no walk in the park. The usual tees for players though measure out around 6,200 yards and with so many downhill tee shots, it actually plays somewhat shorter. The fairways here are large and inviting as are the greens making it a fun, relaxed play no matter what your skill level.
And remember — have your phone or camera battery fully charged when you tee it up here because you'll be delighted when your scorecard records fewer shots than your device at the end of the day.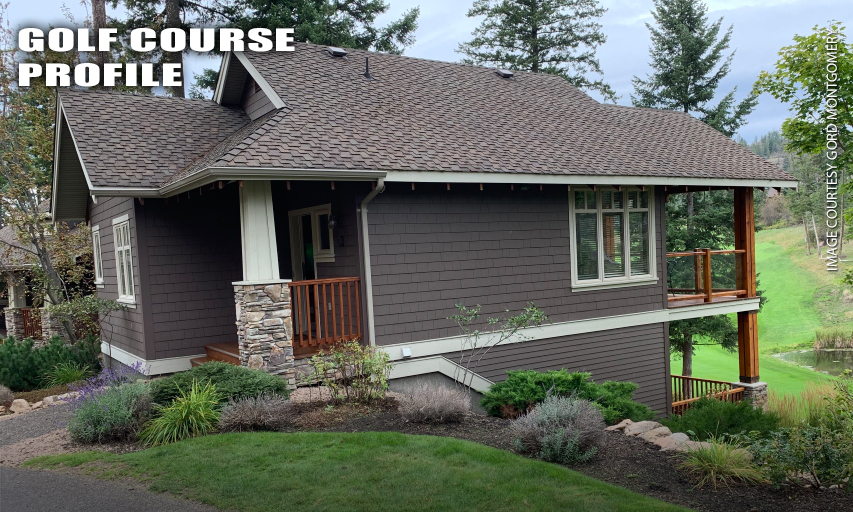 The Peregrine Cabins, Located Just Above The Beautifully Manicured The Ridge Course at Predator Ridge Resort, Offer A Spectacular View, And Setting, For Golfers Who Put In A Good Day's Work On One Of The Two Golf Courses Here.
Beyond Golf
While best known for its great golf, the Predator Ridge Resort is now about more than one game. Over the years it has become a mecca for a variety of year-round activities.
"We are one of the most amenity-rich communities in the Okanagan Valley," Larsen explained. "We now have a full tennis and raquetball club which includes pickle ball and we have those under a dome," for winter play. That cover is removed during the spring and summer months so guests can take in the beautiful weather in this part of the country. "We have three different yoga platforms with views of the lake and resort. We have 56 kilometres of mountain bike trails," plus snow shoe and cross country ski routes in the winter. "We have a lot for everybody. It's not just a golf resort anymore," Larsen concluded.
Where to Stay
Anyone going to Vernon from outside the area needs a place to stay, and really, there's likely no better place to settle in than at Predator Ridge's fine variety of accommodations. And, they're available for small to large groups on a short-term or long-term basis.
As the popularity of Predator Ridge Resort has grown over the years, some changes have come into play to handle the volume. Claus Larsen, the Director of Accommodations here noted the area is now busy year-round, so housing visitors became a priority. Interestingly enough, that's why the changes happened to the two golf courses.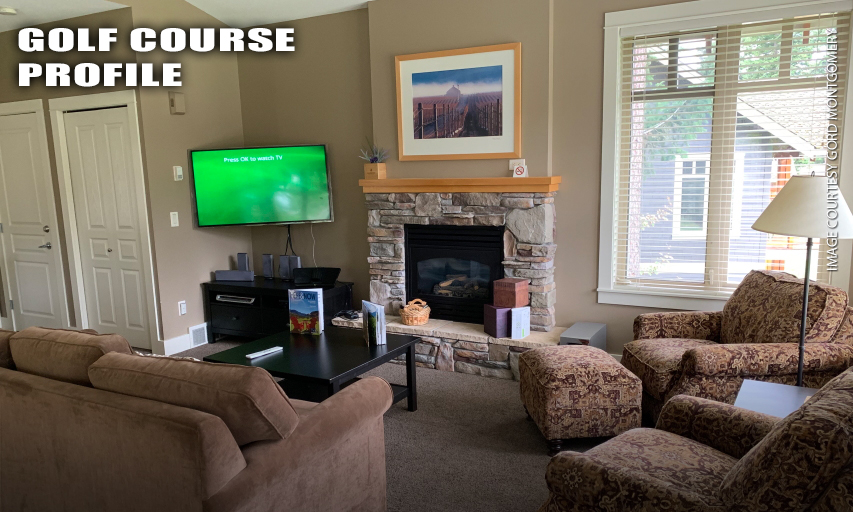 The Interior Of The Peregrine Cabins Shows One How Comfortably Appointed The Living Area Is. The Units Also Include A Fully-Appointed Kitchen As Well As Two Bedrooms and Two-And-A-Half Baths.
"As the resort developed we saw the need for more accommodation. So, we decided to move hole number one on The Ridge course. We moved that over 140 feet and that also affected three holes on The Predator course. During the winter of 2018-19, we moved 24,000 dump trucks of dirt," and through the oversight of Canadian architect Doug Carrick, and member input, the new designs were incorporated to great acclaim. And while the golf, and other amenities here are wonderful, he housing options are outstanding whether you're in the lodge or one of the premier cabins. Short- and long-stay visitors are welcome here, year round.
The signature residences are the Peregrine Cabins, built for the Skins Game. They feature two levels with two bedrooms, two and a-half baths, and are fully equipped for rentals.
"They're homes. We have 41 of those cabins," many of which feature wonderful views of The Ridge course. They also offer patio space and a gas barbeque. There are also the Falcon Point cabins which have their own private swimming pool and hot tub area. These come in one, two, and three bedroom options. To top all that off, there is the lodge, which runs like a hotel with suites ranging from 500 up to 1,100 square-feet studio to two bedroom units. All of these offer fully equipped kitchens, gas fireplaces, soaker tubs and plush bathrobes for guests.
For more on these great golf courses, and accommodations (by the way, you don't need to be a member here to stay here) go to PredatorRidge.com.