Pouring And Partaking Of A Few Pints, With Darren Clarke
Details

Category: Inside Golf
Published: 2019-09-16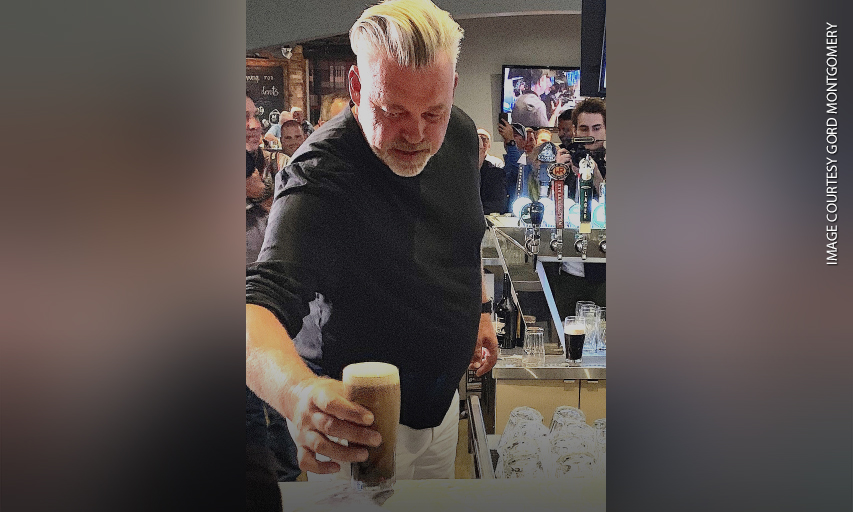 By GORD MONTGOMERY, Inside Golf
CALGARY, Alberta — It' not often one can get up close for a one-on-one chat with a member of the PGA TOUR Champions. And while this Inside Golf writer didn't get any private time with former Open champion Darren Clarke, save for a brief moment in a hotel lobby, during the Shaw Charity Classic in Calgary, he did get to sip a pint and listen to the affable Northern Irishman regale a sold-out crowd of fans with tales at Ceili's Irish Pub, thanks to Tourism Calgary.
Here are some of the quips and comments Clarke, now 51, had to make about life on the tour, life after winning the Open, and simply his life in general.
About hitting the Ceremonial Tee Shot at this year's British Open as a former champ and at his home course, Royal Portrush:
"They asked me about three weeks before to hit the opening shot. To hit the opening tee shot, you're supposed to be something like 70! It's almost like ceremonial but at the same time it's not something you can say no to … before I hit the opening shot, I was all cool. I've hit some big tee shots in my time. I was up at 5:40 in the morning practicing, chipping, putting, and everything was going great. And then I step onto that first tee and think 'Ah shit! What's gonna happen here?"
About his play at the latest Open after starting three-under on the first five holes of Round 2:
"I played nicely on the Friday (finishing at even par) and started well the second day. Then I took a treble bogey on a hole (the 18th) I've never taken a treble on before … and I was so pissed I lost the power of speech for a day after I missed the cut! I was so pissed walking off that 18th green!"
"But overall, the tournament was a huge success and I enjoyed being a part of it. And thankfully, touch wood, I'm exempt until I'm 60 so I may have another shot at it!"
About another Irishman, Shane Lowry, winning this year's Open and the celebration:
"Very few people celebrate the way Irishmen do. We tend to do it right!"
About his own celebration after winning the Open in 2011 :
"Oh, wasted! We had a party afterwards and that went until about 1 a.m. Then we went to the house we were staying in and carried on drinking … and carried on drinking! It got to about 6 a.m. in the morning and we'd run out of red wine and beer so it was a case of 'Do I go to sleep or keep going?'
"I opened a closet and found a large bottle of vodka and 24 cans of Red Bull … it was if it was fate!
"I thought I'd have one, then I had another one, then another one. They found me in the kitchen at 8:30 in the morning, hammered, still in the same clothes I'd come off the 18th green. They told me I'd have to go home and get changed, which I did, and then I went up and I allegedly tried to speak to the world! It was one of those moments I was always going to cherish and enjoy …  For me it was a culmination of years of work and trying to achieve what I'd achieved … and I enjoyed it a little too much!"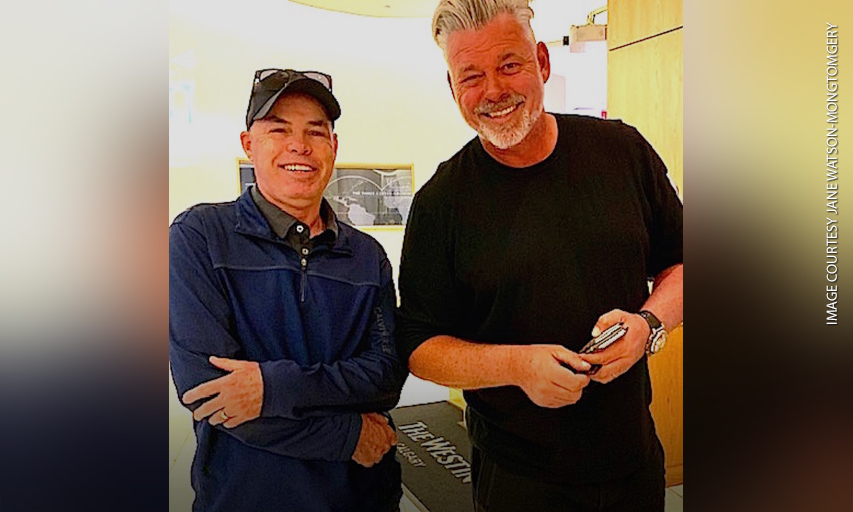 Inside Golf's Gord Montgomery (The Little Guy) Poses With 2011 Open Champion Darren Clarke
In Ireland, or maybe around the world, have you bought a pint since you won the Open?
"Bought, and consumed many, yes!"
About being one of the most likeable athletes in the world:
"Athlete is a very generous term! Athletes are the modern golfer not the old ones!"
On winning the World Golf Championship Match Play in 2000 including defeating Tiger Woods 4&3 in the final:
"It was very cool. In match play you've got 64 of the best players in the world. I played quite nicely, played OK, and held off Tiger in the final round.  They handed me the cheque on whatever green it was, the 16th green, for I forget what it was, one million and 96 thousand dollars."
About Rory McIlroy:
"He's just ridiculously gifted … He's probably more gifted than anyone I've ever seen, apart from Tiger."
About transportation and his love for fast cars (including having owned 15 Ferraris):
"Lambos (Lamborghini), Ferraris, you name it over the years. All sorts of stupid things. I've got a need for speed. It's just one of those sorts of things; I'm alright now. But whatever. It was just one of those things … Living in London they're two a penny. You see them all over the place but in Northern Ireland there was very few there, so I didn't want people to see me driving a Ferrari or Lambo and say 'There's that dickhead, Darren Clarke,' so …"
So, what do you drive now? A mini-van?
"No, Now I've only got two!"
Can you just show up anywhere and play?
"It depends on what your record is. It depends on how much you won, where you've won. That makes things a little bit easier. For the most part, if you wanted to play somewhere, the courtesy is to call the head professional. That's the right way to do it and if you do that you'd have a good chance of getting on."
About the Shaw Charity Classic:
"The whole team has done a wonderful job. It's wonderful to see an event which gets all of the local people's attention. Everybody knows about it. Everybody is aware of the Shaw Charity Classic. This was my second event on the Champions Tour last year and one of the guys said 'You go up to Calgary and see the crowds and it's like a full blown PGA event. We go to a lot of tournaments, and don't get me wrong, they're wonderful tournaments but we don't get that big of crowds. The atmosphere helps us. The crowds make it better and this is probably the best attended one out of all those championships."
---
About the Writer
Gord Montgomery is a member in good standing of the Golf Journalists Association of Canada. He is now in his 10th year of writing for Inside Golf. He can be reached at This email address is being protected from spambots. You need JavaScript enabled to view it.. He's also on Twitter at @gordinsidegolf and on Instagram at gordinsidegolf2.