Gallagher's Canyon Set the Standard for Okanagan Courses
Details

Category: Inside Golf
Published: 2019-07-10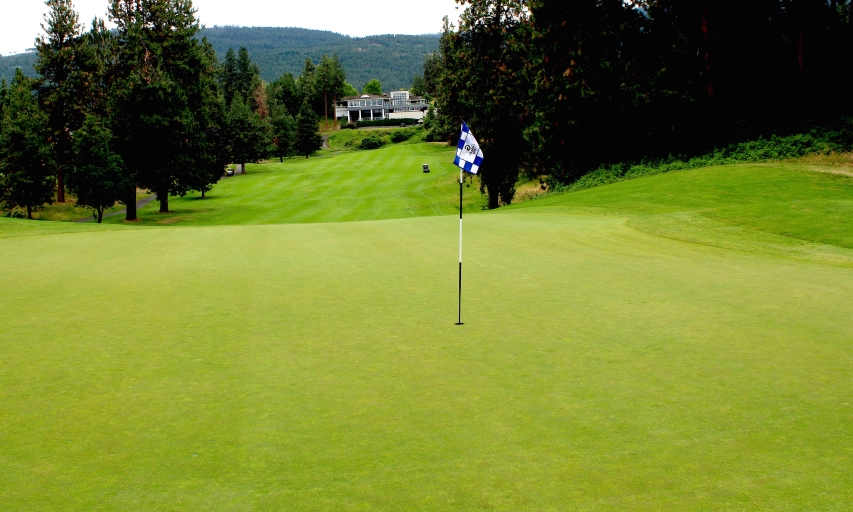 By GORD MONTGOMERY, Inside Golf
KELOWNA, British Columbia — When they first put shovels in the ground to begin construction of what became known as Gallagher's Canyon in Kelowna, it was likely Bill Robinson, the main architect of this stunning property, had little idea what a trend setting design this 18-hole beauty was to become.
"It was a different time for golf in the 1980s, for golf in the Okanagan Valley," said Peter Hopley, Gallagher's general manager, in relation to the history, and the mould-breaking design, this track presented way back then. "You had the Kelowna Golf & Country Club, the Penticton Golf & Country Club, and the Vernon course but there were none of these types of courses that pushed the boundaries of the terrain." 
First called Kelowna Pines, Gallagher's Canyon quickly became a favourite of golfers from all over, as it served up something not seen in this part of the golf world at that time — elevation changes galore and with routing up and down the hillside, a far cry from the parkland style layouts that were the mainstay of other area designs.
"I think Gallagher's presents a really interesting test of golf. It's different every time," Hopley stated in relation to why this playground is still so popular with members and guests alike.
And it's not only the playing public that adores this concept. As host to the PGA TOUR Canada's Mackenzie Tour event in Kelowna each year, it's also gained praise from the professionals.
"Those players really like it, again because it's such a test. It's not a long course, only 6,800 yards," said Hopley, stressing that the demands placed upon players, no matter their ilk, are challenging. "The greens have tons of break. Each hole is tree lined placing demands on the tee shot. You can't just power your way around this golf course."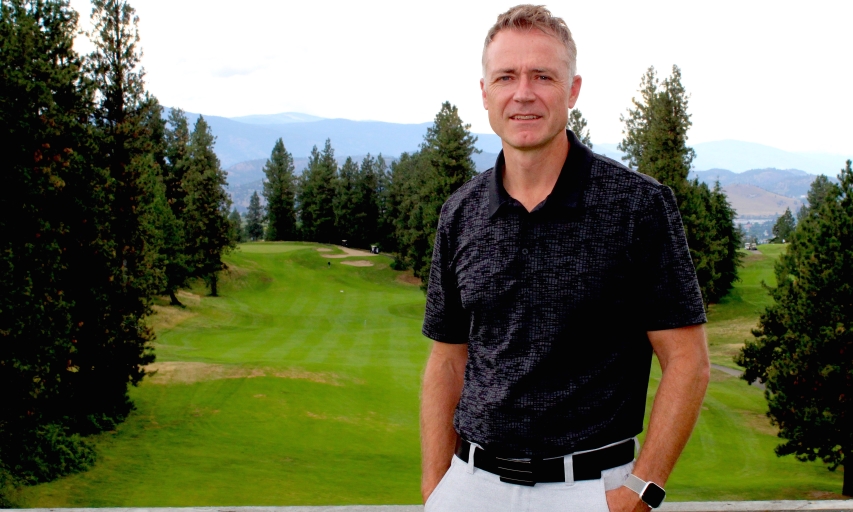 Peter Hopley, The GM Of Gallahegher's Canyon in Kelowna, B.C., Is Proud To Say His Golf Course Set The Standard For Mountain Layouts In The Okanagan Valley. (Photo/Gord Montgomery)
What this place also serves up is a unique setting in that the holes are separated from each other, giving you some "privacy," as Hopley says, from other groups on the course. Another popular thing here is that the course can be walked if one desires, making Gallagher's the sort of golf layout that many people are beginning to move back toward and a form of transport the course isn't opposed to.
"I'd say our typical destination golfer wants to ride … take it easy," the GM said with a smile. "But even if you're riding, if you venture up into the wooded areas (with a stray shot or two) you're still doing some walking. I'd say probably 20 per cent of our members will walk although most don't carry. We love that traditional part of the game and it's great to see the Mackenzie Tour guys walking."
Besides hoofing it around out here there are power carts and golf boards, for those looking for a different mode of transport about the property.
As for those trees that appear to be everywhere if your game is a wee bit wonky, shots that wander off-line and into the trees aren't tough to find. Here, the grounds crew keeps the areas under the pine trees relatively free of fallen debris meaning your ball is findable, and playable to a point, which keeps a smile on everyone's face.
"More times than not you will find your ball even though you may just have to punch it out, get it back into play. Usually it's penal enough," so that your scorecard doesn't escape unscathed.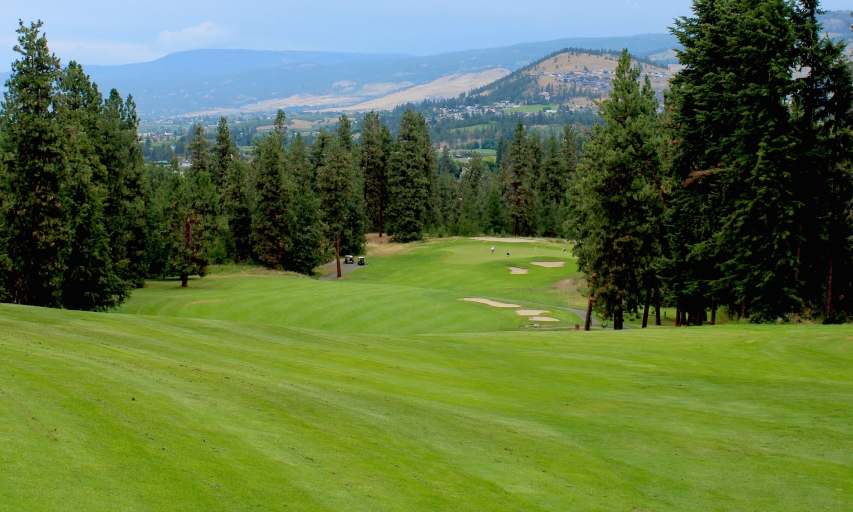 Before Gallagher's Came On Stream In The Early 1980s, Most Courses In This Part Of B.C. Were Parkland Style, But The Rolling Up And Down Stylings Here Soon Caught On With Several Other Courses Mimicking This Style. (Photo/Gord Montgomery)
And if you need some work on your game Gallagher's offers a double-ended, 300-yard driving range with the only grass tees in Kelowna. There are also four practice greens and bunkers, two at each end of the range. Or, if it's your short game that needs some fine-tuning, head over to their 9-hole loop, The Pinnacle, designed by Les Furber and Dick Martin. It's 1,984 yards with five par-4 and four par-3 holes and isn't your everyday fare in regard to these types of shorter courses.
"It's unlike most mid length or executive courses because it offers some neat changes in elevation," Hopley explained.
Another twist at Gallagher's is the weather — it's often cooler than the city proper area below given the golf course's elevation. That, in the heat of the summer, can make a day on the links a little more enjoyable.
"On hot days it is a little cooler up here, which is nice. And, we're also kind of nestled into an area where we get a little less wind," which is always a good thing for any golfer no matter their skill level.
Giving Back
While Gallagher's is a popular spot with the playing public, it is also popular with the viewing public when it comes to the Mackenzie Tour stop on the PGA TOUR Canada calendar. The course itself gives up green fee money for a week to host the event but at the same time it still reaches out to charitable causes in the city it serves.
"With the tournament itself, we've now raised $600,000 in four years for (local) charities," said Hopley, with half a million dollars having gone to cancer diagnostic equipment. This year additional funds of $50,000 went to the local food bank thanks to a community initiative.
So even though there are a number of mountain courses in the valley now, the one that started it all, Gallagher's Canyon, is still standing proud and serving the golfing public and professional communities, in the best ways possible.
For more on Gallagher's Canyon, a member of GolfBC, go to their website at www.gallagherscanyon.com.
---
About the Writer
Gord Montgomery is a member in good standing of the Golf Journalists Association of Canada. He is now in his 10th year of writing for Inside Golf. He can be reached at This email address is being protected from spambots. You need JavaScript enabled to view it.. He's also on Twitter at @gordinsidegolf and on Instagram at gordinsidegolf2.