How To Make 7 Courses Over Four Days In Two Provinces Become "The Epic Golf Trip"
Details

Category: Inside Golf
Published: 2019-07-03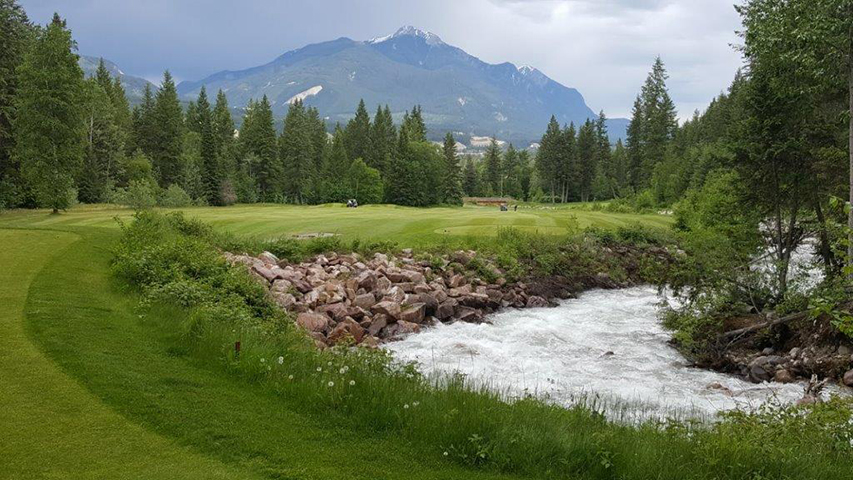 Golden Golf Club In Golden, BC Identifies Itself As A 'Small Town Club With Big Time Golf' - All Images Credit Jim Claggett/Inside Golf
By Jim Claggett/Inside Golf
Fail to plan, plan to fail. It sounds cheesy but, in most instances, it hits the nail on the head. Especially when you are trying to play seven golf courses in two provinces over four days, travelling about 1300 kilometres in the process.
But plan we did, and it all came off with the precision of a Swiss watch or at the very least, a nice knock-off.
The trip got off to a perfect start at Water Valley Golf and Country Club near Cremona, Alberta, a short drive northwest of Calgary. The three of us had never teed it up at this picturesque track which opened back in 1984 as a nine-hole course.
Former tire shop owner Brian Setter carved out Water Valley on property his parents owned and then expanded to 18 holes in the late 90's. We are very grateful he did because only playing nine holes on this course would have been like watching half of a great movie.
The managing of the tee sheet at Water Valley is in the hands of the very capable staff. Booking our tee time to launch the trip was easy as a one-inch putt. One phone call with the details and it was on the books.
"As soon as we open in April you can book for anything," said Cindy Setter about advance booking. "We restrict it a little bit because of the members."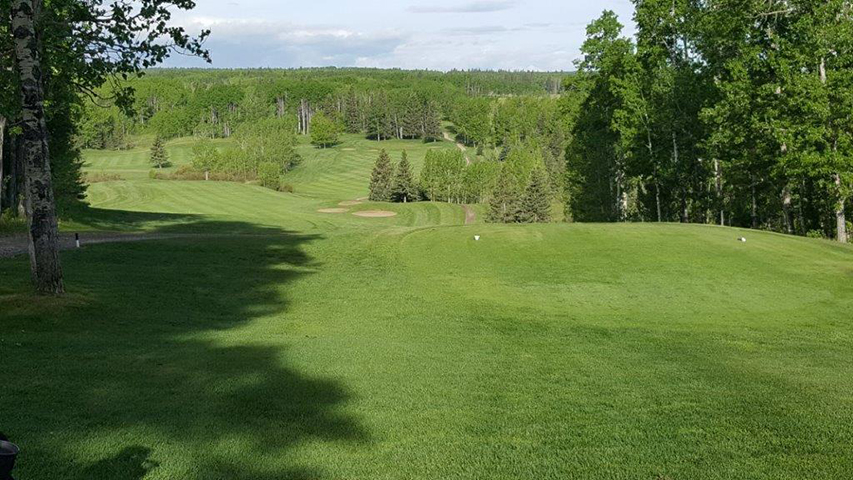 Water Valley Golf & Country Club
It works out for both the golfer and the course when you can plan ahead - well ahead, in some cases. Of course, you always anticipate a great experience and Water Valley delivers with quiet surroundings as you make your way up and down the well-maintained hilly track with plenty of trees. "You can have a lot of people on the golf course, but you really don't notice them because you don't see them," she said.
The two chefs on staff turn out some very tasty home-style cooked food from a menu which offers plenty of choice. We had to sample some of the fare on the menu before heading west and it was the perfect bridge between our first stop and the next one in Golden B.C.
The Golden Golf Club identifies itself as a 'small-town club' with 'big time golf' and it has always measured up to that statement. The layout at Golden is one of my favourites, simple, straight-forward holes within a photogenic framework provided by the Rocky and Purcell Mountain ranges. I have always been partial to hole #11 with Holt Creek roaring down the right side if the fairway.
Golden doesn't restrict its tee-sheet which makes it simple to contact them to arrange a tee time well in advance of your arrival. "If you called up on January 15th and you wanted to book a time for September 29th that season you certainly could," said Graeme Kreiner, Director of Golf Operations at GGC. "As soon as our tee sheets are up and ready for the following year, about mid-December."
Kreiner says offering advanced bookings is something courses need to do as people are planning golf trips several months before they tee it up somewhere. But there are also those short-term bookings which fill the tee sheets. "There are people who book at the same time every year for their August long weekend but there are people who book a week in advance because they know they can get a tee time," he said.
He adds, the members are a friendly bunch who will join up with a twosome of out-of-towners in order to provide local knowledge and to show off the course as well as the town.
The day ended with a perfectly cooked burger on a brioche bun and a jug of refreshment from a local brewery. Then we loaded up the SUV and travelled south down Highway 95 to Cranbrook, about a three-hour trip. The overnight stay was at the affordable and comfy Travel Lodge in Cranbrook which also has a Denny's restaurant attached to it.
Stop number three on the 'Epic Golf Trip' was early Friday morning and saw us take on the fabulous St. Eugene Golf Resort & Casino, a quick drive from Cranbrook. Opened in 2000, this Les Furber design takes you on a terrific golf journey which has an educational side. The site is home to the Ktunaxa people who populated the area for more than 10,000 years and they own the resort.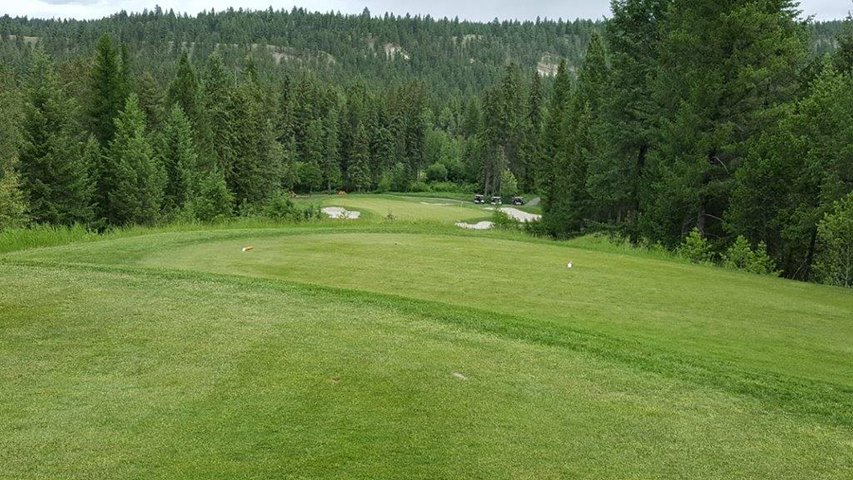 St. Eugene Golf Resort & Casino
There are standard hole markers of course, complemented by signs which tell you a bit about the Ktunaxa Nation heritage, like how the hoodoos were formed or why a deer chose a certain spot to protect her fawn. Take the time to read these and you will get a better feel for the history of the region you are playing golf in.
With the Purcell and Rocky Mountains as a backdrop, Furber designed this course with the St. Mary River valley as a canvas so you don't see much elevation change. "As far as elevation changes you go up to the elevated green on #12 and then back down on #13," said Head Professional at St. Eugene, Cindy Soukoroff.
With a hotel on site, Soukoroff says there are plenty of requests for golf packages which include multiple courses. She advises large groups looking to play to make plans early. "When you're looking at this part of June and into early September hopefully, they're looking at least three months out in order to book and to get times" she said. "Different courses have different offerings on different days (price-wise) so we try to stay in-tune with that and try to help people lay out a trip."
After a quick bite to eat at The Heid Out in Cranbrook (fantastic varied menu) we made the trek back to Shadow Mountain, home of The Monster, a par-five beast with water down the left and a slope covered with trees on the right. There also happens to be a massive drop of about 100 feet to a very generous fairway. This course has some very dramatic views and the tee boxes, fairways (which we managed to hit on occasion) and greens are well maintained.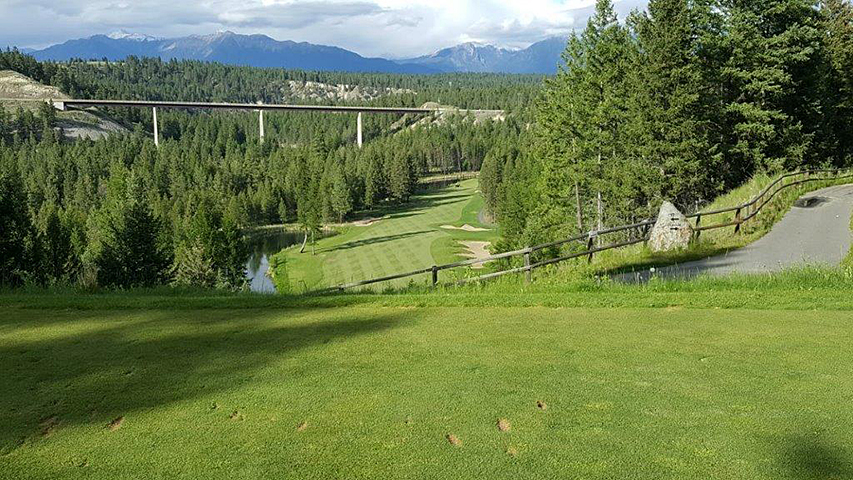 Shadow Mountain Golf Club
When it comes to handling groups who are wanting to include Shadow Mountain on their golf trip, Director of Client Care and Marketing, Brenda Lee-Owe says they can manage small and large groups easily. "We did a steak dinner for 16 fellows who were coming to celebrate a birthday and after their round we did a steak dinner on the back patio," she said. "It's not just the golf course. It's the experience."
She says her laptop travels with her so she can manage bookings for Shadow Mountain during the off-season. "We have bookings starting before Christmas and it gets crazy in January and February and March it starts to dwindle a little bit." Then, it was back to the Travel Lodge for the night.
The next day began with a round at Wildstone Golf Course, the first Black Knight Design by Gary Player Design in Canada. The course is perched on the highlands above Cranbrook and offers great views all around, including on their well-designed driving range which includes trees, so you get a feel for having to hit tree-lined fairways. For some it can also prepare you for the sound of your ball striking a tree occasionally (no names mentioned).
Wildstone introduces itself with a solid par-five playing slightly uphill which allows a player to get settled in right away. Hole #5 presents players with a downhill, blind tee shot and a great mountain vista to distract you. Ample fairways and great conditions from tee to green are mainstays at Wildstone and you can easily book in advance online.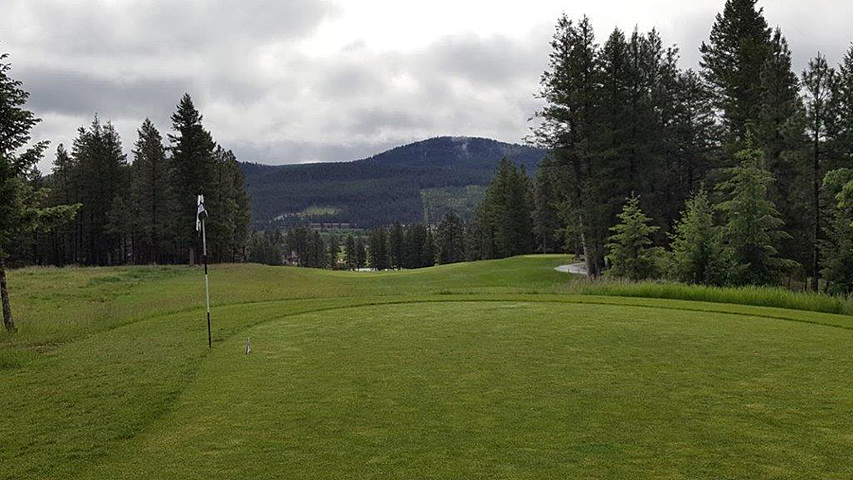 Wildstone Golf Course
General Manager Chris Andrews says they start accepting bookings in January for people wanting the Wildstone experience and he recommends you look at booking a month or two ahead of when you want to golf.
"A lot of the groups are looking to secure tee times and play a variety of courses. They might be playing a bunch of courses in the area so they may want morning tee times and then afternoon tee times so we can book that or maybe just a certain tee time every morning for a few days," he said. "I think we're very accommodating to all the groups out there doing their planning because everybody's a little different."
We then hopped in the vehicle and made the quick trip up Highway 95A to the edge of Kimberley, B.C. to prepare for the Les Furber designed Bootleg Gap which came to be in 2002. First off, we had to fuel up with a tasty Smokey Chipotle Bacon burger and a local beverage which really hit the spot, unlike most of our golf shots to this point.
Along with the beautiful clubhouse built in 2004, Bootleg Gap Golf Course remains a solid 27-hole test. It starts out relatively flat with the Rockies keeping watch and then drops down through the valley with the St. Mary River as an escort. Hole #12 provides a great vantage point to see the famous gap, the river and plenty more of the golf course which you are about to experience.
Getting a tee time booked well in advance at Bootleg Gap is stress free, "We don't have any annual members," said Head Professional and General Manager Trevor Simkin. "Our tee sheet is open throughout the year so we start taking tee times in January and they can book for the last day of the year if they want (late October)."
Bootleg Gap Golf Course
Because there are no members, Simkin says they can free up the tee sheet to public play and they have groups who have been booking and coming back for 15 years for that September round they always have had. "It's great for us. Before we open the doors, we'll have four-thousand rounds on the books for the 18-hole course, pre-booked. We'll do a third of paid rounds booked before we even open," he said.
Before heading back to Cranbrook for some much-needed sleep, we chowed down at the very eclectic and cozy Pedal and Tap in Kimberley. A great many choices in food and beverages so a return visit is required.
That night we bunked down in the comfortable Super 8 near the edge of Cranbrook city limits. The next morning, we made the four-hour drive into Calgary to play our final round of the 'Epic Golf Trip'.
The Winston Golf Cub, formerly the Calgary Elks Lodge is a fantastic parkland course within minutes of downtown Calgary. It first opened back in 1923 as The Regal and had a major make-over at the hands of Les Furber. The semi-private course allows non-members to book up to four days in advance and you will get to use all your clubs on this track.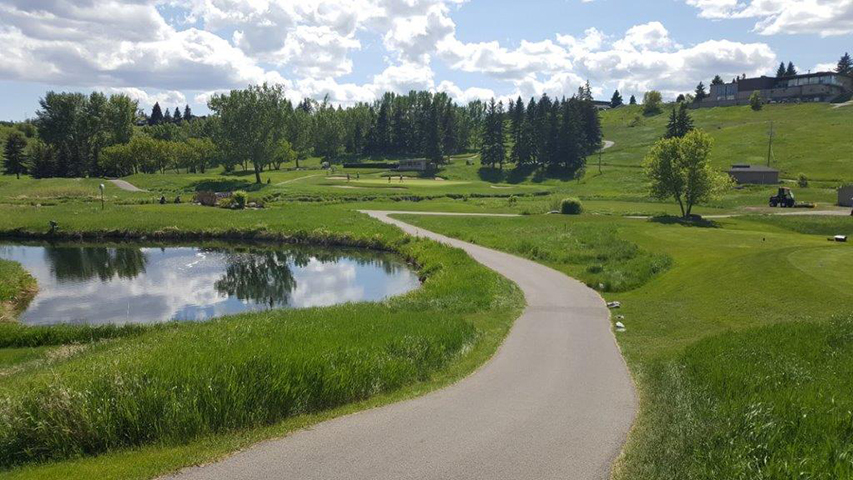 The Winston Golf Club
The par threes stood out for us as they were all very fair but at the same time offered up a challenge if you went at the pins that day. The maturity of The Winston is what lends to its attractiveness as a course to play. Nose Creek winds its way through the tall trees which allow you to find a wayward shot and at the very least, an opportunity to get it back to the wide fairways.
Of course, we needed a bite to eat and drink and the dining area gave us plenty of solid options for both, along with a great view of the course from up on the hill.
The drive home was filled with what we thought was a ranking of the courses we just played. All three of us had different rankings so there was no final consensus other than each offered up something different as far as challenge and all delivered on service, condition and scenery.
If you have a plan, these places can help you execute it without a hitch. Enjoy!