First Stop on MJT Bell Aliant Series Awards Six Winners in Chester
Details

Category: Inside Golf
Published: 2019-06-04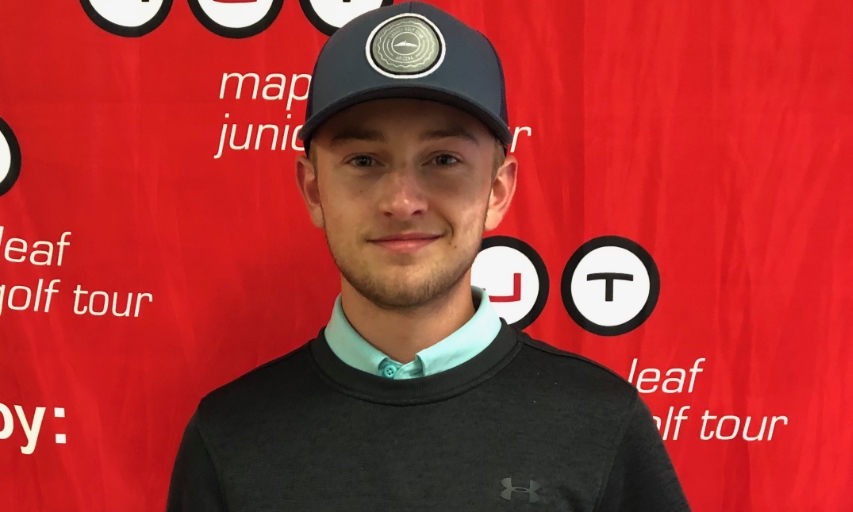 By THE MAPLE LEAF JUNIOR GOLF TOUR
CHESTER, Nova Scotia — The Boston Pizza-presented Maple Leaf Junior Golf Tour's 2019 Atlantic Canada circuit teed off in Chester, NS, May 25 and 26, with the Golf Canada-ranked MJT Bell Aliant Series at Chester Golf Club. Junior golfers from across the Maritime provinces competed in tough weather conditions for titles in six divisions as well as for shortlisted spots into the IMG Academy Junior World Championships in San Diego, CA and the Nordic Team Matches in Sweden. As Canada's exclusive Future Champions Golf (FCG) qualifying tour, the MJT was also offering direct exemptions into the FCG Callaway World Championship in Palm Desert, CA from July 15 to 17.
The MJT Juvenile Boys title was claimed by Dartmouth, NS-resident, Jake Smith, 16, who carded rounds of 73 and 77 for a two-day total of 150. "My birdie on the last hole of my first round led to my win," remarked Smith after his round. "It gave me momentum for the second round." Making a charge on the second day and finishing second in the division was Woodstock, NB-resident, Daniel Kirby, 16, who shot 78 on the first day and 74 on the second day under poor weather conditions for a two-day total of 152.
A tight contest in the MJT Junior Boys Division between two 17-year olds, Felix Boucher, of Dieppe, NS and Andrew Cash, of Upper Tantallon, NS, saw Boucher (75, 76=151), win the Hoselton trophy by a single shot over Cash, even with Cash making birdie on his final hole. "I made a key up and down on the 18th hole and that sealed my win," Boucher said.
Jacob LeBlanc, 13, from Dieppe, NS, won the MJT Bantam Boys title with scores of 85 and 88 (173). "Golf is my passion," claimed LeBlanc. "These [MJT tournaments are well organized and I look forward to playing in them." Finishing four shots back of LeBlanc, tied for second place, were Julien Babineau, 14, also of Dieppe, (91- 86=177) and Seamus Dentremont, 14, of Lower West Pubnico , NS (86, 91=177).
Capturing the victory in the MJT Peewee Boys Division was 12-year old Blake Fish (84, 96 - 180), of Middle West Pubnico, NS, who won by three shots over 11-year old, Ryan Sutherland (96, 97 - 193), of Brookfield, NS. "I feel great," said Fish after the second day. "It was my first MJT win and I look forward to playing in the next one."
Picking up right where she left off last year is Halifax, NS-player, Haley Baker, 17, who won both the Hoselton trophy for MJT15-18 Girls and the Low Overall Girls score in convincing fashion with rounds of 76 and 75 (151). Attributing her win to her state of mind, Baker explained after the tournament, "I stayed steady the whole tournament emotionally and that's what led to my win."
Abbey Baker, 14, of Halifax, carded rounds of 82 and 84 (166) and won the MJT Girls U15 title. "I was able to keep the ball on the fairway and stay out of trouble for most of the tournament," said Baker who attributed her good play to the consistency of her ball striking. "I love playing the MJT because everyone is so nice and it's always a fun time."
For PLYR Long Drive, PLYR Closest-to-the-Pin and the MJT Booster Juice Comeback Award winners, please visit the highlights page for the tournament here. Winners of the international exemptions will be announced once qualifying has completed across the country.
The second leg of the MJT Bell Aliant Series is presented by PLYR Golf at Ken-Wo Country Club in Wolfville, NS, on June 8 to 9. For more information or to register, please visit www.maplejt.com or call 1-877-859-4653.
---
About Bell
Bell Aliant provides customers in New Brunswick, Newfoundland and Labrador, Nova Scotia and Prince Edward Island with innovative information, communication and technology services including voice, data, Internet, video and value-added business solutions such as data security and cloud computing services; including Fibe™ TV and Internet, Bell Satellite TV, and Home Phone.  Click here for more information. 
About the MJT
The non-profit Maple Leaf Junior Golf Tour presented by Boston Pizza is Canada's number one-played Junior Golf Tour as well as the only national junior tour run exclusively by PGA of Canada Professionals and the 'Road to College Golf' in Canada. The organization is presented nationally by Boston Pizza and supported by valued Premier, Tournament and Product Partners. The MJT hosts close to 80 events across Canada, including free Ford Go Golf Junior Clinics, the MJT Mini Tour for 7-12 year olds, the Collegiate Tour for 19-23 year olds, and multi-day events for competitive players aged 11 to 18 which are also qualifiers for international competitions. The program offers annual awards, scholarships, and frequent player incentives to help reward player's performance and participation throughout each season. MJT alumni include many Professional Tour players and PGA of Canada Professionals, as well as Canadian Amateur, National and Provincial Junior Champions. The MJT aims to develop champions, in golf and in life, promoting the game from grassroots through to provincial, national, university and professional level. See www.maplejt.com.