Glasgow Airport Unveiled as Official Sponsor to the 2019 Solheim Cup
Details

Category: Inside Golf
Published: 2019-03-27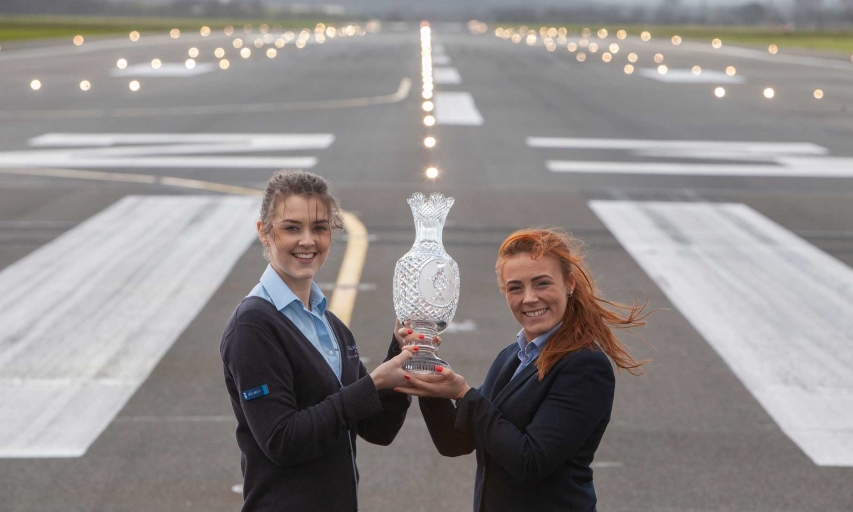 Glasgow Airport has been announced as an official sponsor of The 2019 Solheim Cup, taking place at Gleneagles from September 9-15, 2019.
The airport, Scotland's principal long-haul hub, is where many of the 100,000 expected spectators at across the event week will arrive before continuing around 50 miles north to the iconic, world-famous Gleneagles.
Before then, Solheim Cup 2019 advertising will feature heavily in and around the airport from March 10th, reaching approximately five million people who will pass through it during the six months leading up to the event. The branding will switch to a warm, vibrant welcome just before the event begins on Monday September 9th, starting with the arrival of the PING Junior Solheim Cup teams.
Glasgow Airport is no stranger to supporting high-profile sporting events, having partnered with the Commonwealth Games in 2014 and the European Championships in 2018, both staged in Glasgow. The partnership with The Solheim Cup will expand the airport's reach into Perthshire and the centre of the country, helping cement its profile as the gateway to Scotland and the wealth of activities, attractions and experiences it has to offer.
Joe FitzPatrick, Minister for Public Health, Sport and Wellbeing, said: "Scotland is famous for its warm welcome and with Glasgow Airport as an official sponsor, the golfers, officials and thousands of fans set to land here in September are guaranteed a memorable first impression.
"Scotland is the Home of Golf and the perfect venue for The Solheim Cup. Gleneagles has already staged a Ryder Cup, in 2014, which was a huge success and showcased wonderfully our country's heritage, sporting excellence and expertise in staging events to an international audience."
Francois Bourienne, Chief Commercial Officer for AGS Airports Ltd, owners of Glasgow Airport, said: "We are thrilled to come on board as an official sponsor of The 2019 Solheim Cup.
"In recent years Scotland has become synonymous with world-class sporting events, delivering unforgettable experiences in its own unique warmth and style. The Solheim Cup will continue that tremendous run, and we look forward to creating a real buzz around the airport in the lead up to September.
"When the teams, officials and thousands of golf fans from all over the world arrive in just over six months' time, our team will be ready to give them the warmest of welcomes."
Glasgow Airport joins the following partners and sponsors for The 2019 Solheim Cup:
PING – Founding Partner & Official Apparel Supplier
Rolex – Global Partner
VisitScotland – Global Partner
Scotland, the Home of Golf – Official Host Destination
Gleneagles – Official Partner: Host Venue
John Deere  – Official Sponsor: Golf Course and Turf Maintenance Machinery Event Partner
Ricoh – Official Sponsor: Office Equipment
Arnold Clark Car & Van Rental – Official Supplier: Car / Rental Car
Highland Spring – Official Supplier: Hydration
Carryway – Official Supplier: Golf Cart Providers
Arena – Official Supplier: Structures
Aggreko – Official Supplier: Temporary Power Supplier
Abacus – Official Supplier: Team Europe Apparel Supplier
The 2019 Solheim Cup is experiencing significant interest with thousands of tickets already sold, some ticket categories sold-out and pre-registration for official hospitality exceeding projections.
European Captain and VisitScotland Ambassador Catriona Matthew is looking to return the trophy to Europe in 2019 after an inspired USA team retained their trophy by 16 ½ to 11 ½ points in front of record crowds in Iowa. Organisers are now aiming to set a new record for a European edition in 2019.
Themes of equality, innovation and experience underpin all of the event's planned communications and on site activity at Gleneagles, as The 2019 Solheim Cup aims to engage both the traditional golf audience and the wider sport fan, raising the profile of women's golf both in Scotland and internationally.
The Scottish Government and VisitScotland have been long-time supporters of the women's game, having partnered with the Ricoh Women's British Open and the recently significantly enhanced Aberdeen Standard Investments Ladies Scottish Open, which took place as a co-sanctioned LET and LPGA event for the first time last year.
The 2019 Solheim Cup will not only showcase the stunning assets of Scotland, the Home of Golf, but also build on the legacy of the successful 2014 Ryder Cup at Gleneagles. It will underline that Scotland is the perfect stage for major golf events as it seeks to help inspire a new generation of children to take up the game invented in their home country.