U.S. Kids Golf Foundation Announces Certified Coach Seminar Schedule
Details

Category: Inside Golf
Published: 2019-02-21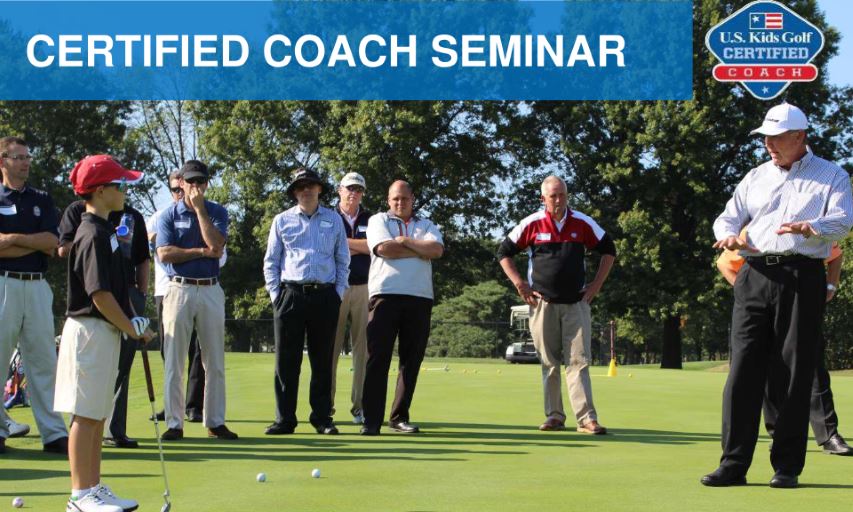 The U.S. Kids Golf Certified Coach program for the spring of 2019 features ten more seminars around the United States and internationally, following sold out presentations in Orlando and Panama City, Panama.
U.S. Kids Golf Certified Coach Seminars provide golf professionals with research-based content and tools designed to help them deliver a more fun environment for young golfers while providing a path for improvement and retention in the game of golf.
The day-long training focuses on best practices that help develop junior golfers, including an introduction to game-based teaching, use of a structured learning program, the importance of properly fit equipment in developing swing speed, and how to scale the game for youth golfers. Seminar presenters include U.S. Kids Golf Coaches Institute Vice President John Bryan, U.S. Kids Golf Director of Player Development and PGA Master Professional John Godwin and U.S. Kids Golf Top 50 Kids Teacher and Director of the U.S. Kids Golf Academy Jim Hardy.
Both PGA of America and LPGA Professionals earn continuing education credits for their participation in the seminars. Additional credits may be earned by completing the optional Positive Coaching Alliance test, which is an additional component of the seminar training.
      U.S. Kids Golf Certified Coach Seminar Schedule 
February 26 – Jupiter, Florida (Abacoa Golf Club)
March 13 – Little Rock, Arkansas (Pleasant Valley Country Club)
March 18 – Venice, Italy (Galzignano Terme Spa & Golf)
March 19 – Venice, Italy – Advanced Training (Galzignano Terme Spa & Golf)
March 21 – Munich, Germany (OPEN.9 Golf Eichenreid)
April 3 – Bay Area, California (Orinda Country Club)
April 24 – Philadelphia, Pennsylvania (Ledgerock Golf Club)
May 1 – Boise, Idaho (Crane Creek Country Club)
May 6 – Toronto, Ontario (Credit Valley Golf & Country Club)
May 8 – Madison, Wisconsin (Blackhawk Country Club)
Registrations submitted before one week of the seminar date are $195. Registrations submitted within one week of the date of the seminar are $245. To register or for more information about the USKG Certified Coach program, please contact Chris Carme at This email address is being protected from spambots. You need JavaScript enabled to view it..
---
About U.S. Kids Golf
The U.S. Kids Golf Foundation, a Georgia non-profit recognized as a 501(c)(3) charity, was created in 2001 and provides services that include competition and instruction. The Foundation organizes more than 750 golf tournaments for kids each year with over 10,000 individual players ages 5-18.  These tournaments include Local Tours in more than 50 cities, 10 Qualifiers across the nation, seven Regional Championships, a European and Malaysia Championships and the U.S. Kids Golf World Championship and Teen World Championship, which are held each year in Pinehurst, N.C.
The vision of the U.S. Kids Golf Foundation is to provide kids and their families the opportunity participate in the game of golf through instruction and competition.  They believe that family interaction is critical in the development of young golfers and encourage parents to serve as caddies for their kids during tournaments and to develop positive coaching techniques.
U.S. Kids Golf, LLC is based in Atlanta and manufactures equipment and related golf products designed for kids. It was created in 1997 when Founder/CEO Dan Van Horn found that his children were losing their interest in golf due to not having the proper equipment. In addition to more than 4,000 golf shops and retail locations in the United States, the company's products also are available in over 75 countries worldwide.
Connect with U.S. Kids Golf
Website: www.uskidsgolf.com
Coach Website: www.uskidsgolfcoach.com
Facebook: www.facebook.com/USKidsGolf
Twitter: www.twitter.com/USKidsGolfFDN
Instagram: http://www.instagram.com/USKidsGolfFDN