BC's Hadwin May Be On The Verge Of Greatness
Details

Category: Inside Golf
Published: 2017-03-30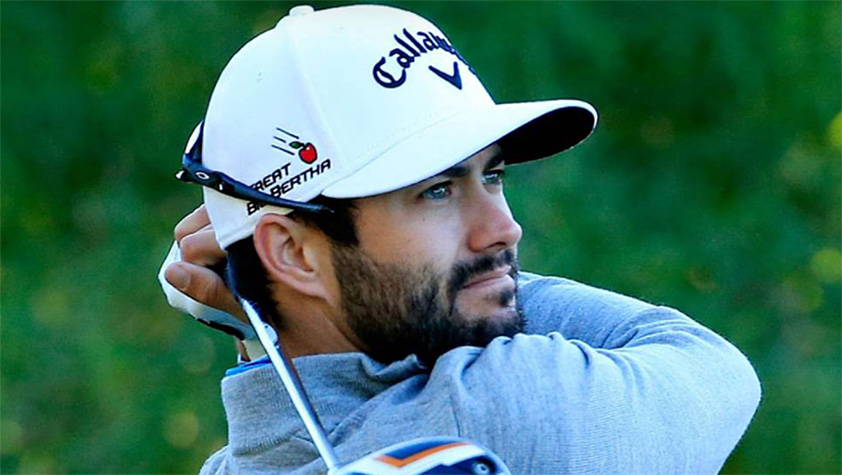 image courtesy adamhadwin.com
by Kelly Murray
The peace and comfort with which Adam Hadwin is playing on the PGA TOUR these days is extraordinary… at least for his first 68 holes. 
What has taken place over the last four holes of his last two events, however, proved to be somewhat gut-wrenching to watch. Allow me to explain.
You see, recently at the Valspar Championship he pulled out a win, his first on the PGA TOUR, despite suffering a double-bogey when he plunked his drive into the water on the 16th hole during that final four hole stretch. Hadwin settled down and his par-par finish with a world class up and down on the 18th was enough for the victory.
Fast forward to the Arnold Palmer Invitational, where he was knocking on the door in search of the red cardigan and $1.5 million but again suffered a double-bogey during those last four holes.
It was heartbreaking to see him being perhaps a little indecisive on the 15th hole at Bay Hill after walloping a 321-yard drive into the gnarly left rough and then going through some deliberation before switching clubs. He then struck the 141-yard second shot to 52-feet short of the green and right of the pin, leaving himself a difficult chip to a precarious pin position.           
He first got over his chip shot and was going to hit more of a bump and run with a less lofted club. His multiple practice strokes looked great. However, appearing perplexed by the difficulty in deciding between the options that lay in front of him, he went back to his caddy Joe Cruz and eventually switched clubs.
He ultimately opted for a more lofted shot, perhaps going against his initial instinct and also after having already rehearsed the lower, skipping, less lofted pitch. Canadian golf fans likely held their collective breath knowing the predicament he was in and the importance of this shot at this particular juncture of the tournament. Finally, Adam opted for a more lofted pitch to the small plateau. 
It was struck a little too aggressively and, moving quickly, it then dramatically picked up speed down-grain to a false left side of the green, eventually leaving himself 46-feet coming back and facing almost the same precarious situation. He had to man-up and hit his fourth shot, and he did that to 27 feet, again going past the flag.
Having witnessed the previous group suffer through a very similar predicament, it wasn't all that surprising, albeit troubling to watch, when the hole ultimately ended with a double-bogey for Adam and, more importantly, quashed his chance at back-to-back wins on the PGA TOUR.
With his chance at winning now gone he 'suffered' a par 5 at the imminently 'birdieable' 16th after a massive drive. However, he did rebound on 17 when his 215-yard tee shot struck the pin finishing five inches right of the cup. He was extremely unlucky not to have made a hole-in-one, the shot was that good.
That tee shot was very reminiscent of his play the previous weekend at the Valspar were he was knocking the par-3 flagsticks down. One could say he easily might have, or should have, had three aces. However three wonderful deuces including two flag sticks hit and one near miss on the 'The Back Nine on Sunday' on the PGA TOUR in consecutive weeks isn't too shabby.
One has to say his iron play has been extraordinary. When asked about it Rory McIlroy offered that both Hadwin and fellow Canadian Graham DeLaet were great iron players, and it's just a belief system for these guys, a comfort level to stay here (on Tour) and be at the top of the pile.
After hitting the flagstick on the Par 3 17th Hadwin had one last opportunity on the 72nd hole, which starts off with a very demanding tee shot. He majestically placed it 281 yards down the left side, threading the needle between the high rough with water right and OB left, leaving himself the perfect angle.
He struck a power-fade at the flag using a little hopeful body language as the ball took two hops slipping past the cup. The fact that he missed the birdie putt was okay, he went down fighting, with the par at the last putting him in sixth place.
A short recess in his new adopted hometown of Phoenix followed by his wedding prefaces Hadwin's next event at Augusta where Canada will be able to see him on the world stage as he plays The Masters. If this hot streak continues Canada may just be witnessing the arrival of one of its finest players of all time. Hadwin's poise, his demeanor, his ball striking... are all first class. 
A sense of belonging and finding comfort on the PGA TOUR is something that Adam Hadwin is embracing for sure, but it isn't without its hiccups along the way.