LeBlanc Low Overall In MJT Atlantic Canada Season Opener In Truro
Details

Category: Inside Golf
Published: 2018-05-31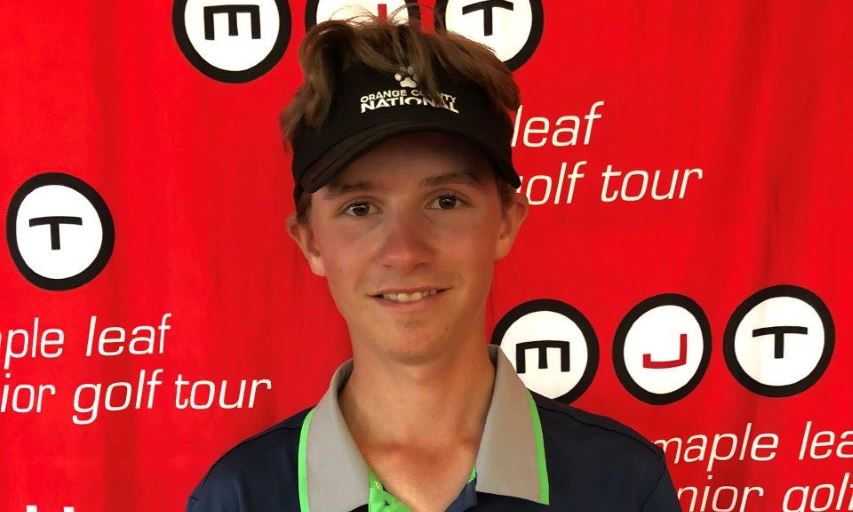 Brett LeBlanc, Juvenile Boys Division Winner. (Photo/MJT)
TRURO, Nova Scotia (MJT) — The Boston Pizza-presented Maple Leaf Junior Golf Tour (MJT) teed off in Atlantic Canada over the weekend with the MJT-NSGA Player of the Year Series at Truro Golf Club in rainy Truro, Nova Scotia. This was the first of four events the MJT will host in the region throughout the summer. Players were competing for Hoselton trophies in six divisions as well as shortlist positions for various International competitions including the IMG Academy Junior World Championships, the US Kids Golf Teen Championships, the US Kids Golf World Championships and the Future Champions Golf World Championships. Order of Merit points were also available to qualify for the MJT's National Championship in Phoenix, AZ in November.
MJT Juvenile Boys 15 and 16
Low Overall and MJT Juvenile Boys 15-16 Champion was Brett LeBlanc, 16, of Hammonds Plains, NS, after he fired a two-day total of 153 for a one shot victory over three others, Jake Smith, 15, of Dartmouth, NS, Nathan Hogan, 16, of Derby, NS and Owen Mullen, 14, of Truro. LeBlanc credits a tough birdie on the 16th hole of round two for his victory, "I was down one or two and drove it straight into the fairway-bunker. I had 150 yards into the wind, hit it to 10 feet and drained the putt for birdie."
MJT Junior Boys 17 and 18
In a tightly contested MJT Junior Boys division, Teran Newell, 18, of Barrington, NS, was able to hold off Connor MacKay, 17, of Truro, NS, by one shot to claim the division title with a two-day total of 157. Newell said, "It feels really good (to win) as it was a tough day on the course. The MJT has the best fields to compete against, and it's a great place to develop."
MJT Bantam Boys 13 and 14
Middle Sackville, NS, native Gavin Ives, 13, was able to win his first MJT Bantam title after shooting 83, 77 (160). Ives said, "It feels great to get my first win in the older division." Trailing Ives by three strokes was Michael Yang, 14, of Fredericton, NB.
MJT Peewee Boys 12U
Local boy, Simon Mullen, 12, was able to use home course knowledge on his way to winning the MJT Peewee Boys division by five shots over Blake Fish, 11, of Middle West Pubnico, NS. Mullen said he was very thankful to his mother for signing him up for the event and is looking forward to playing in more MJT events as the summer continues.
MJT Girls U15
Abbey Baker, 13, of Halifax, NS, took home the Hoselton trophy in the U15 Girls division after beating Jean Craig of River John, NS. Baker said she was 'very happy with my first round especially with how the weather was,' and that the highlight of her tournament was back-to-back birdies during the first round on holes 14 and 15.
MJT Girls 15 to 18
In MJT Girls 15-18, Heather McLean, 17, of Port Williams, NS, earned the victory by one stroke over Sara Cumby, 17, of Kentville, NS. Williams had the bounce back hole of the tournament: "My best hole was number six. After making triple in round one, I made birdie today." Her rounds of 75, 79 (154) made her very proud because there was 'some tough competition in the division.'
For full results, please visit the MJT website, which also shows winners of the MJT Comeback Award, PLYR Long Drive, and the PLYR Closest-to-the-Pin competitions. Players who successfully qualified for the international exemptions will be announced once qualifying has completed across the country.
Next on the Maple Leaf Junior Golf Tour's Atlantic Canada schedule is the MJT NSGA Player of the Year Series at Ken-Wo Country Club in Wolfville, NS, June 23-24. This event offers shortlist positions for MJT Team Canada to the JNJG International Junior Classic in Australia and to the Nordic Team Matches in Estonia, as well as direct spots into the International Players Championship presented by Miura at Fairmont Jasper Park Lodge GC in Jasper, AB, August 13-15, 2018. For more information on International qualifiers, please click here.
---
About the MJT
The non-profit Maple Leaf Junior Golf Tour presented by Boston Pizza is Canada's number one-played Junior Golf Tour as well as the only national junior tour run exclusively by PGA of Canada Professionals and the 'Road to College Golf' in Canada. The organization is presented nationally by Boston Pizza and supported by valued Premier, Tournament and Product Partners. The MJT hosts more than 70 events across Canada, including free Ford Go Golf Junior Clinics, the MJT Mini Tour for 7-12 year olds, the Collegiate Tour for 19-23 year olds, and multi-day events for competitive players aged 11 to 18 which are also qualifiers for international competitions. The program offers annual awards, scholarships, and frequent player incentives to help reward player's performance and participation throughout each season. MJT alumni include many Professional Tour players and PGA of Canada Professionals, as well as Canadian Amateur, National and Provincial Junior Champions. The MJT aims to develop champions, in golf and in life, promoting the game from grassroots through to provincial, national, university and professional level. For more information on the Maple Leaf Junior Golf Tour, please visit www.maplejt.com