Times They Are A-Changin' For Canadians On PGA TOUR
Details

Category: Inside Golf
Published: 2017-03-10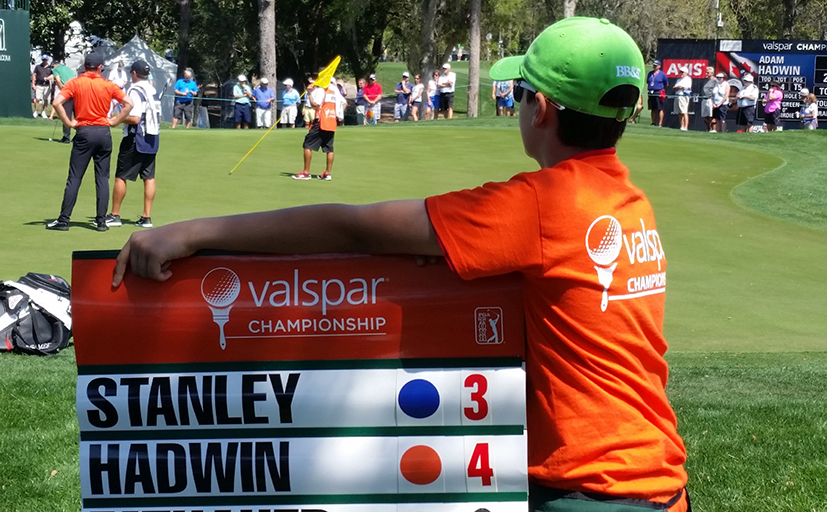 Abbotsford's Adam Hadwin Was In Prominent Position Through Round One Of The Valspar Championship In Florida - Image Credit Kelly Murray/Inside Golf
by Kelly Murray
Round one is in the books for the Canadians at the PGA TOUR's Florida stop here in Palm Harbor, Northwest suburb of Tampa Bay for the Valspar Championship the second leg of a 3 leg pre-Masters Florida swing.
Half of the Canadians are in the top eleven - Adam Hadwin and David Hearn, who both played in the morning at 7:05 a.m. and were delayed 1 hour because of fog. The other half, Graham DeLaet at even-par and Nick Taylor at one over par 72, played in the afternoon round.  
The greens were a little crusty for both during the second half draw, however DeLaet and Taylor will have fresh greens as they play the morning half of the draw with fog again expected in the morning of round two.
The fellas play for a lot of money and the times have changed since I was their age. The current crop of Canadians representing Canada this week are all at different stages in their careers and they seem to have a synergy and play off the circumstances of the bar being raised amongst each other.
I met up with  former PGA TOUR player and now broadcaster Jim Nelford on Tuesday and Wednesday. We grew up together in B.C., and we were Juniors at Marine Drive back in the 1970s.
Jim turned pro in 1978 fresh out of University at Brigham Young and competed on the PGA TOUR. I was inspired and couldn't wait to turn pro myself.  Graduating in the spring of '79 from San Jose State I began competing on the Canadian PGA Tour.
Jim and I reflected back to those years with the conversation centred around the inspiration we may have had on other players to follow in our footsteps. After Jim graduated from BYU he played with a young Richard Zokol in the BC Amateur and was so impressed he recommended Zokol to his BYU coach, Carl Tucker, and before you know it Richard Zokol went down to Utah soon to be followed by Brent Franklin, Rick Gibson, James Harper and many other young upstarts from BC.
I told him I was the first Canadian to compete for Coach Jerry Vroom at San Jose State and as the years went by many other Canadians made their way to San Jose. I was blessed to be on the team with eventual PGA TOUR regular Mark Wiebe, in my final year we were ranked fifth in the United States. On the ladies side was Patty Sheehan and Julie Inkster, between them 3 U.S. Women's Amateur titles at that time.
When I spoke with Jim about what it takes to get to the PGA TOUR he said anybody that makes it to the tour is good so it's no fluke and it's tough to stay there, you have to have a belief system. He said the quality of player is exactly the same as when he first hit the tour and that we (the Canadians on tour now) have an ability to inspire others to follow.
Now that Adam Hadwin has shot 59, the fellows are starting to realize that they can compete and hold their own out here. We'll continue to follow the Canadians as they track around the course this week and again at Arnold Palmer's tournament next week.