Strathmore GC's Challenges Come Early On In Your Round
Details

Category: Inside Golf
Published: 2023-09-28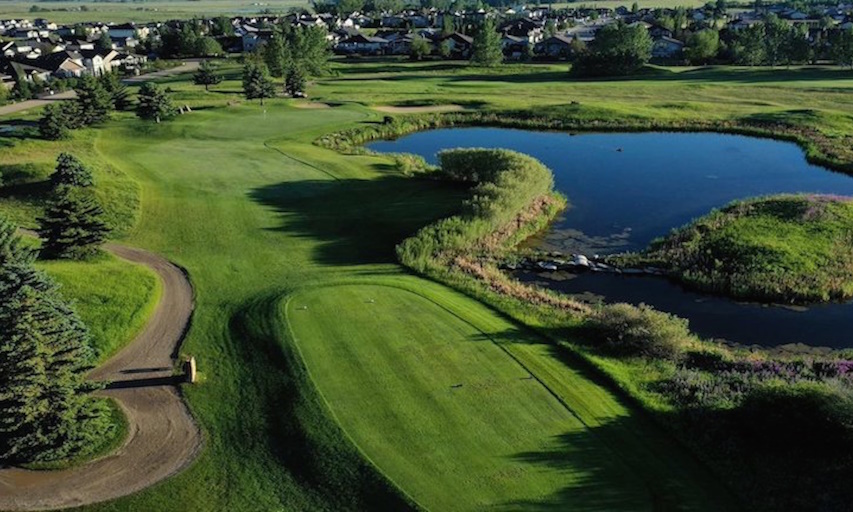 By Gord Montgomery, Senior Writer, Inside Golf
STRATHMORE, Alberta — If you're teeing it up at the Strathmore Golf Club, you best have your game face on right away. According to the professional staff there, the toughest tests come early on.
Executive Pro Brian Bassen and the club's Head Professional Brad Gagne agreed the stretch from the second hole through the sixth is what can simply make or break your round. When you come right down to it, it's the fifth hole in particular that is the one that can easily tax players the most.
Asked to characterize the layout here, which is just east of Calgary, Gagne noted first of all that the fairways are wide with lots of room to roam. Things do change as you close each hole out though. "There aren't a lot of trees. It's very player-friendly off the tee. The true defence of our golf course is the greens. There's a lot of movement, a lot of undulation. They're usually very quick. There aren't a lot of flat putts."
This is where Bassen chipped in, saying, "A lot of people look at our course and think it's easy, but our greens are tough to read," which in the end makes this layout, as flat and as open as it may be, a true test of golf. "Every green is a challenge," in trying to figure out break and slope. "We're not that type of course," where the ball always goes the same direction on every putt, Bassen noted. "There is no rhyme or reason. Every green has been built differently so it makes them all challenging."
While the pros say the course is open, there are plenty of other challenges awaiting you prior to pulling out the putter. Many holes call for approach shots over bunkers or water to get to that short grass. "You have to have some (good) shots to get around this course pretty well," Gagne chimed in.
Speaking of that tough beginning to everyone's round over five of the first six holes, the two pros shared their visions on what makes that so. "We always say from two to six," are keys to scoring well here, said Gagne. "Two is a tough hole coming right out of the shoot."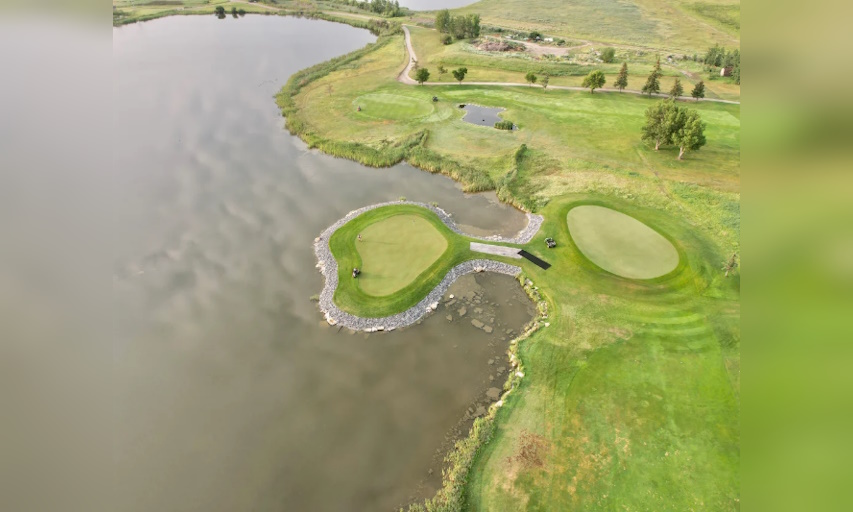 (Photo From The Strathmore Golf Club Website)
Then, of course, there is that fifth hole.
Described as their "signature hole," measuring only 333 yards off the white tees but moving up to 385 yards from the next deck back, this dogleg left shoots a surprise at players after they tee off. Their second volley is into, and hopefully, onto, an island green. "We just redid that green a year ago," Bassen pointed out. "The hole looks fantastic. The thing is hitting the fairway on your drive for your next shot because it is a complete island green. The green isn't real large; we'll call it average."
One saving grace on this hole is that the maintenance crew comes to your aid if your approach shot is a bit long coming in. They've let the fringe area grow a bit long so that balls will catch the six to 10 feet of rough before taking a dive, giving you a chance for an up-and-down par.
Over its 18 holes, the Strathmore GC offers five sets of tees, meaning it's a place where everyone can find a good starting point on each hole. There are also a variety of combo tees here on a layout that plays to 6,813 yards at its longest and down to 5,247 from the forward tee.
In addition to the course, you'll find a great place to practice and/or warm up and sharpen up your game on an all-grass driving range. One unique factor there is that they use full-flight golf balls. There is also a pair of chipping and putting greens to get you ready for what lies ahead.
By the way, if you think this course is a cakewalk once you've cleared those first six holes, hang on because you haven't seen number 18 yet. It's a lengthy par-3 playing over 200 yards from the blue tees; 191 yards off the whites; and 165 yards from the forward blocks. Just to make it really interesting, there's water on both sides and a bunker complex at the back of the green, so you best keep that game face-on from start to finish at the Strathmore Golf Club.