Heffernan Repeats As PGA Of Alberta Assistants Champion
Details

Category: Inside Golf
Published: 2023-09-12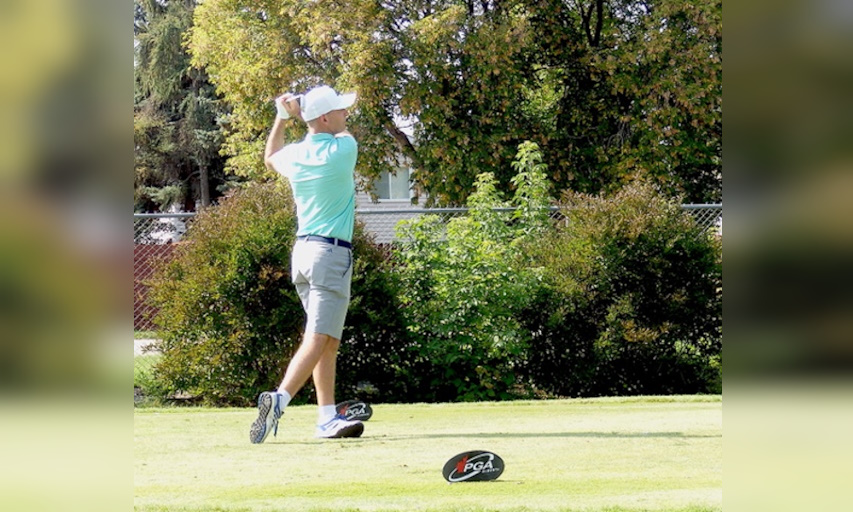 By Gord Montgomery, Senior Writer, Inside Golf
STONY PLAIN, Alberta — While Wes Heffernan showed brilliance with his long game in the 36-hole Cobra Puma Golf Alberta PGA Assistants Championship at the Stony Plain GC, it was a 14-foot eagle putt opportunity that likely spelled the difference. That putt wasn't even struck by Heffernan.
Leading by four shots with five holes to play, Heffernan from Dynamic Motion Golf Performance Centre in Calgary saw Mitchell Fox from the Speargrass GC narrow that gap to one shot with two holes remaining. On the par-4 17th, Fox drove the green stopping about 14 feet past the hole while Heffernan put his tee ball into the trees guarding the right-hand side of the green. With the chance to take the lead, Fox's eagle putt rimmed the cup and scooted about four feet beyond. He promptly stepped up to play his next shot for the birdie to tie and missed, settling for par. Much to Heffernan's relief as he also parred the hole to remain in the lead.
Both players then recorded pars on the final hole, with Fox again having a chance to tie things up but missing on a longer but makable birdie attempt.
Tied for the lead with Fox entering Day 2 at 5-under, the winner who ended at 12-under said, "Just play golf, for sure," about how he approached the final 18 holes when his putter caught fire on the front nine. "All of a sudden, I was five, six under through eight and thought, 'Hey. This is going pretty well!' Then I stopped making putts and Mitch came after me."
Heffernan said of almost losing what looked like a virtually insurmountable lead given his putting prowess that day that his putter then went cold on him, although he played par golf over the final six holes.
"To be honest, on 12 unfortunately, I started thinking about [my] score, which you should never do," as he 3-putted the par-3 hole from about 20 feet. "I thought, 'I gotta make this,' and hit it too hard. Coming back, I didn't hit a bad putt; I just misread it."
Fox then began to chase the leader and made it interesting with birdies on Holes 15 and 16 while Heffernan parred both, leading to the drama on the penultimate hole.
Of those closing holes where nothing would fall for Heffernan, he noted, "You start thinking more of trying to protect the lead. I think I did a pretty good job of not doing that. I just didn't make the putts. I'd say less aggressive putting just because I'm maybe protecting a little bit. Other than a poor tee shot on 18, I thought I played pretty well. I just didn't make some of the putts to keep my distance."
As it turned out, though a couple of putts that didn't fall hit by another player, maybe did in fact spell victory for Heffernan in defence of his title.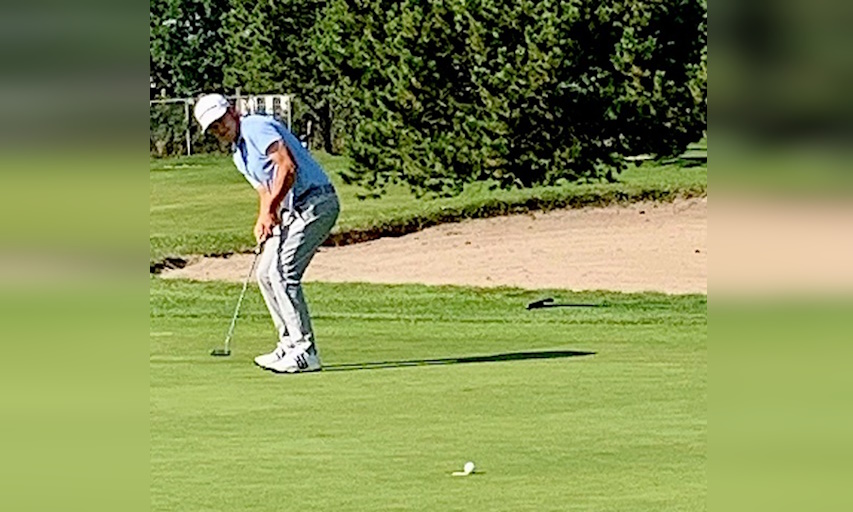 This Eagle Putt That Lipped Out For Mitchell Fox On The 35th Hole Of The Championship Would Have Given Him The Lead, But Ended Up Costly, As He Then Missed The Follow-Up Birdie Putt Which Would Have Tied Him For The Lead With One Hole To Play. (Photo By Gord Montgomery, Senior Writer, Inside Golf)
The course stood up to the test
Heffernan praised the golf course for being in outstanding condition with greens that tested the pros' short-game abilities on both days.
About the course, Stony Plain's Executive Professional Jeff Cuthbertson noted this was the second time in four years his track had played host to this major PGA of Alberta championship.
"You know what? We're very lucky. We have a great superintendent (Bill Gregoire) and our grounds' crew absolutely hit a home run with everything they do on the course. The fact the guys want to come and play at the facility, it's fun to play. It's in great shape. The guys enjoy it. It's not a cakewalk. You've got to hit good shots here," and good putts as well on greens that were estimated to be stimping at around 12 as the leaders hit the back nine on Day 2.
The fact that the course stood up to the test the pros threw at it is good in a few ways, the host pro continued.
"When the guys go back to their home clubs, and their members were watching and see their scores and realize their assistants and associates played great and the guys tell them it was this and that, yeah, I think that does bring people out (to play). I think when you host an event like this, we're giving back to the PGA of Alberta. The fact we're hosting these events, and guys coming from all over the province and asking if we can do it again, that's a feather in our superintend cap along with Robb James, our head pro, the pro shop staff, and food and beverage guys, everyone enjoys coming here. It says a lot for a municipal course."
Looking into the future after the success of this event, Cuthbertson said, "I'd be shocked if we didn't host something for the PGA of Alberta or Alberta Golf again," in the very near future because this course is a true test of golfing ability.
For his win, Heffernan pocketed $3,000, while Fox earned $2,000 for his runner-up finish. Those two, along with Dillon Batsel (Desert Blume GC) and Braden Chown (Bearspaw GC), will now represent Alberta in the Canadian Assistants Championship to be held at The Ranch G&CC in Edmonton later this month.