The Track GC Philosophy Is Simple: "Have Fun. Enjoy."
Details

Category: Inside Golf
Published: 2023-08-29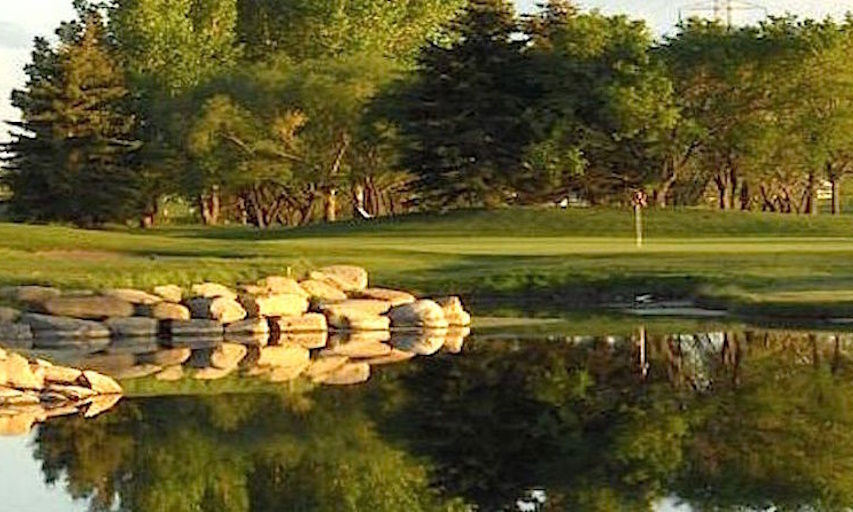 By Gord Montgomery, Senior Writer, Inside Golf
LANGDON, Alberta — If there was one word to sum up the philosophy of The Track Golf Club in Langdon, Alberta, it would be 'fun.' That's what this rural golf course wants to bring back to the game. Laughter, joy, and no strict dress restrictions.
Their desire for people to come to this layout is to enjoy the day and leave with a smile on their faces. Gregg Schubert, the Head Professional at The Track, noted: "We wanted a place where people could be comfortable …. to be more relaxed, unpretentious. Just go out and enjoy yourself."
That's exactly what you can do on this 18-hole layout just east of Calgary, where the course is moulded in a links style of play. "We don't have a lot of trees out here. Water comes into play on 15 of 18 holes and the wind can be a pretty big factor out here," Schubert said of living up to that classification.
The length of the course off the back tees isn't short. At just under 7,000 yards given the wind and water that face players here, a par of 72 could be a tough haul. With a handful of teeing areas to choose from, it means everyone, whether you're a newbie to the game or an experienced player, can find the right spot to start their adventure on each hole.
"On the front nine, it's a trio of threes," with three each of par-3s, par-4s, and par-5s, "and our back nine is more traditional, with two 3s and two 5s, and five par-4 holes," Schubert explained. "Our signature hole is probably number 18, which is 460 from the back tees with water all the way down the right. It's the most difficult hole on the course but we do have a lot of great holes, depending on the wind that day."
While a true links course is actually located along a coastal area with sparse vegetation and rather arid soil, that's not far off the mark here. One characteristic of those courses is the opportunity for bump-and-run shots from well out onto the green. There are quite a few of those shots on hand at The Track.
"Probably more than three-quarters to the holes," fit that descriptor, said Schubert. "Most of the holes give you the ability to land it short and bounce it up onto the green." There is bunkering to contend with, although maybe not to the style of a true links layout. "There is bunkering out here and it's all in the eye of the beholder in what you look for or don't look for in a hazard. There are a couple here, like on number 2, a par-3, that fronts probably three-quarters of the green that eats up a lot of golf balls. They've typically been well positioned but we do have a couple of nasty ones. It's an interesting mix."
As for making your way around here in a timely and enjoyable manner, remember one key thing.
"As long as people play the right set of tees, it's a good challenge, especially if you get some wind blowing, the pro said. "That will always be an evening out factor. We have some par-5s that are shorter and are reachable in two, giving you an eagle opportunity. We've got some par-3s, depending on wind, that can play 200-plus. For the experienced and better golfer, it can certainly offer a challenge. For the beginner, with five different tee boxes, they can pick the right distance and still shoot a number and have fun doing it. That's part of our mantra: Have fun. Enjoy. On our scorecard, we've got 'Smile more. Laugh more.'"
Overall, that's the prevailing feeling here. One of fun and making everyone feel welcome on this course. "Here, we're trying to take it a bit lighter. Not take it so seriously. Not be so uptight, I guess, is the best way to put it," Schubert explained about the relaxed atmosphere that encompasses The Track Golf Course.
To get you ready for taking on this wind-swept track, there's a great warm-up area with a grass driving range open for the better part of the season and mats to hit off of early in the year. It also boasts a large putting/chipping green with lots of space to host numerous players at the same time.
Located just 15 minutes east of Calgary via the Glemore, Highway 22X, or the TransCanada Highway, the short drive will relax you as you escape the city and head out to a golf course where fun is the number one goal each and every day. "We just want you to be relaxed, have fun, and enjoy the game," Schubert ended.