Family Golf Festival Could Lead To Shot At $100,000
Details

Category: Inside Golf
Published: 2023-07-27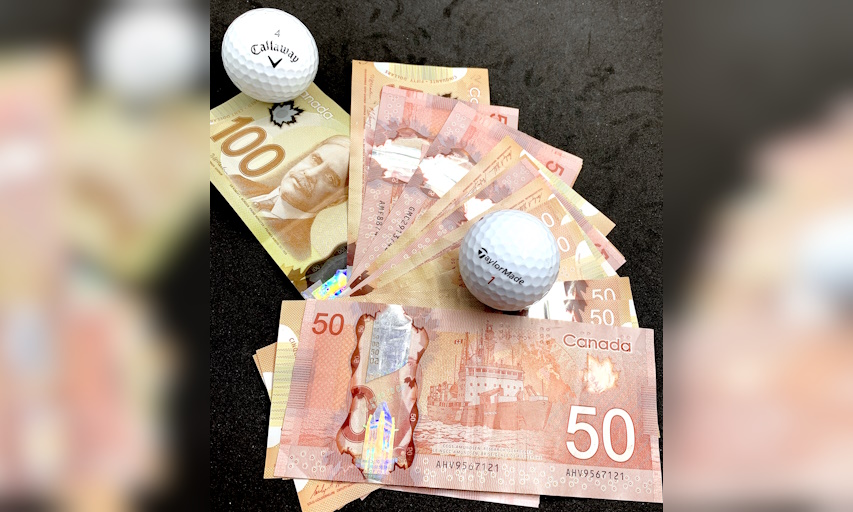 By Gord Montgomery, Inside Golf
CALGARY, Alberta — Let's face it: Chances of recording a hole-in-one are pretty remote, especially for weekend warriors. Odds are set at 12,500 to 1. And your reward for that all-time great shot? Likely buying rounds of drinks after your journey is complete, as friends you didn't even know you had decided to cash in on your success.
There is now a better way to make the most of a once-in-a-lifetime shot. You'd even have cash to spare after purchasing the majority of the liquid stock in the clubhouse.
Alberta Golf, through their UpSwing brand, is offering a prize of $100,000 to someone excellent/lucky enough to can their tee shot. One hundred players in Calgary and another 100 in Edmonton will have one shot to fill their pockets full of cash.
And yes, $100,000 could be won at both locations.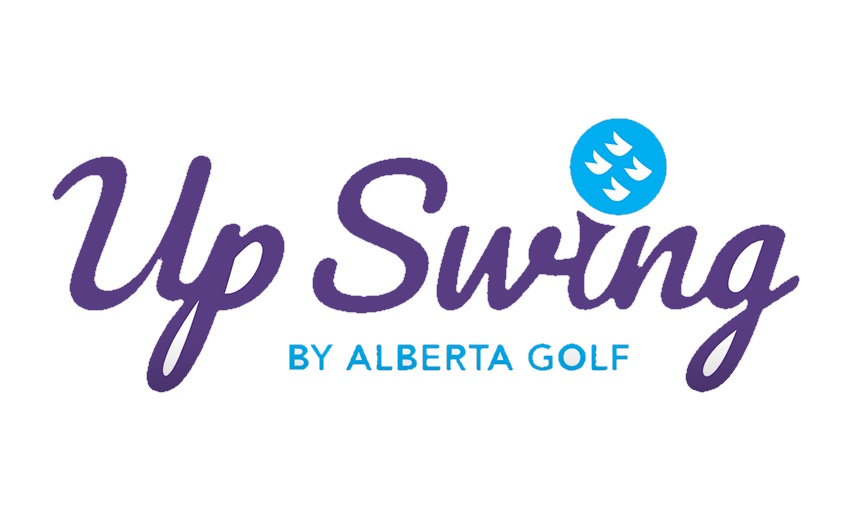 John Burns, the man behind UpSwing explained how this idea came about and how it will play out on August 10, 2023, on the Lil Devil Par 3 course in Calgary and then on August 24, 2023, at the Rundle Park Par 3 track in Edmonton.
"The idea behind this is we wanted this to be a highlight, you get the Golden Ticket to come take your shot, the Willie Wonka of Golf! We thought we'd create this event within the event," much like their season-long $5,000 hole-in-one challenges that have run in conjunction with UpSwing events around the province. "So, what we're doing is encouraging people to sign up. If you sign up, we will draw 100 names each in Calgary and Edmonton to come and take a shot at a hundred grand.
The one thing here is you must be a registered member of UpSwing to take part. The registration fee is $20 but will also cover four tickets to the Family Golf Festival.
These events are more than just the Bash for Cash - it's an entire day set out to introduce people to the joys of the game.
"The initial talks about the Family Golf Festival was to introduce people to the game who maybe are intimidated by it or don't know anything about it," Burns explained. "We take over the par 3 courses for the day and invite people to come and play for five bucks."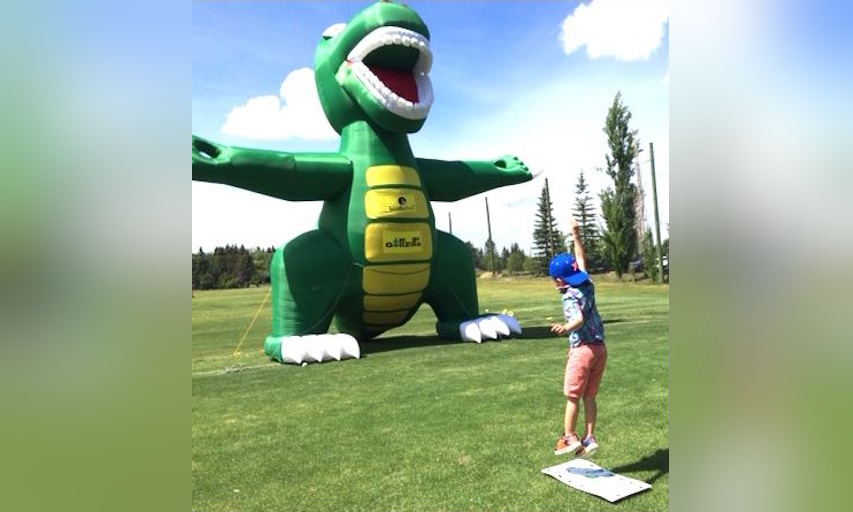 Kids Taking Part In The UpSwing Family Golf Festival Will Have The Chance To Launch A Few Shots At Golfzilla. (Photo By Gord Montgomery/Inside Golf)
For that price, participants get to play the little course in their community (including the mini-putt layout in Calgary); interact with Golfzilla, the huge 20-foot inflatable that the youngsters can goof around with; and hot dogs, chips, and a pop.
A limited number of kids' sets will be available through Alberta Golf for newcomers to the game who don't have gear. Burns suggested that it's hoped something can be worked out with the courses to provide clubs. There are no set tee times to take on the little courses. It's a case of first-come, first-served.
"We just want people to come out, see what the game is about, and let their kids or grandkids see what it's about."
Asked how this all ties into UpSwing, Burns explained it this way: "We encourage people to go to the site, encourage them to look at the details at www.upswinggolf.ca, and then register through that." For a fee of $20, which includes the UpSwing membership and four passes to the Family Golf Festival, a shot at $100K is a pretty good deal in anyone's book. He added that not only players, but golf course operators benefit from using the UpSwing site, as it's a free platform for courses to advertise upcoming events.
The Family Fun Festival begins at 10 a.m. in both locations, on August 10, 2023, in Calgary, and August 24, 2023, in Edmonton. That day 100 lucky participants will be swinging to fatten their bank account at 2 p.m. Each selected hole for the contest will be 150 yards in length. The only stipulation is that a professional golfer or an NCAA player is ineligible for this competition.
For complete details on the day, go to www.upswing.ca.