Polson Growing The Game In The Best Way She Knows
Details

Category: Inside Golf
Published: 2023-07-14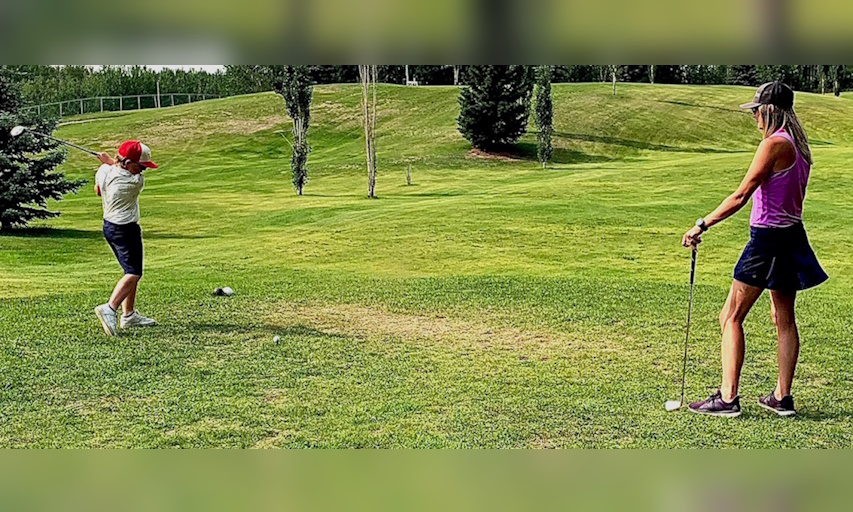 By Gord Montgomery, Inside Golf
PARKLAND COUNTY, Alberta — It's 4:30 on a summer Monday afternoon and the parking lot at Glacier Greens Golf Course is filled with excited voices as kids clamber out of their parents' vehicle. It's not because they're excited about watching Dad or Mom launch bombs on the driving range; it's because these kids will soon be swinging the sticks themselves.
At Glacier Greens, one of the few golf courses focused on bringing new players into the game. Their two days of junior instruction/play are key components of their business plan. It's a key to growing the business of the golf industry.
Meg Polson, co-owner of this 18-hole par 3 track west of Edmonton and just north of Stony Plain, said about catering to youngsters learning the game where others have stepped back: "There are a few different factors. I've golfed since I was four and golf is a huge part of my life. I also know the importance of growing the game. It does seem to me that all the other golf courses are not doing junior programs anymore and I do understand why. It's because they're not making as much money off them and that's why the par 3 is the perfect opportunity for these kids to come out and learn in a setting that's less intimidating."
Looking at present-day golf, Polson noted, "Yes, golf is great right now because of COVID and all these adults are golfing, but what happens in the next 10 years? Where are we getting these new golfers from?"
In answer to her own query, Polson launched her popular junior program in 2022 with one session per week. That's now doubled and, given the numbers that show up to learn and play, it could well keep growing and for a very good reason. "It's easier to learn how to golf when you're a kid rather than when you're an adult."
One big factor in helping spur the growth of these sessions is the fact that Polson is not only a savvy social media marketer but also well-known in the area where she grew up. Word of mouth has also played a role with kids at school telling other kids about what they're doing and that's paying off.
"We started the program in July [2022] (just after purchasing the course in June) and we didn't know how big it would get. We had 79 players. [In 2023], we're over 90," and new registrations are coming in all the time, she explained.
How this works is quite simple. Polson does some instruction on both technique and etiquette before the kids tee off for real. Under the care of at least one parent, the youngsters head off onto the course. Polson does play lessons with the kids when she can.
"This is a lot of fun," said a couple of the participants.
Eight-year-old Jude Richardson noted he'd been playing for two years but is enjoying what's going on here for a simple reason. "I just like hitting the ball," he said of the best part. "I play with my friends and golf sometimes with my dad."
As for his playing partner Hunter Kansen, he said, "This is kind of the first time I've ever golfed. My dad golfs and I thought I'd give it a try." As for his thoughts on the game, he explained, "It's hard but, at the same time, it can be fun as long as you play the game right."
Each time out, the groups of four are instructed on a particular part of the game prior to playing nine holes. Doing that 20 times in a day can get old, Polson said with a smile, but that's what teaching is all about — passing on important information.
"It's just to hammer home, 'This is what I want you to work on this week.' It's a lot of little things. I don't want to overload them."
The feedback for these sessions has been enthusiastic by kids and adults, said Polson. "The parents have been great! A parent goes out with each group and I stress they don't need to know anything about golf," and that they are there to enhance safety. "There are more kids joining up every week," so they are definitely enjoying these learn-to-play sessions in a relaxed manner.
Polson gets right to the point as to why she's doing this: "It's my job to grow the game," which is exactly what she's doing in the best way she knows.
For more on the junior program at Glacier Greens GC, which take place on Monday and Wednesday, or if you're a woman looking to get into the game and seeking a gentle start, go to the course's website at www.glaciergreens.ca.