Edmonton Company Wants To Put Their Shirts On Your Back
Details

Category: Inside Golf
Published: 2023-07-10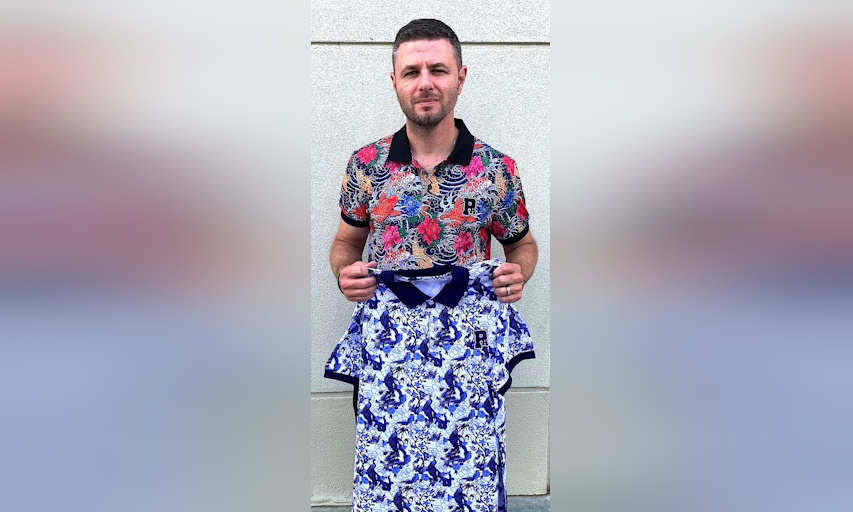 By Gord Montgomery, Inside Golf
EDMONTON, Alberta — Look good. Play good. That's a philosophy held by many and while Jared Van Dyke can't help you play better golf, he can certainly help you look better while playing golf.
Van Dyke, the owner of Practice Apparel clothing which is based in Edmonton, has released his first line of shirts. They are gaining attention not only for their practicality but also for their look. Van Dyke noted in a recent interview with Inside Golf that there's more to come. Right now, he's only chipping shirts into the golf fashion industry but he hopes to swing bigger next year with shorts and pants. He's focused on getting his unique shirts into the golfing public's eye.
"They're high-end shirts," Van Dyke began in describing what he's produced at a for-sale cost lower than the vast majority of brand-name golf wear. "The collar doesn't curl up. I went with a shorter collar so it fits tighter to your neck," as well as shorter sleeves so they don't interfere in any way with a player's swing. The material used is a poly/spandex blend which makes for a somewhat heavier material but works well in wicking moisture to keep a wearer cool on hot summer days. The make-up incorporates UV sun protection.
Van Dyke's first swing into golf clothing a couple of years back involved "Just buying a plain cotton shirt, a polo, and hand-sewing patches I made up on them. I sold a few of those to guys," and from that humble start, he's progressed to using a manufacturer to turn out his line. "It's still humble!" he added.
As to why he undertook such a challenge, especially when he'll be going against big names like NIKE and Puma, he noted, "You know what? Golf is kind of like a passion of mine when I can get out. I was like even if I couldn't golf, I could be around it or even involved in it," through launching his clothing line. "I just wanted to offer something I couldn't find in any stores."
His pattern style is different than what one normally sees on a course but Van Dyke isn't afraid of swinging into new territory. "I'm going to have patterns that I release, a limited release, and once they sell out, I'll probably do something new and fresh for the next season. I make my own patterns but I keep up with trends and what's hot and new."
He realizes he's now in the deep end of the pool swimming with clothing sharks, but he has faith in what he's creating. "Right now, it's just a nice-looking shirt. There are lots of shirts out there so it's just setting myself apart."
To market his product outside of the Edmonton area, he feels once people see and feel his shirt, the business will grow. He said he'll be approaching golf courses to see if they'll hang his shirts in their pro shops. "It's about building repeat customers and getting my name out there wherever I can. Just being persistent with it."
This is a passion project of sorts for Van Dyke. He also has a full-time job, but he did say about making this his sole occupation. "If it gets to the point where I can make a living, for sure. I'd probably quit work in a heartbeat to be able to do this. Right now, for me, it's just getting my name out there and building some awareness."
While he's just getting started in this industry with Practice Apparel, there is no talk of not with-standing early challenges. "I'm already all in! As long as it's selling, I'll keep it going. It's going to be a hard start to it, but I already do have golf courses and companies that want to take these on."
One big plus this entrepreneur has going is his product's price point. At $69.99, it's a bargain in the golf shirt business, where other brands can easily run to $100.00. There's a reason for his lower price.
"I tried to make the best quality shirt I could for probably the least cost. I want to try to be under the big box retailers and try to keep it there. I'd like to keep the pricing fair for everyone. Golf isn't cheap so I tried to make something somewhat affordable. I wanted to make something that looked like it was worth more than what you're paying."
Back to those big companies for a moment and being a little guy taking them head-on in a competitive industry, Van Dyke ended, "It's just taking that little risk. Practice makes perfect, so my clothing offerings will only get better as I learn from my first two launches."
To view the styles Van Dyke has released for this year or to order one or more shirts that are definitely from a cloth of a different colour, go to his website at www.practiceapparel.ca.