Slices, Spices & Oh So Much More In Surrey, B.C. (Part 2)
Details

Category: Inside Golf
Published: 2023-07-06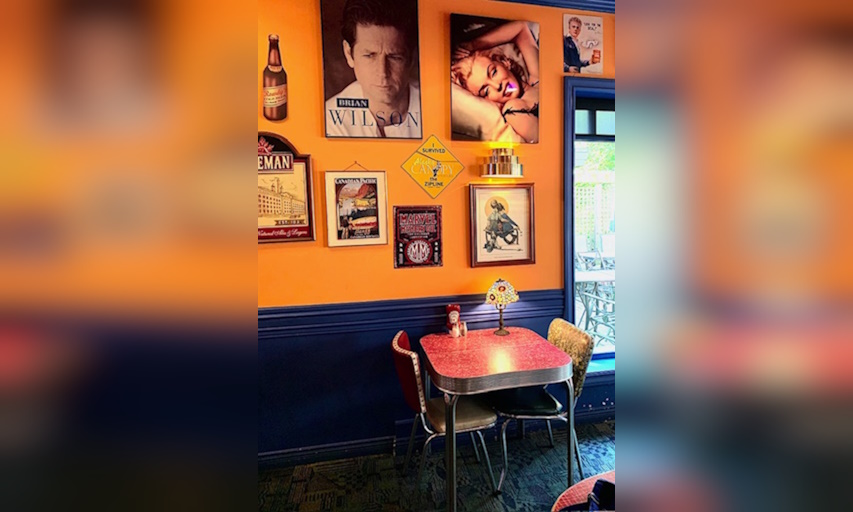 By Gord Montgomery, Inside Golf
SURREY, British Columbia — Part of this assignment was to eat. After climbing out of bed on our second day, it was off to breakfast and Western-style foods this time. We set up camp at the retro Roadhouse Grille where they were more than generous in filling your plate. I had a 3-egg Southwest Omelette that was too big to finish despite the great fillings of salsa, guacamole, seasoned chicken breast, refried beans, and mixed cheeses, topped off with sour cream. If that wasn't enough, add in pan-fries and cornbread. To emphasize how big this meal was, I didn't eat again until later that evening, even after playing 18 holes of golf!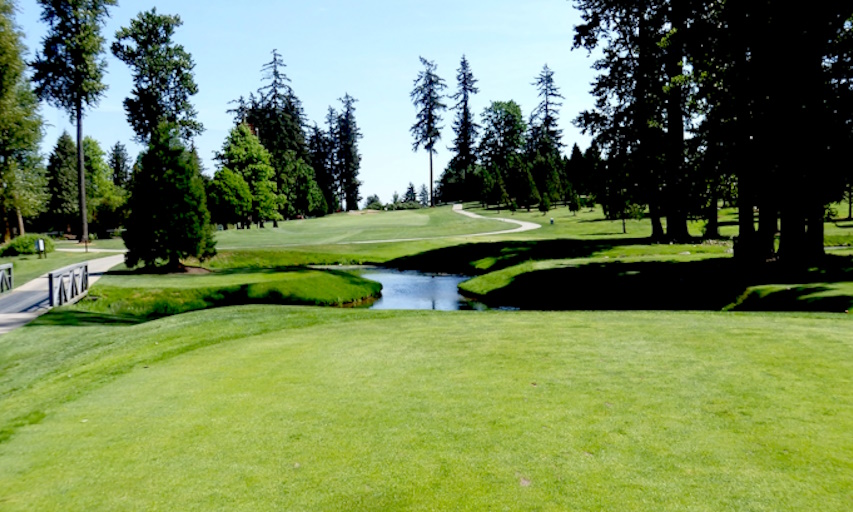 The Northview G&CC In Surrey Offers Up A Spectacular Start On The Ridge Course With Tree-Lined Fairways & Some Elevation Changes. Plus A Water Hazard Or Two To Make Things Really Interesting. (Photo By Gord Montgomery/Inside Golf)
A Return to The Slice Trail
Surrey's golf landscape boasts another wonderful layout, the Northview G&CC, which is the former home to the PGA TOUR's Air Canada Championship and played from 1996-2002 on the Ridge Course. Northview is also home to the Canal Course, a links-style layout.
I teed it up on the Ridge, where you find an interesting mix of holes. The front nine is quite heavily treed in areas while the home stretch opens up quite a bit. What makes this an even more exciting place to play is it's the spot where Mike Weir earned his first-ever PGA TOUR win in 1999.
Speaking about the courses' famed architect Arnold Palmer, Head Professional Greg Pool had this to say: "Mr. Palmer was here on site more than once, in regard to building both of the golf courses. He returned to play the golf courses on more than one occasion. It's pretty neat that he was very involved in the design of the courses in that way."
In describing the Ridge Course, Pool said, "It goes up through the trees on the first three, four holes. You can see from the clubhouse the elevation changes. Going to the back nine, there are some elevation changes there as well with water."
The Ridge plays to exactly 6,900 yards from the tips, or the Palmer tees as they're known, wandering down to yardages of 6,475; 6,001; and 5,661 as you move forward. With thick rough here, playing from the short grass is imperative for a good score. The greens are large and receive shots well, and with not a lot of severe breaks, the odd one-putt isn't out of the question.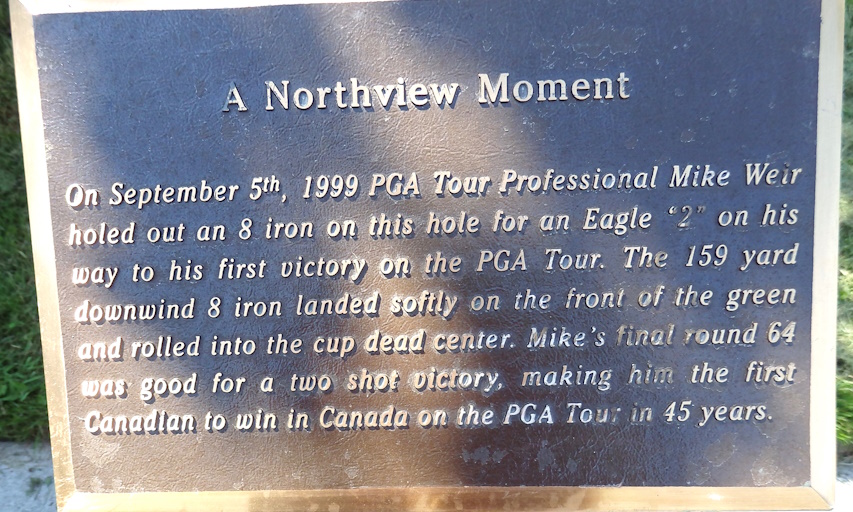 Once Home To The PGA TOUR Air Canada Championship, The Ridge Course At Northview G&CC Is A Great Place To See How You Stack Up Against The Pros Who Make A Living Playing This Game. That Includes Canadian Mike Weir, Who Won His First PGA Event Here. (Photo By Gord Montgomery/Inside Golf)
Wider fairways than its sister highlight the Canal Course, but there is quite a bit of water off the tee and near the greens on most of the holes, the pro explained. This layout is slightly longer than The Ridge, topping out at three feet over 7,100 yards off the Palmer tee. From there, the tees go downward to 6,646; 6,085; and 5,657 yards.
Both courses are enjoyable to play as they both offer risk/reward holes and for the longer hitters, they offer eagle opportunities. They are both incredible golf courses and when you add in that the best golfers in the world played the Ridge Course for several years, that adds impact. Originally, the PGA TOUR was actually more interested in the Canal Course, but the Ridge had better infrastructure to handle crowds.
What all that means though is no matter which 18 you choose to tee it up on at Northview G&CC, you're going to get a tour-quality experience.
One More Time for Food
After golf, one always has a hunger for good food so it was back to the Spice Trail. This time, we took on My Shanti, owned by Vikram Vig, who you may remember from his time on the CBC TV show Dragons' Den. It was another feast of sumptuous sustenance as we began with an appy of Gol Gappa, a small delectable mouthful filled with lentils and potato, and dipped in mint and tamarind water to inhale whole. Spicy gunpowder prawns followed that, then mussels in a vindaloo sauce and served with papadom.
For vegetables, because everyone needs greens now and then, we went with the delicious Delhi-style eggplant bharta with sweet peas. To further fuel up, it was then on to a beautiful taste explosion with goat stew, which is slow-cooked with a nice spice of red chillies and curry leaves that lingered on your tongue for a short time and was not at all unwelcome.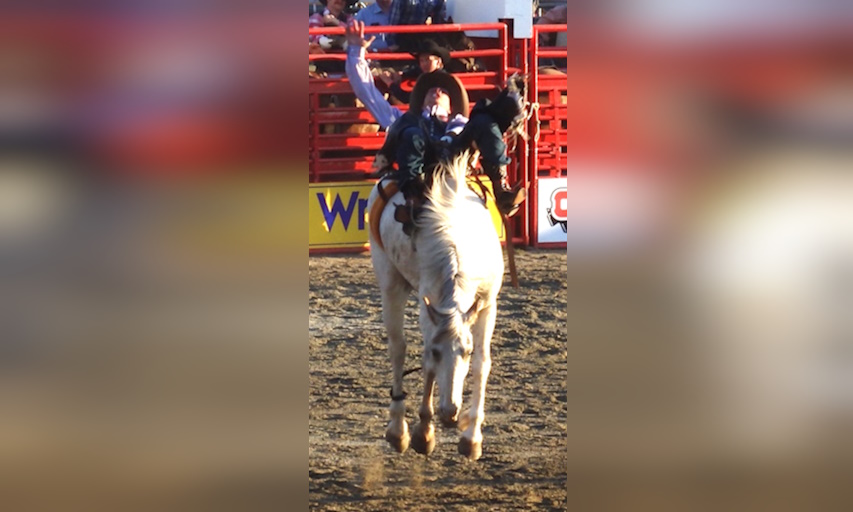 One Of The Most Popular Annual Events In Surrey — Surprise! — Is The Cloverdale Rodeo & Country Fair Where Over 100,000 People Pass Through The Gates To Take In The Action. (Photo By Gord Montgomery/Inside Golf)
In Surrey, There's So Much More
We're full to the brim with great food and we've sampled the great golf Surrey has to offer. What else is there to do in this thriving metropolis?
One of the biggest draws here is the Cloverdale Rodeo and Country Fair, where over 100,000 people pass through the gates during the May long weekend. After being dark for four years because of the pandemic, things kicked off again in a huge way in 2023.
Those of you familiar with my boyhood dreams of wanting to be a cowboy likely realize that rodeo is a fun way to spend a day. What better way to spend some leisure time than by watching almost 100 of the world's best cowboys and cowgirls go after their share of a prize purse totalling $300,000 in rough stock events including bareback, saddle bronc, bull riding, and barrel racing?
"We are celebrating the 75th year of the Cloverdale Rodeo so everybody's excited to have the rodeo back. We have 96 of the best participants this year, both male and female," Ange Chewl explained, the Executive Director of Discover Surrey.
If you're not a golfer or a rodeo fan for a weekend, this city has miles of green space, where 50 percent of the land base is green with urban parks and forests, farms, and golf courses. "It's really nature at your doorstep," said Chew. "There are lots of urban walking trails and forests, but we also have tidal beaches. Those are great for kids going down and digging in the sand, finding little creatures."
What all this means is simple: Surrey has something for everybody no matter what you wish to do with your recreational time. In closing, Chew noted, "A lot of people just don't know what Surrey has to offer. That's why we changed our company name to Discover Surrey — come and discover all Surrey has to offer," because you won't be disappointed once you set foot in this exciting part of B.C.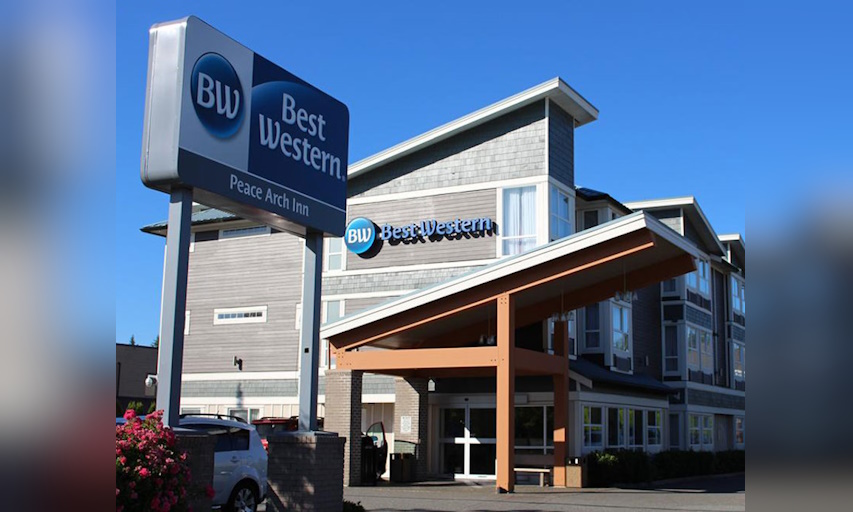 (Photo From PeaceArchInn.ca)
Where to Stay
While Surrey does have lots of lodging options for visitors from high-end hotels to camping, we chose to stay at the clean and friendly Best Western Peace Arch Inn. The rooms here, while not large, don't need to be because how much time do you spend in a room on vacation?
The staff was engaging and helpful with questions regarding destinations and directions plus the occasional meal suggestion. There is always free coffee and water available in the lobby. To top that off, there is a complimentary breakfast included each day, unless you head down the road a few blocks to the Roadhouse Grille!
The hotel is located on a main thoroughfare but is surprisingly quiet at night. You can awaken in the morning ready to explore Surrey B.C. and discover all it has to offer.