Slices, Spices & Oh So Much More In Surrey, B.C. (Part 1)
Details

Category: Inside Golf
Published: 2023-07-03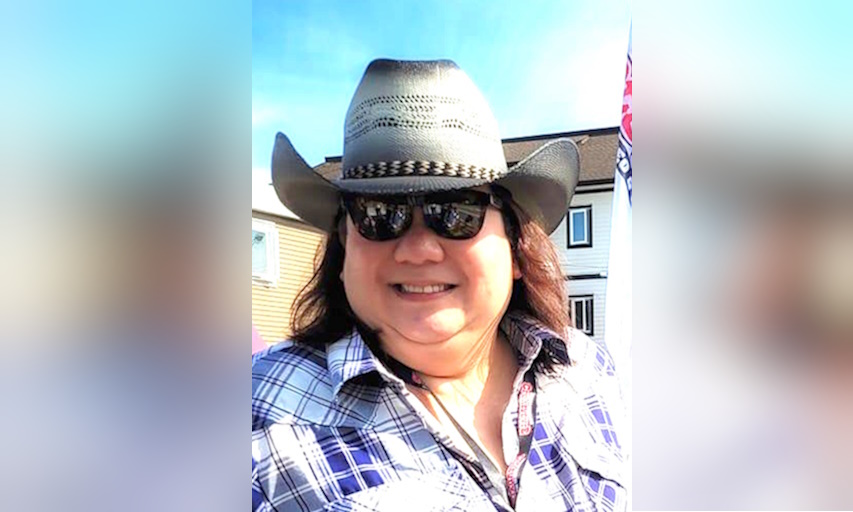 By Gord Montgomery, Inside Golf
SURREY, British Columbia — With the influx of advertising highlighting British Columbia hitting Alberta's visual markets over the past while, including the much-ballyhooed Surrey Spice Trail, it seemed only fitting that we hop on a plane and crash the party. We have a good friend, Ange Chew, who happens to be the Executive Director for Discover Surrey, so we knew she could send us off in the right direction in search of great golf and delicious food. Plus several other activities in this beautiful municipality that encompasses more adventures than one could imagine.
Soon to be the largest in B.C. by population has to offer, Chew took a deep breath and launched into her list of places to go and see. At the top of the list was the fantastic Surrey Spice Trail that was created because of the closed-dining-room turmoil of COVID-19. The Trail has become a success with patrons choosing delectable dishes of almost every ethnic persuasion at over 50 different establishments.
"We wanted to have something to help them once restrictions were lifted. We looked at our restaurants and what they represented," Chew began by relating how this concept was cooked up. "The idea was batted around in 2018, but it was mostly based on Indian food. We saw the global diversity of the multi-cultural ethnic cuisine that was available here so we decided to open it up. Spice is the flavour of food. Any ethnic cuisine from mom-and-pop to take-out places to high-end, we thought why don't we try to establish a trail that uses spices in the food? Vikram Vij with My Shanti was our first restaurant. In July 2021, we launched the Trail with 30 partners. The Trail has about 65 partners now. Included in that are retail partners where you can go buy spices and give it a try to make something at home."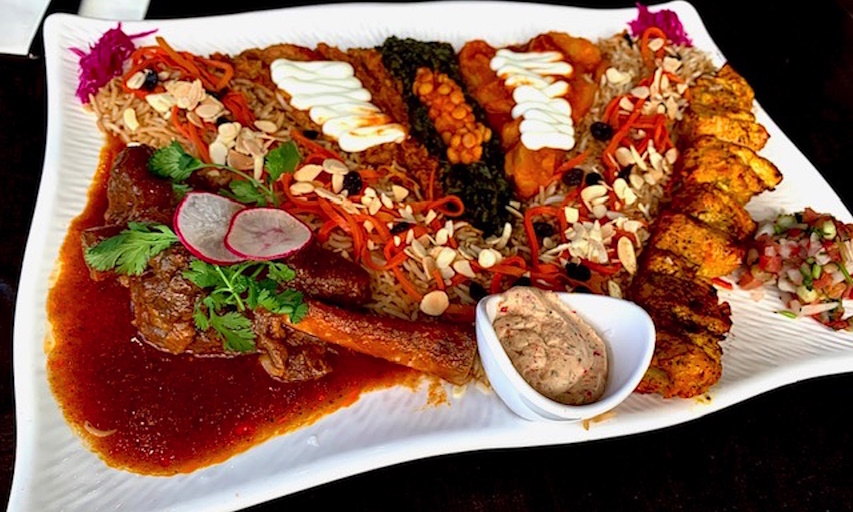 While Supposedly Enough Food For A Party Of Two, This Dish From The Afghan Kitchen On The Surrey Spice Trail Easily Fed Three People & Left Them With Smiles On Their Faces. (Photo By Gord Montgomery/Inside Golf)
Taste Testing Surrey's Spice Trail
Speaking of fine fare, we sampled two of the great spots on the Trail — the Afghan Kitchen and then My Shanti (and no, not on the same night. These meals are filling!)
At the first spot, we began with Aushak, a flavourful steamed veggie dumpling stuffed with leeks, spinach, and green onion topped with split peas, tomato sauce, and yogurt. We then ventured into a Platter for 2 easily big enough for three people. It encompassed eggplant, potato, sautéed spinach, chicken kebobs, and lamb shank with a spicy yogurt dipping sauce.
After all of that, it was time to get some exercise by swinging the sticks.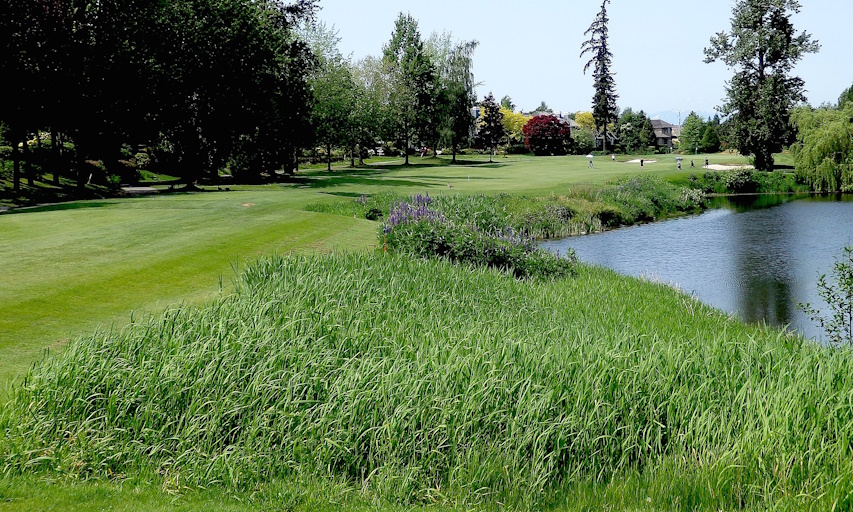 The Morgan Creek Golf Course Is Not Only Scenic, But It's Also A Track That Makes You Think Your Way Around, Including This Pretty Par-4 Test Where You Have To Think Hard About Whether You Have Enough In The Tank To Cross The Water Hazard At Its Furthest Point From The Tee Box. (Photo By Gord Montgomery/Inside Golf)
Teeing It Up on Surrey's Slice Trail
Let's get this straight: I'm a golfie, not a foodie. Chew pointed out that Surrey has a wealth of golf courses and I was lucky enough to tee it up on the wonderful Morgan Creek Golf Course to begin with. Chew emphasized, "Surrey has the most golf courses of any city in the Lower Mainland."
This postcard-pretty spot is nestled in South Surrey and is a track that is open every day of the year so there's always a time to play here. The course's Director of Golf Tom Doull noted this course is a popular choice to be either a member or a public player and for a good reason.
"You're going to find it challenging but not overly challenging. There are some forced carries over water hazards out there on certain holes. We are always in pristine condition. It's a walkable course, but a long one. A very flat one."
This layout is set in a residential area, which can strike fear into the hearts of some. Doull pointed out that here, fear is allayed by wide fairways and good separation from dwellings in the shoulder areas. "The course is about 26, 27 years old so a lot of the trees have grown in," which makes for added protection for the course-bordering homes. "We've redesigned a few holes to force people's eye down certain lines," in order to help boost one's confidence as the homes are not highly visible.
As for putting on the large greens here, the host pro noted, "There are a couple of tricky greens and some do have a lot of slope. Nine, 10, 15, and 18 are greens that have a lot of slope to them, particularly on the front part. Making sure you hit the right club into greens is really important. If you hit the right approach shot, it gives you the opportunity to score well."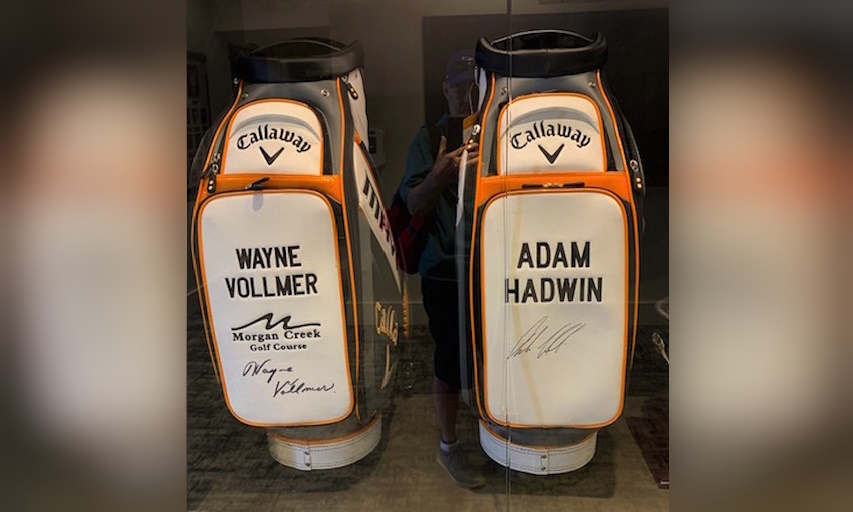 With Former PGA TOUR Player Wayne Vollmer & Active PGA TOUR Player Adam Hadwin Calling Morgan Creek GC Home, You Know That This Track Is One To Test Your Talents On. (Photo By Gord Montgomery/Inside Golf)
One thing to pay attention to at Morgan Creek GC is when you make the turn, be ready for a stiff test. The back nine holes do play tougher than the front nine. This layout tops out at 6,955 yards with more manageable distances in front of that including 6,367; 6,149; 6,002; 5,721; and 5,280 yards so there is definitely a spot for everyone to tee it up from on this beautiful, tree-lined, fun to play, layout.
Designed by well-known Canadian architect Thomas McBroom, this early work of his offers a different feel from his later projects. "In B.C., we were the first and only McBroom course for quite a while," explained Doull.
As for your time here, you can be assured you'll be looked after from start to finish and walk away pleased with the day, no matter what your final number on the course may be.
"We're all about the experience for golfers," the pro said in closing. "The course is fantastic and the conditions you'll see you can't beat whether at a private or public golf course," which in fact is what one desires no matter where you tee it up.
A couple of PGA vets once called Morgan Creek home, including Wayne Vollmer who spent four years on the Big Boy tour (rookie year in 1969) and Adam Hadwin, who has one Tour win and has played in over 235 such events as of July 2023. That alone should tell you just how good and fun Morgan Creek Golf Course is.
---
In Part 2 of this road trip to Surrey, it's back to more food, more great golf, and a surprise to us prairie folk!