Dinosaur Trail G&CC A Unique Mix Of Nines
Details

Category: Inside Golf
Published: 2023-06-07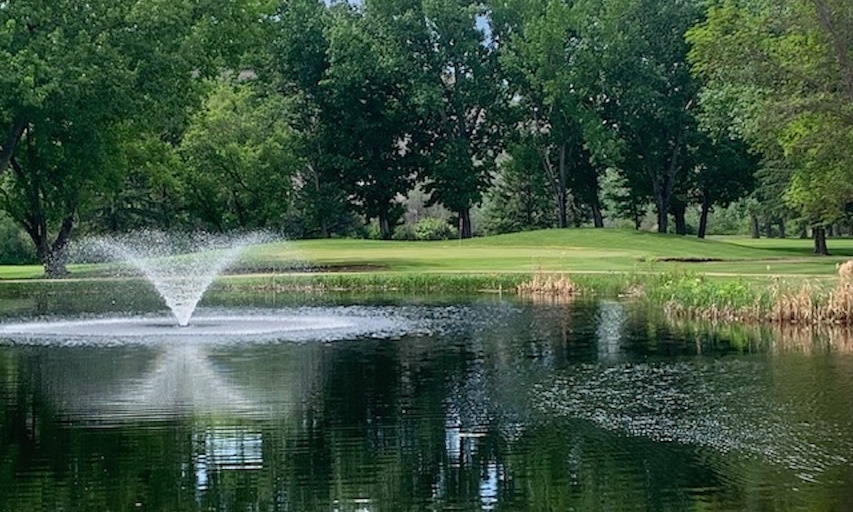 By Gord Montgomery, Inside Golf
Some of the most enjoyable golf one can experience is often in unexpected places. Many of those places across Alberta lie in rural areas, where small towns don't mean small layouts. These courses provide some of the most relaxed, fun, scenic, and challenging rounds of golf and in most cases, they are only a short drive away.
DRUMHELLER, Alberta — Until you experience what the Dinosaur Trail Golf & Country Club has to offer, you can only imagine what is in store for you. Sure, your friends can tell you how this 18-hole layout goes from a parkland style to something entirely different but really, you have to experience it to get the true feeling for the diametrically different nines.
In the land of dinosaurs, this golf course offers a tantalizing experience unlike any other in the province. Put it this way: On the outward stretch, you get a baby-sized dino like the Compsognathus, about the size of a turkey, while the back nine offers up a monster in the form of the formidable T-Rex. And yes, that home stretch is somewhat intimidating.
Asked to speak to this unique layout, clubhouse manager Neil Dobell explained how this playground came into being in two separate stages.
"The first nine is a parkland nine, built along the river, that was done in 1965. Then after a few years, the members wanted to build a back nine. They went across the highway into the hoo-doos and built that in 1996. It's totally different back there …. once you play it, you'll understand."
As Dobell said of that intriguing nine: "Back there, it's a cross between desert golf and the moon!"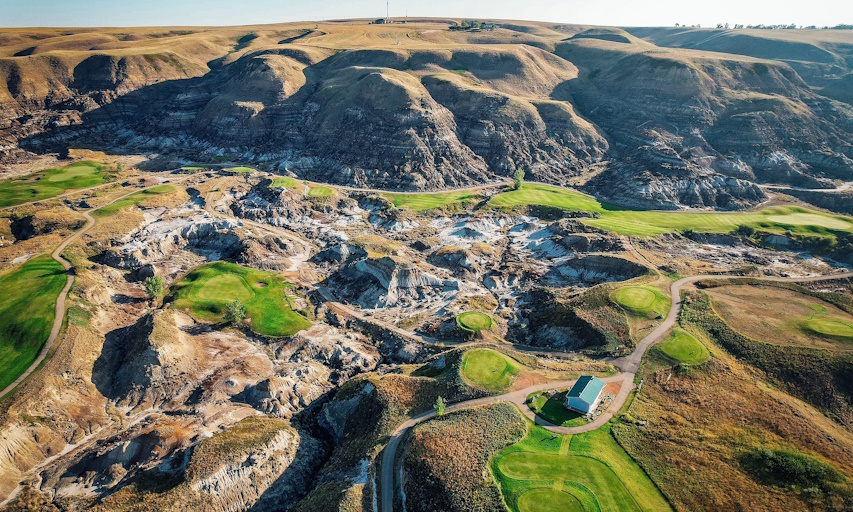 This Overview Shows Off Some Of The Dramatic & Challenging Tests That Await Golfers Taking On One Of The Toughest Home Stretches In All Of Alberta Golf. (Photo Courtesy Of Dinosaur Trail G&CC)
On the front nine, you're immediately put at ease with tree-lined fairways that are quite wide, with short, rough, and greens that are both receptive and relatively flat. It plays out to just over 3,200 yards off the back tees, winding down to 2,900 off the white blocks and 2,657 from the front deck. With your confidence built up after maneuvering around this stretch, it's time to grit your teeth and take on the beast on the back.
After a somewhat startling climb to reach the 10th tee, a par-5 of 476 yards off the white tee, you see a fairway that looks dauntingly narrow. After all, it's bordered on both sides by drop-offs, meaning your aim must be true. In fact, over the whole back nine, any shots that disappear into the unknown are simply played as lateral hazards to save time and, yes, golf balls.
The next hole, a short par-4 of 278 yards calls for a shot to the right that is somewhat daunting given what looks like a narrow landing area, but it is larger than it appears and leaves one with a car shot into the green. If you go left though, you still hit the fairway, but you need to elevate your approach shot over a massive rock wall blocking any view of the green. And similar challenges continue from there.
Dobell noted the mindset one needs here: "The front nine is easier although there are some tricks there. But once you go to the back nine, you want to bring a lot of golf balls! There are places it eats golf balls. It gets rather hungry back there!"
Now while this sounds terrifying, it is a fun play and a good test to see if your game is as good as you think. It's a brand of target golf where you need to make sure you hit the right club and have a bit of luck here and there.
"Basically, you're on top of the hoodoos so there are steep drop-offs," said Dobell. "You don't have much room for error. It might sound scary but once you see the pictures (and make sure to use the yardage book) and go back there, you realize how spectacular it is. It's more visually appealing than scary."
If you're a bit leery about teeing it up here because it's a bit of a drive, Dobell indicated there is a deal online that makes playing here even more enticing. He explained that anyone using playgolfalberta.com gets an "exceptional discount," with a saving of 47% off the regular green fee. Give this test a try and see just how good your game really is on what has to be one of the most unique, interesting, challenging, and fun back nines in the province.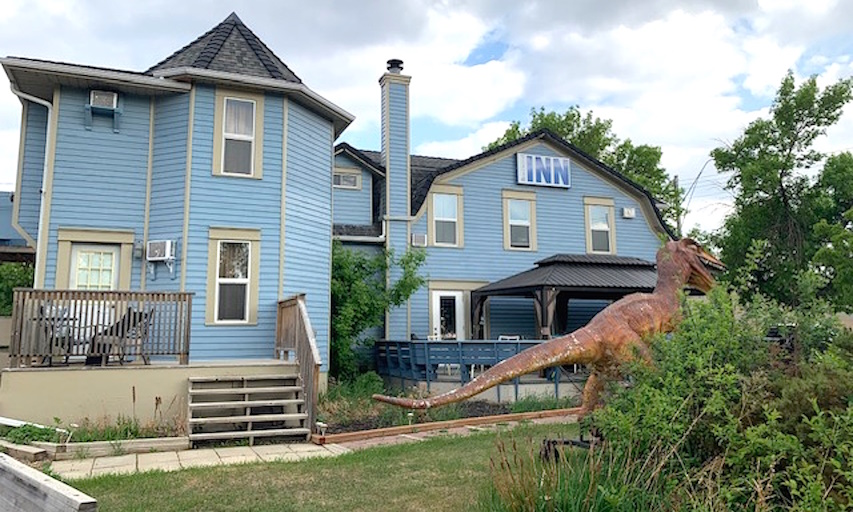 For A Quiet, Relaxing Place To Stay In Drumheller, Away From The Noise & Bustle Of A Hotel, The Heartwood Inn Is A Great Choice. And Its History Is Enough To Entice One To Stay Here. (Photo By Gord Montgomery)
Staying Over
Since Drumheller is more than a day trip for many, there are several options to spend the night to take on Dinosaur Trail G&CC a second time once you have the lay of the land.
We chose to set up shop in a quiet, comfortable spot in town, the Heartwood Inn, which after a bit of conversation with co-owner Zeke Wolf, turned out to have quite a history. Originally constructed in 1906 during the boom due to the coal industry in the area and later expanded, this 3-storey house has had a vivid history over the decades.
"The main part of the inn was added onto," Wolf began in relating its history. "The old section was a lot of things: It was one of the brothels in Drumheller way back in the day! There were three and this was the smallest of the three. It was a bit of an insane asylum. It was a home for disturbed boys. It has such an interesting history.
"And it wasn't even built here. It was built six blocks from here and was moved to this location in 1935. They moved it because they had ghosts and they thought by moving the building they'd get rid of the ghosts (which seems to have worked)! Then it was a boarding house and then about 30 years ago, it was turned into the Heartwood Inn."
As for this home-away-from-home, it basically has room to suit anyone's needs, be they a single, a couple, or a group.
"We have 12 units in total (including six in the new part of the building) and each room is unique and different," explained Wolf. "The rooms vary in cost," dependent on what's included although each has a jetted tub to soothe those aching muscles after taking on Dinosaur Trail G&CC. Also, there are areas in the yard for relaxing outdoors that guests are welcome to use, including a gazebo complete with mosquito netting if that's needed.
As for the comfort here, Wolf noted, "Our guests are quiet, respectful …. just good people. Often people come down and say, 'Geez. Didn't you have anybody here last night? It was so quiet.' It's just a quiet, unique place, hidden away (in a residential area) and it's much bigger than it looks from the outside. It's a pretty good place," which is a massive understatement, much like saying the back nine of the local golf course is a so-so experience.