Golf With The Legends: The Galleri Classic
Details

Category: Inside Golf
Published: 2023-04-19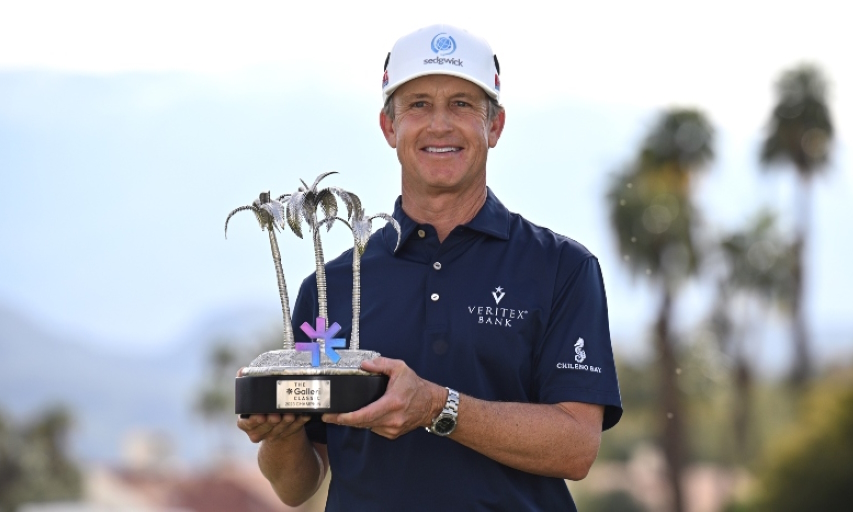 By Dr. Barry Lotz, Inside Golf
Say what you may, but the majority of Coachella Valley's golf enthusiasts belong in the senior category, that is 65 plus. With the Dinah Shore/Nabisco/ANA Ladies' major leaving the valley, many of the local golf lovers and visitors, reveling in the sunshine of the Southern California desert were destined to miss a prized golf tournament the desert had come to know and love.
However, they were quickly re-enthused this Spring to experience something new and exciting that certainly exceeded any expectations with the debut of the new Galleri Classic in Rancho Mirage.
It was a great run at this iconic course, the Mission Hills Country Club, until the sponsor moved the event last year — and in stepped the PGA TOUR Champions into a market ready-made for the 50+ age group of past winners of the PGA TOUR. Ever since the Champions Tour left the desert after 1993, local leaders and golf enthusiasts often yearned for its return since it fit the area so well. And back it is — better than ever!
The Mission Hills Country Club — the host for the event — is one of the best in this golf-centric area that boasts 120 courses in the vicinity and was the host for 51 years of the LPGA major that began in 1972 as the Colgate- Dinah Shore Winners Circle Tournament.
The Galleri Classic, named after the title sponsor, Grail's multi-cancer early detection test, had something for everyone in the area--be it a class on the cancer test, good food, a local artist recording the scenic beauty, demonstrations of golf items and opportunities, a field featuring the top players in the world from the past 40 years, and some of the best weather on the planet.
This area has been headlined as a golf destination since 1960 by American Express, and the PGA TOUR's regular stop during January in La Quinta began as the Bob Hope Desert Classic. The Galleri Classic showcases many familiar veteran pros in its field — including this year's lineup that had 10 members of the World Golf Hall of Fame winners of 358 combined Tour titles and eight former winners of the Am Ex.
The enthusiastic crowds were drawn to these familiar faces, and the competition didn't disappoint. Sunday's final round evolved into a shootout until the tournament's leader all week — David Toms — took control on the back nine and won by four strokes over Steven Alker at 16 under. And to think — Hall of Famer, Retief Goosen, shot out of the starting gate that day with birdies on 9 of his first 12 holes to take a three-shot lead midway through the final day's action.
"I haven't made any putts for two weeks, and then finally today I started making a few early on," said Goosen after his round. "Yeah, got it going nicely. It's disappointing about the finish, but I think when I was driving to the course this morning I was thinking if I could shoot 10 under, and I finished the Tournament at 11 under!
Goosen said, "Overall, it's a great golf course, the weather is beautiful, a great event and we're very pleased about Galleri coming in for this new event this year. I will be back next year."
Toms echoed the same sentiments, as he won his second event in his last three starts.
"First of all, it's a really good golf course. It was in perfect shape." he noted. "We got lucky- we had quite a bit of wind every morning, and by the time we played, it was kind of nice. It was a really good test. You had to keep the ball in the fairway, which was very difficult. Just enough rough to make you think. Greens got firm, so you really needed to be in the fairway. Fortunate for me, I kept it in the fairway for the most part. If not, I always had a shot where I had an open green or something, and the putter felt really good the last few days."
The overall atmosphere and course were also something that David Toms took note of.
He expressed, "I think what you saw is, you saw some good crowds out there, people interested. This is a great time of year to be here. A lot of us still live in places where the weather's very unpredictable, so it's nice to be here. added Toms. "It certainly, for me, had a bigger feel to it than, say, when we used to come here to play what was then the Bob Hope Chrysler Classic because it was a different type of event. We had a lot of amateurs playing with us, celebrities, and things like that."
"This felt like a really important event. We had a great sponsor, and I think most guys will tell you the golf course is hard to get in any better condition than the golf course we played. So, you put all that together, and I think guys will continue to come back here. And the guys that didn't come, they will be here just because the word will get out on what a nice event it was and how good the golf course held up."
Another top finisher — Fred Couples — had a homecoming of sorts, after living in the area and competing for many years in the Bob Hope Classic and the Skins Game. He is well-known in the Coachella Valley as a course designer and sometime resident.
"Well, growing up and playing the Tour, I always saw the tournaments here, and then it left us. said Couples. "Then, when I turned 50, I thought, why do we not have a tournament in Palm Springs? And now we do! I used to live at Mission Hills, so I know this course. Thirty-two years ago, with John Cook, we used to play a lot."
"But, the LPGA event at Mission Hills was a phenomenal tournament-- everyone knows about the Dinah Shore. I think it is like their Augusta. I think we, as older players, need to be playing here. So, you know, if there's such a thing as this time of year for us, maybe this tournament can become like the women's, you know, the Dinah Shore, like the Masters. And then, for us to have a tournament in this area is pretty cool-- and this is a heck of a week to play."
In my humble opinion, this tournament should and could be another Champions major and another feather in the PGA's cap. One thing is for certain, the Galleri Classic deserves to be added to the "Must-do" list for any traveler to this area of the country.
Kudos need to go out to Michelle DeLancy, who served as tournament director for the Boeing Classic, PGA TOUR Champions event in Seattle for 13 years. She is currently one of the outstanding tournament directors, recognized for her career in sports marketing and all aspects of producing a multi-faceted tournament. Michelle did a superb job that was appreciated by all the players, the media, and the 535 volunteers.
The Galleri Classic has found a welcomed home in the desert, and we look forward to The Galleri Classic in 2024!
---
Barry Lotz, J.D., Ph.D. is the director of the Professional Golf Teachers Association of America. He is a member of the Golf Writers Association of America and the California Golf Writers Association and serves both as a consultant and mediator to the golf industry. He is also the author of numerous books, including "333 Best Web Sites for Golfers," "How to Build Business Relationships Through Golf," which is in the Top Ten Golf Business Book's bestseller list. His current book, "The Right Mind for Golf," is now in its 14th printing. His newest book, "The Right Mind for Putting," is due out in June 2023. He currently works with 14 TOUR Players on mental coaching and scoring techniques.
Terry Ross has covered sports as both a print and radio journalist for more than 35 years, and he also has served as a consultant to the golf industry in a variety of capacities. He is the Associate Editor of Golf Vacations Magazine and is based in Orange County, CA.