Mills Honoured With HOF Induction Through Work With Junior Golfers
Details

Category: Inside Golf
Published: 2023-02-06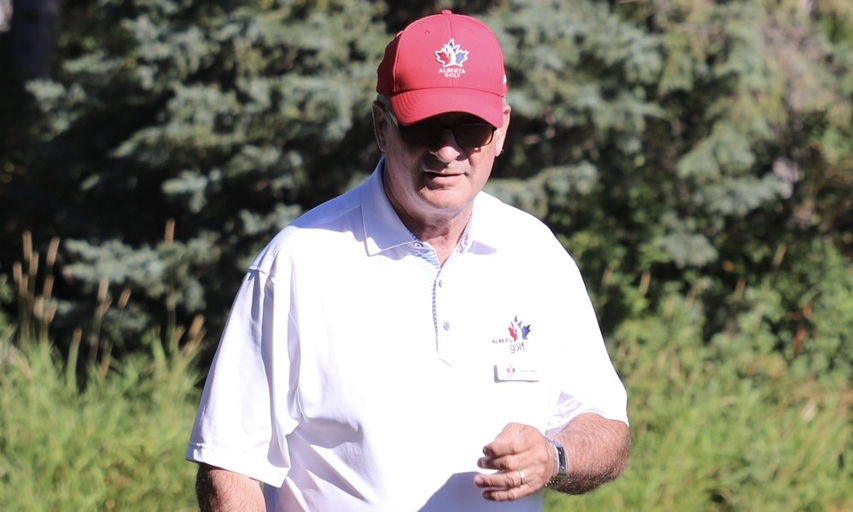 By Gord Montgomery, Inside Golf
EDMONTON, Alberta — When Dunc Mills' mother, Marion Kolthammer, introduced him to the game of golf oh so many decades ago, she likely had no idea where that would lead her son. As it turned out, it was most likely a lot farther than both she and Dunc ever expected.
Mills will be honoured with induction into the Alberta Golf Hall of Fame as a volunteer, thanks largely to his longtime cultivation of junior golf in the province through the always-popular McLennan Ross Tour. Years ago though, supporting and guiding kids through the early stages of learning the game was likely a distant thought, if one at all, for the now 72-year-old. Mills related that as a rules official, he originally joined forces with Alberta Golf, the province's governing body on the amateur side of the game in the early 1990s. Nothing more. Little did he know back then where this volunteer effort would lead him.
During his time with the junior tour, Mills figures he's seen thousands of kids tee it up. At the same time, he noted, many of those were returning players year after year but all the same, he's had an impact on so many young golfers who have learned the game and life skills under his guidance.
"My mom got me grounded in the etiquette of the game," back in the late 1960s he recalled. "How to behave on the golf course. Playing by the rules, that sort of stuff," which he later passed on to hundreds upon hundreds of kids.
In 1991, Mills joined the Alberta Golf volunteer crew as a rules guy but that stream changed soon after thanks to a luncheon meeting. At the time, he was an employee with the Royal Bank, a career he left in 1996. As it turned out, the McLennan Ross Sun Junior Golf Tour was about to be tied up and at that lunch, Mills was talked into heading up the program in its infancy.
"I could see some future in this junior golf tour that I was excited about. I stayed on with Alberta Golf as a volunteer, to work some of their tournaments but my main focus became more on getting the McLennan Ross Tour going."
When it began, the junior tour was a far cry from what it is today. There were only nine events in the first year (1996) including the championship. The next year, the slate jumped to 14 events and the year after that, things really took off.
"That was 1998 and the year the Senior Tour, now the Champions Tour, had an event at Glencoe (in Calgary)." As a major sponsor of that tournament, AT&T stepped in to provide additional funding for the kids' circuit. "Within about five years, we were up in the mid-20s for tournaments 23, 24, 25. Of course, that was when the boom for junior golf was really on," thanks to the Tiger Woods phenomenon. "Golf became cool with Tiger Woods leading the way."
Mills said he had a premonition that this tour could become more or less a full-time gig. "I never saw it as being, you know, a year-round, 40-hour-a-week type of thing. I never saw this tour as being the Canadian version of the AJGA. I didn't want this to be a thing for elite, rich kids only, type of thing. We tried to be realistic. I knew from my playing background that as we were building the schedule, there were an awful lot of little towns around Alberta that had junior tournaments already so we were trying to coordinate the best of these courses and work with courses that had junior-friendly attitudes."
And there is no doubt that philosophy worked better than anyone could have imagined. Since its inception, the McLennan Ross has helped spur the growth of junior golf within Alberta Golf, which back then had only one junior event per year, to now hosting several including male and female tourneys for kids in U-13, U-15, U-17, and U-19 age brackets. As well, other junior tours are now widespread.
"We were the first tour that put together a coordinated tour for these kids," Mills said. "We always wanted, since Day 1, to make this an entry-level, come-out-and-learn what junior golf is about thing but still provide good competition for the better kids, too."
Mills noted that the McLennan Ross Tour mainly now focuses on kids 15 and under, although older teens are still welcome. "I have no problem with some kid coming through the McLennan Ross tour at 14 or 15 and then he/she, 'graduates' to higher level competition. I have no problem with that at all."
To that end, while the vast majority of those who age out of the Alberta-based tour continue to play the game for fun, there have been some notable exceptions including Will Bateman (now on the Korn Ferry Tour), as well as Jennifer Ha and Jaclyn Lee who both had time on the LPGA Tour. That being said, Mills emphatically states he's just as happy when an adult, who played in McLennan Ross events way back when, comes up to him and shares memories of playing the tour. "That means just as much to me or more."
In reflection on his upcoming induction in April, Mills noted, "I didn't start doing this 25 or 30 years ago because I thought I'd get a Hall of Fame nomination. I wanted to get involved because I thought I could enjoy working tournaments, enjoy working with kids. It's a cool summer job! It's a long day but at the end of the day, I'd like to think I've had some influence on some of these young people. Very little of this, to me, was about the golf. It was having these kids become better people."
And from that and the McLennan Ross Junior Tour, many of Alberta's once-young golfers who met Dunc Mills became solid citizens across the province and beyond.
The official ceremony for Mills and William 'Bill' Newis to be inducted into the Distinguished Service Award category will take place on April 20, 2023, at the Winston GC in Calgary.