PGA of Alberta Golf Shows Set To Return
Details

Category: Inside Golf
Published: 2023-01-17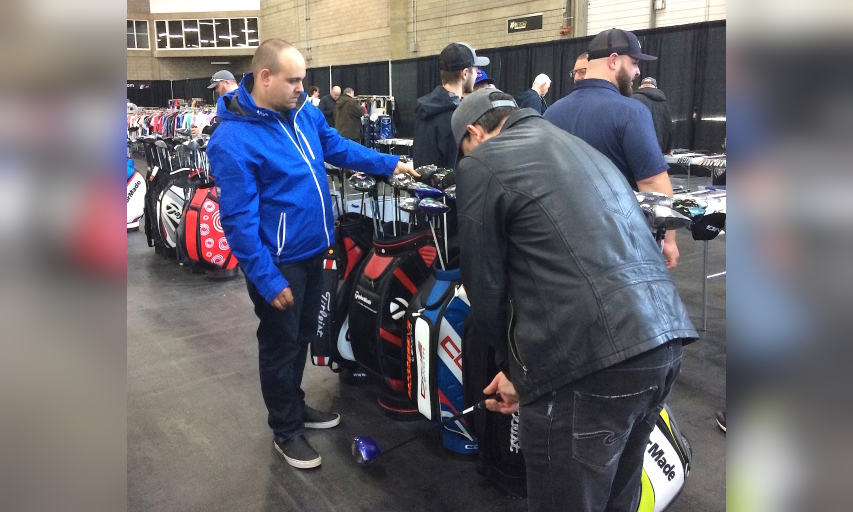 By Gord Montgomery, Inside Golf
After a three-year timeout, the PGA of Alberta Golf Shows are set to return with organizers hoping everyone, vendors and the public, get a bigger bang for their buck.
Trevor Rioux, the event manager, said there is lots of excitement headed into the two shows, in Calgary and Edmonton, from all those he's talked with. The reason of course is the unexpected hiatus the shows were forced into due to the pandemic and the closure of such events.
"This will, technically, be our first show in four years," said Rioux. "We've seen some good engagement, some excitement, from golf courses, from B.C., and the U.S. that promote to this Canadian demographic. We're trying to get as many courses as we can signed up, plus manufacturers with their latest and greatest products. We are back and we are excited and we're looking to make it even better because we're back. We've seen good response so far and we're expecting great traffic."
One major change on tap for this year is the date changes for both shows with Calgary now teeing things up first as opposed to usually following the Edmonton show.
"It's something we were looking at when the shows were still happening, before COVID, to get more attractions, more engagement from the exhibitors, more consumers through the doors as well. We had feedback that the shows were possibly a bit too early. The Edmonton area market typically, the winter lasts a bit longer, takes a bit longer to get warmer up here, so pushing it back a little bit," and flowing into The Masters weekend, will hopefully boost the number of people through the doors at both venues.
One thing that will remain the same is the Clearance Centre, which offers up great deals for anyone looking to upgrade equipment, their wardrobe, or just seeking some dollars off brand new but not up-to-date, gear. This area could be especially beneficial for newcomers to the game who bought lower-priced equipment to try the game out during the pandemic lockdown, where golf was pretty much the only game in town.
"The Clearance Centre is one of the biggest attractions of the show and for many people, that's one of the first attractions they go to. They go right to the Clearance Centre to see what kind of deals are going on [and] what merchandise is in there... We want to make sure it's as full as possible so consumers have lots of options, [and] lots of variety. It's going to be a big area of the show. Any type of golf equipment they're looking for, shoes, clothing, accessories, wedges, drivers, divot tools, all of the above are available at the Clearance Centre.
"It's last year's inventory there so there's no brand-new inventory if anyone's looking for the latest Callaway or TaylorMade driver. It's the previous year's inventory from the golf courses."
But if you are looking for the latest in many lines, then the Driving Range area has exactly what you're heart desires to soothe your curiousity. "Consumers can just walk right up to the distributors at the driving range and test out their products, the latest driver or wedge or whatever it is they're looking for. This is a feature of both shows and the manufacturers are excited to be back."
Then when you want to test your skills against others, whether it's accuracy, distance, or on the green, there are contests set up to meet those needs. Rious said that there will be the Long Drive, Long Putt, and Closest to the Pin events with prizes attached to the competitions. And while you may walk away with some goodies for giving those a shot or two, a pair of charities, one in each city, will also benefit from those events. In Calgary, funds will be donated to the Kids Cancer Care Foundation and in Edmonton, the local Ronald McDonald House will receive funding.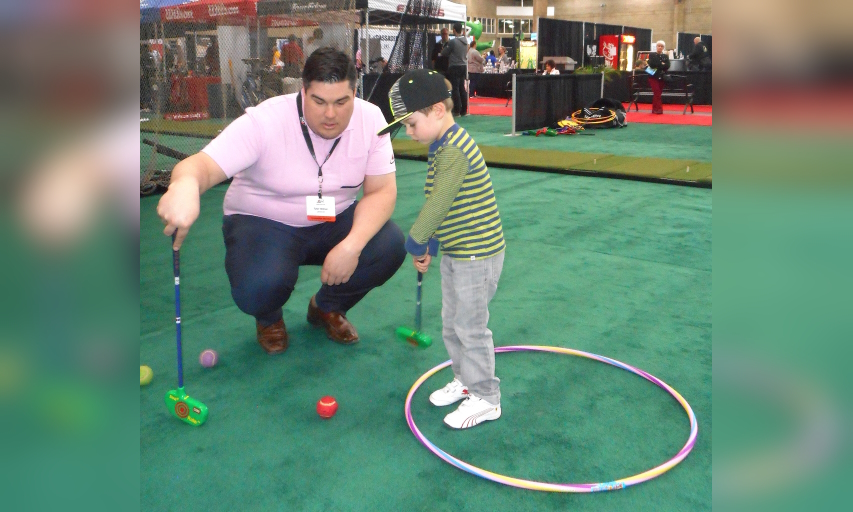 If You're Looking At Getting Your Child Into The Game, The CPGA Professional Staff On Hand At Both Shows Will Be More Than Willing To Give Them A Hand In Figuring Out The Best Way To Swing A Stick.
If you're looking at having your kid(s) get into the game, the PGA of Alberta Golf Shows will have instruction for them provided by certified staff who volunteer their time for these events. "For families that come to the shows, they can have their kids get do some junior activities run by our CPGA professionals from 1 to 2 p.m. each day of the show," including some speaking engagements focused on junior golf, as well as other topics.
"We're excited about that," Rioux noted, "It gives people a chance to get off their feet, have a beverage at our 19th Hole, and hear some cool presentations from our guest speakers."
The Calgary show has tee times on March 18 and 19 in Hall D at the BMO Centre, beginning at 9 a.m. the first day and at 10 a.m. the second day. There, you can take all the time you need to complete your loop with doors closing at 5 p.m. and 4 p.m. respectively.
In Edmonton, the dates have shifted to April 1 (no foolin'!) and April 2 and they'll take place in Hall E at the Edmonton Expo Centre. The hours are the same as for the Calgary show.
Tickets for the event are $12 a day, with seniors (65+) and students (with ID) receiving a $1 discount on entry fees. Kids 12 and under are admitted free.
In closing, Rioux had this to say: "This something we're really proud to do. We want to grow the game and get as many people swinging the golf club and having as good a time as possible at the shows.
"As an association we are thrilled to have these shows back and give back to the industry that's supported us and the golf courses and golf as a whole over the pandemic. We're excited to see the face-to-face back at these two events, which are a big part of our association and what we offer to the public as well as showcasing our professional association and what we're all about."
So load the family into the car and head down to the PGA of Alberta Golf Show to catch up on great travel and equipment deals that have been stowed away, out of sight, for the past three years.