Gibson Finishes With Flourish To Take PGA of Canada Head Pro Title
Details

Category: Inside Golf
Published: 2023-01-06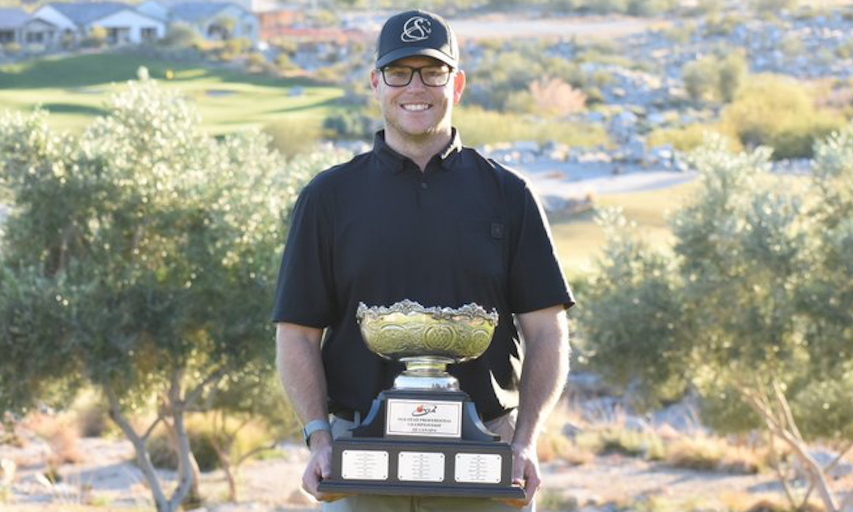 By Gord Montgomery, Inside Golf
CALGARY, Alberta — With a scorecard that read more like one from a Texas Scramble than a tournament round — birdie, birdie, birdie to finish regulation play and then birdie, birdie, par, birdie to end a playoff — Calgary's Craig Gibson put together a dream end to the 2022 PGA of Canada Head Professional Championship, played at the Verrado GC in Buckeye, AZ.
Asked if he'd ever strung together a series of hot holes like that before, Gibson replied, "I think the most birdies I've had in a round is eight, but I've never had them back-to-back-to back, let alone to finish off a round. I don't know if I've ever birdied three holes in a row... not that I can remember. I think in college I had a few. When I play really well, I usually birdie early and then kind of hold on from there."
As it turned out, the tourney leaders couldn't hold off Gibson as he made his charge over the home stretch of regulation play with the Calgary pro coming from two behind with three holes to play.
"That would be the first time I've ever birdied the final three holes to get into a playoff, then birdie three of the four holes in the playoff," Gibson said of his dramatic finish.
As to that remarkable come-from-behind victory, Gibson noted there weren't any scoreboards on the course, but his playing partner at the time (Rob Tadey, Fairview Mountain GC), who was actually leading, showed him on his cell phone where things stood. The Calgary pro saw he was in third place and figured a top-five placement would be wonderful. After going birdie-birdie on 16 and 17, he took another glance at the phone to find himself still two back on the tee at 18.
"Rob (in a 2-way tie for the lead) and I both hit really good tee shots. When we got up to those, I could see Stef (Cox, from the Calgary G&CC who was tied for the lead) was up in the rocks," and had to take a penalty drop. "Rob goes first and hits it left, then hits a provisional that went left again. I was 210 out, middle of the fairway, and figure if I birdie I could get in a playoff and if I eagle, I could win."
Gibson's approach was pin-high, just off the green and he got up and down for that birdie and earned a playoff spot with Cox, who bogeyed 18, while Tadey doubled his final hole. Then the fun began as the two Albertans played 18 twice, number 10 once, and then 18 to wrap things up. On that final hole, Gibson sank his birdie putt first while Cox lipped out, ending the drama.
While there's pressure in a playoff, Gibson said he didn't step out of character to walk away with a win. "I normally play the same game. I try to keep the same mindset. I usually play things pretty [cautiously], I'm not an aggressive player. I know Stefan quite well so it wasn't a nerve-wracking experience; just another round of golf, right?"
Interestingly enough, the final two players had toured the Arizona desert course together in the practice round on Monday, with Gibson noting, "Yeah, we're all pretty close in Alberta." But with the title on the line, that friendship line was erased for a while.
Asked how it felt to win this prestigious event, Gibson said that fact hadn't really hit home even two weeks after the finish. That was partly due to the fact he didn't have the championship trophy at his home club, Sirocco GC in Calgary, to remind him of his success. And no, that wasn't because an airline lost it on its trip north. Rather, the PGA of Canada had taken it back to Ontario to have his name engraved on it.
And with his ultimate goal going into the event to finish in the top 5, Gibson far exceeded that desire.
"To have my name on that trophy forever, that's probably the biggest thing. Probably one of the proudest moments of my life," he said of walking away as the top dog. "And having a head professional win it, that's been a while, because it's been a teaching pro winning. To be honest, I don't know if it's sunk in yet."
But when the trophy and the winner's cheque for $9,000 are safely in Calgary, he'll realize that he really was the best in Canada at the 2022 PGA Head Professional Championship.