Cape Town Continues To Attract Tourists Who Love Luxury Accommodations, Great Food, Magnificent Wildlife & Fabulous Golfing
Details

Category: Inside Golf
Published: 2022-11-03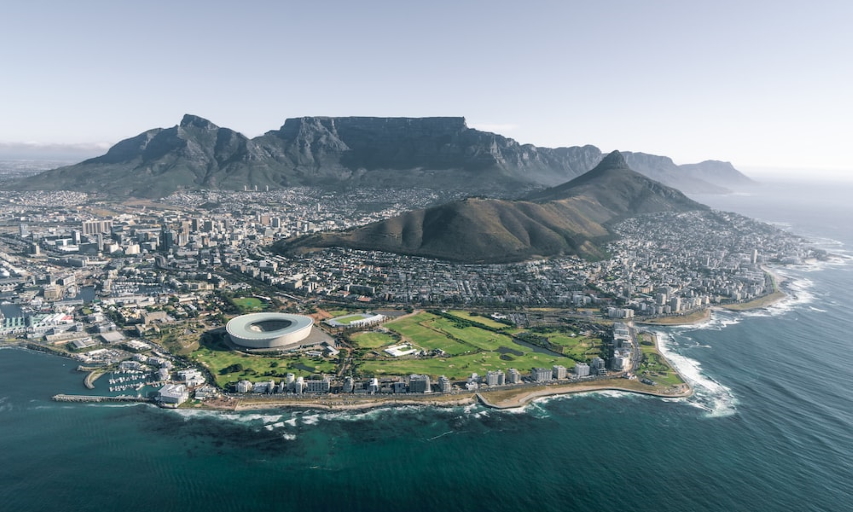 By Dr. Barry Lotz, Inside Golf
Since leaving South Africa many moons ago, I have returned at least 20 times, if not more. It is one of the most beautiful countries, inhabited by wonderful people, living in the most spectacular and diverse destinations.
Getting to South Africa from the United States, Canada, or Mexico, whether to Johannesburg or Cape Town, is a long flight from the West Coast (24 hours of actual flying) and from Atlanta (17+ hours). The most highly recommended air carriers are Qatar Airways from LAX, United from Newark, NJ, Delta, or Emirates, which is also marvellous.
You can travel through New York or any other major US city and stop over in Europe or fly direct to Johannesburg and make that your main base in South Africa. Any way you look at it, it's a long trip but worth every minute of travel time.
I highly recommend the service on Qatar's Business Class/First Class as it is beyond amazing. The seats with their oversized personal TVs and sleeping pods are so enjoyable. On-call food service is over the top. Order any item from the menu at any time.
To really enjoy your visit, always take the time to learn a few words of the local language such as Afrikaans and Fanagalo. Fanagalo is a pidgin (simplified language) based primarily on Zulu, with English and a small Afrikaans input.
The rate of exchange for the South African Rand at the time of writing is 17 Rands for every $1.00. Unbelievable value awaits, especially at upscale and luxurious hotels, game reserves, and fabulous restaurants.
---
Tintswalo Atlantic – The Hidden Gem of Cape Town
There are many beautiful beach hotels throughout the world. The 5-star luxury Tintswalo Atlantic Lodge has to be one of the top ten boutique hotels anywhere! What an amazing and very special romantic hideaway. Only twenty minutes from downtown Cape Town. My wife and I spent our 52nd wedding anniversary here at Tintswalo Atlantic.
The hotel boasts an exclusive and unique shoreline location within the protected Table Mountain National Park, one of South Africa's World Heritage Sites, situated just outside of Hout Bay on the scenic Chapman's Peak drive. The pebbled beach directly in front of the lodge is secluded and sheltered from winds. There is excellent access to the natural beauty found along the mountainside's winding hiking trails.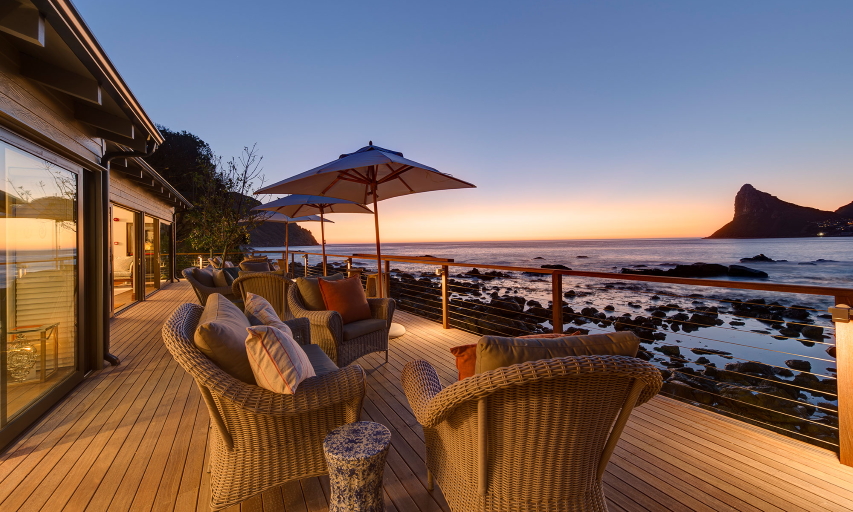 This gorgeous, dramatic, and romantic destination needs to be on your bucket list! When we sent some photos to a friend, she replied, "You didn't say you were travelling to heaven." And every vista is truly "heavenly."
Superlatives cannot do the hotel justice. From its location, structure, access, rooms, service, food, and staff, attention to detail are the hallmarks of Tintswalo Atlantic. Every member of the staff is so amazingly kind, attentive, professional, and genuinely pleasant- the hallmark of all Tintswalo properties.
Your first thrill is the arrival. Drive down to the lodge (at the base of Chapman's Peak) and you know immediately that you are going somewhere extraordinary. You are greeted with champagne and smiling faces. The warm hospitality didn't stop until we left 2 1/2 days later.
All 10 Island Suites, as well as the Presidential Suite, face the Atlantic Ocean with breathtaking panoramic views of the Sentinel (shown in the photo) and Hout Bay. All suites are uniquely themed after different islands. The Robben Island Suite honours Nelson Mandela and features chandeliers, warm décor, and wooden floors. All come with sitting areas, satellite TV, fireplaces, and balconies. Airy bathrooms offer free-standing tubs with spectacular water views.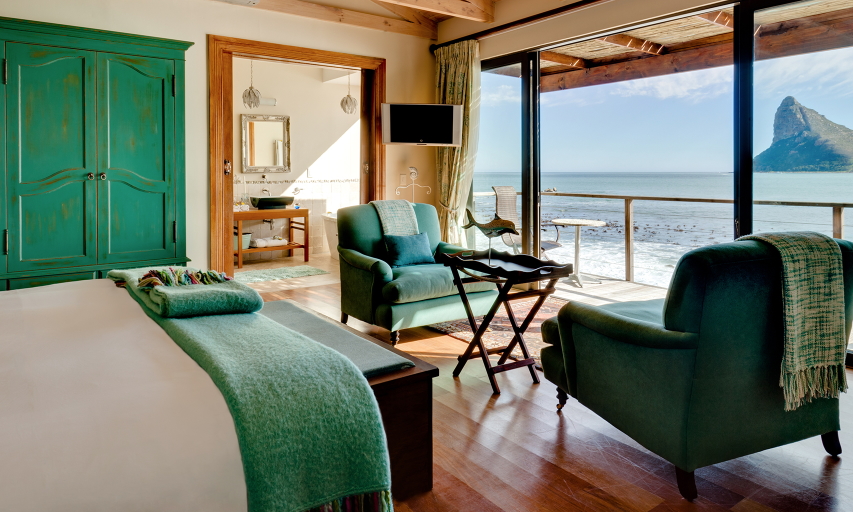 The regal Presidential suite, sitting above the other suites, is stunning, opulent, and luxurious. The two master suites, each with the largest and most lavish bathrooms I have ever enjoyed, together with heated floors and fireplaces in each room, are tantalizing. The enormous bath overlooking the waters of Hout Bay was, without a doubt, my wife's favourite feature. To top it off, there is another room, the sitting area, also with a fireplace, making being spoiled a wonderful experience.
Having all your meals at the lodge is simply amazing with the sea lapping against the rocks, making a wonderful backdrop. The menu choices available for breakfast, lunch, and dinner are terrific. The chefs produce exquisite, extraordinary cuisine. You really do not want — or need — to leave the lodge. Sitting out on the patio or at the pool in summer — reading, talking, having tea, looking for whales, meditating, or just communing with nature — is a life-affirming experience. Cuban cigars are available, as is Sherry, to enjoy on your balcony.
Don't forget to ask for your personal wishing rock at reception before leaving. You do really want to wish to come back regularly when you toss the rock over your left shoulder into the ocean.
Melissa and Ryno, the GMs are superb hosts who make Tintswalo even more fabulous.
Rates will vary depending on the season. Expect to pay somewhere between $400 and $700 per couple, per night, for one of the suites. The Presidential Suite is going to come in at about $2,000 per couple per night. Breakfast, house drinks, coffee, and tea are included. Guests who join you for dinner will be in the $50-$60 per person range without wine. If you are not able to stay overnight, at least try and make a reservation for breakfast, lunch, or early dinner — you will not be disappointed! Sunrise and sunset like you've never, ever seen before…
Visit their website at www.tintswalo.com.
---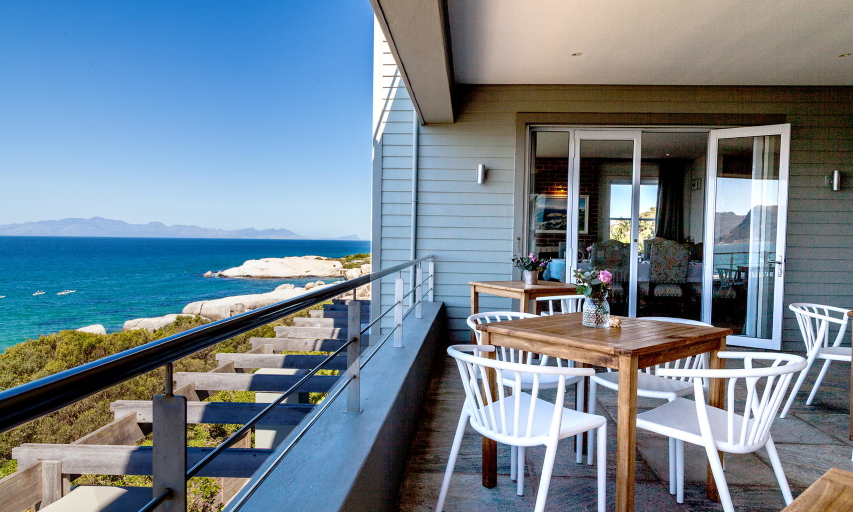 Tintswalo at Boulders
In my opinion, almost every visitor to South Africa should share the joy and pleasure of visiting a Tintswalo lodge.
Tintswalo Lodges are an exquisite collection of five family-owned and run properties situated in unique locations within South Africa.
Every visitor to Cape Town wants to go and see the endangered African penguins at the Boulders in Simon's Town. The "boulders" are in fact granite boulders on the beaches of the Indian Ocean.
I highly recommend staying at the Tintswalo Boulders, which is a triple-level, 9-room luxury boutique villa perched on the beachfront that overlooks the famed Boulders Beach, in Simon's Town, about 20 miles from Cape Town.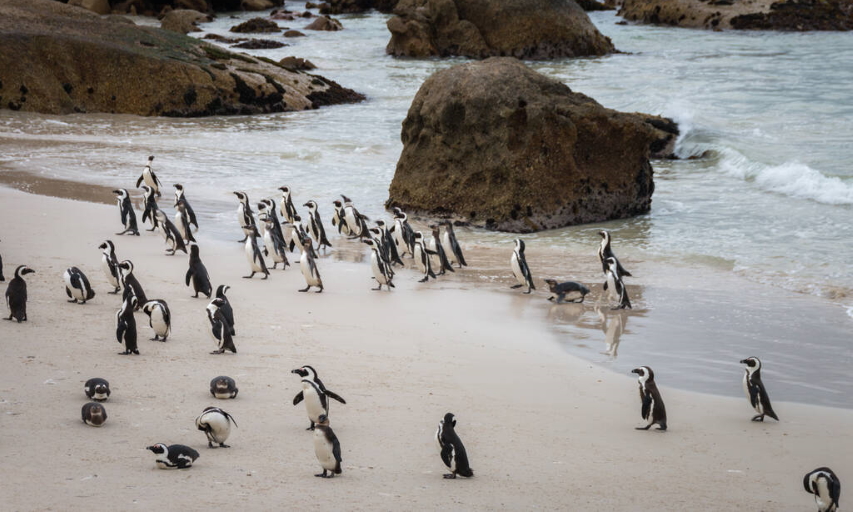 The villa boasts 180-degree ocean vistas from where guests can enjoy uninterrupted views of the playful African penguins on the beach below. You have your own key to the Boulders boardwalk, which is an experience in itself, being able to get up close to nesting penguins without disturbing them or their nests.
With a rich mingling of azure, blue and greens, and dark wood fittings, the luxury suites are named after famous ships. Suites are individually decorated to pay homage to maritime history and the location of the villa outside the naval village of Simon's Town. These range from the Mayflower and the Cutty Sark, to Jan van Riebeeck's Drommedaris.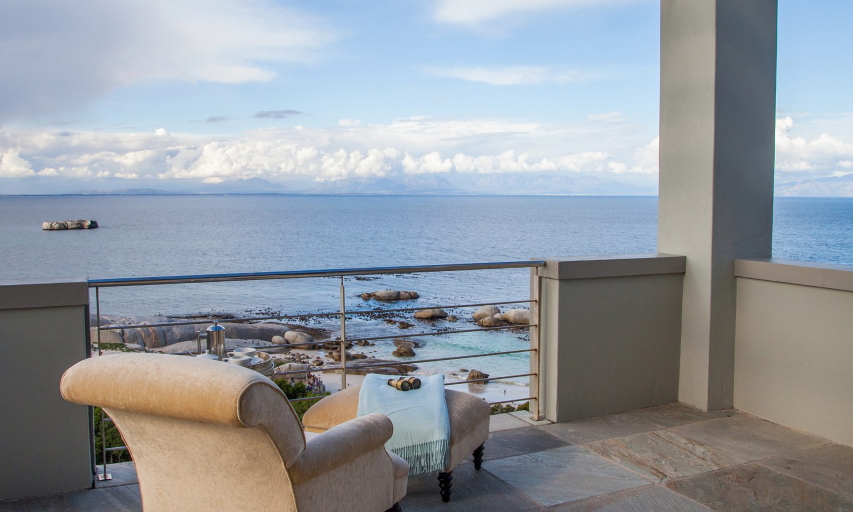 There are two Premier suites (Drommedaris and Sea-Witch), which I highly recommend because of their views, size, and being adjacent to the rooftop plunge pool. However, with the exception of the Victory suite, which has its own private courtyard, all enjoy views of the ocean.
Standard amenities are air-conditioning, Wi-Fi, tea and coffee facilities, a minibar, and a television. Premier suites have gas fireplaces as well. Bathrooms are large and well-appointed with separate tubs and showers.
The Boutique Villa operates on a bed and breakfast basis with lunch and dinner served on request. Breakfast is a feast featuring phenomenal bread baked on the premises, fresh fruit and juice, yogurts, cereals, homemade pastries, muesli, and a selection of local cheeses. The spinach and feta quiches, hash browns with bacon and egg, mushroom fritters, and lemon and chive tart are amazingly delicious. Special dietary needs or preferences are upon request.
Visit their website at www.tintswalo.com/boulders/villa.
---
Hermanus Boutique Guest House
Oceanside Luxury on the Shores of Walker Bay in Hermanus.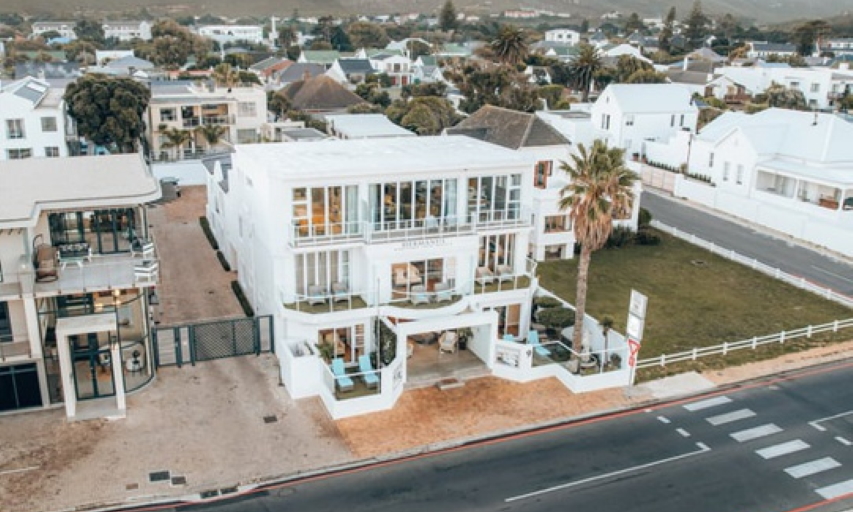 The town of Hermanus is 140 kilometres from Cape Town and is one of the most picturesque, popular, and charming destinations in the Western Cape. This iconic fishing town's claim to fame is its staggering whale population that descends upon the bay during the calving season, making it one of the world's best land-based whale-watching destinations.
For golfers, two outstanding golf courses await — the Hermanus Golf Club with its amazing 27-holes and the very upscale Arabella a few kilometres from downtown Hermanus.
Overlooking the whale-filled oceans of Walker Bay, Hermanus Boutique Guest House is great for a coastal walk and is only a few minutes from the local centre for restaurants and shops. Make sure you visit the famous Fick's Pool immediately across the road.
Upon arrival, guests are greeted by a dazzling white building that stands proudly on the edge of the coast. The bold interiors of the open-plan main area mirror the elegance of the ocean and confidence of summer, ensuring accents of turquoise and hints of yellow are scattered throughout. Each of the rooms is beautifully furnished with premier quality and elegant furniture. Classic, graceful, and sometimes bold, each of the rooms offer something unique. In total, there are 18 rooms in the guest house. The sea-facing suites offer an opportunity to watch whales and waves from the comfort of your bed.
The Hermanus Boutique Guest House is known for its cleanliness, staff, service, property conditions, facilities, room comfort, and an outstanding whale of a breakfast. It is almost as if you were staying at a friend's upscale residence.
A small splash pool, stylish restaurant, free Wi-Fi, and parking are just a few of the amenities to enjoy. The warm hospitality and eager-to-please hosts cater to every whim while guests sit back and enjoy the spirit of Hermanus.
My wife and I thoroughly enjoyed our visit, especially having the ocean across the road and the delicious breakfasts we so enjoyed.
Depending on the season, low-season (May, June and July) rates range from R2400 ($133.33) for a standard to R4450 ($247.22) for the Penthouse suite. Mid-season (January to April & August to November & December 1-15) rates vary from R3200 ($177.77) to R5500 ($305.55) per room. High-season (December 16-31 and early January) rates are from R3500 ($194.44) to R6000 ($333.33) per room. Rates include breakfast, free parking & Wi-Fi. Rates are subject to change.
For more information, visit their website at www.hermanusguesthouse.co.za. You can also contact them by email This email address is being protected from spambots. You need JavaScript enabled to view it. or phone +27 28 3131433.
---
Gondwana Private Game Reserve
Still craving another authentic, breathtaking African experience? Then you are in luck! Just under four hours away from Cape Town, along the famous Garden Route, lies the Gondwana Game Reserve.
In paleogeography, Gondwana, originally Gondwanaland, is the name given to the more southerly of two supercontinents which were part of the Pangaea supercontinent that existed from approximately 510 to 180 million years ago. ~ Wikipedia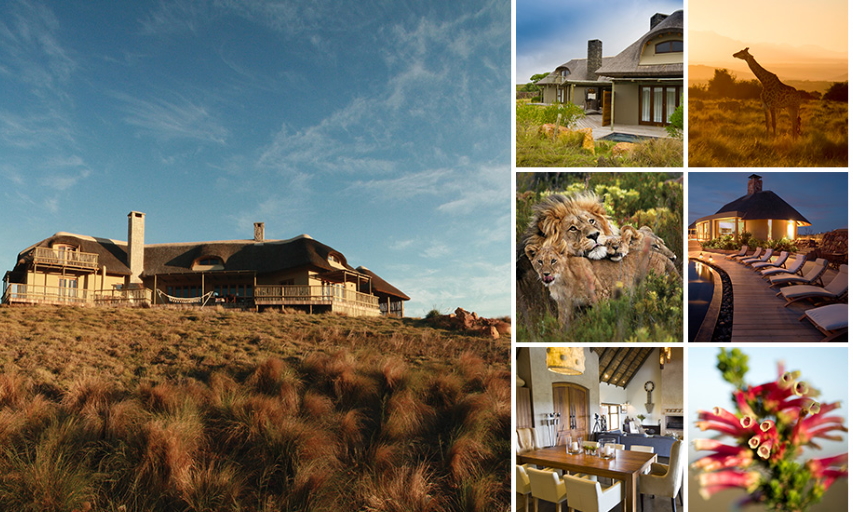 Gondwana is accessibly situated 25 minutes outside the charming coastal town of Mossel Bay. George Airport is only a 45-minute drive from the game reserve (transfers can be arranged) with daily flights from Johannesburg International Airport (JNB, OR Tambo) and Cape Town International Airport (CPT).
As a Garden Route Game Reserve, Gondwana shares the region's idyllic climate, second most moderate in the world next to Hawaii, according to the Guinness World Records, with average temperatures between 13°C / 55°F in June and 19°C / 66°F in January. The game reserve's warm climate offers exceptional year-round game viewing while you enjoy a luxury African safari experience. During South Africa's winter months, it can be quite chilly on a night game drive, so take appropriate clothing.
Gondwana is a 26,000-acre, malaria-free, luxurious private game Park offering free-roaming Big 5 safari animals (lion, buffalo, elephant, rhino, and leopard). Indigenous fynbos vegetation cloaks the undulating valleys, adding vivid colour and interest to a Big 5 game viewing and wilderness experience.
Many species of wildlife — including eland, giraffe, elephant, hippo, cheetah, and zebra — can be seen on the majestic landscape with awe-inspiring views of the Swartberg and Outeniqua Mountains in every direction.
At Gondwana, you will receive attentive service, wholesome and delicious African cuisine, inspiring interiors, expert game rangers, and an array of activities — including sunrise and sunset game drives with sundowners with snacks and drinks, mountain biking, hikes, Africology spa treatments, and the popular Junior Ranger program. Hennie, our driver and guide, knows the bush intimately. His vast knowledge is only surpassed by his love and passion for making every game drive memorable. He has an appreciation and understanding of all aspects of the game reserve and conservation and nature. Bianca, the GM, was always there when needed and expertly guided every aspect of making our African experience truly unforgettable.

Bush Villa
Gondwana's Fynbos Villas and Bush Villas offer the luxury amenities of a Safari Lodge with all the comforts of home, ideal for families and groups of friends. Each stylish villa offers spacious, open-plan interiors with three or four en-suite bedrooms. Each villa is situated for complete privacy and awe-inspiring views from their expansive outdoor decks.
Various packages can be booked with the villa accommodation from Full Board (3 gourmet meals at the nearby Kwena Lodge and 2 daily game drives) to Half Board (breakfast and dinner), to the B&B and Daily Game Drive package. The B&B package allows for family barbeques in your villa and time to explore the surrounding Garden Route.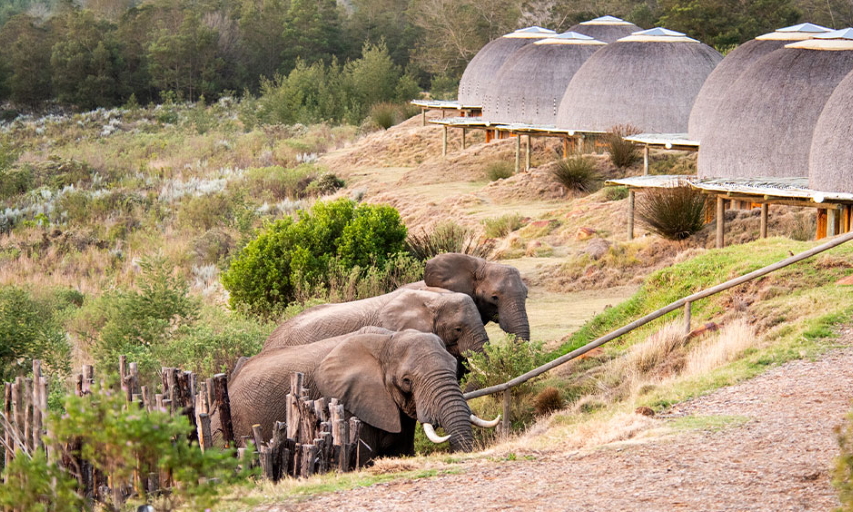 We absolutely loved our stay in the luxury accommodation of a Kwena Lodge. A Kwena Lodge is a modern and luxurious twist on the traditional Khoi-San dwelling. Fourteen open-plan suites are nestled into the breathtaking natural surroundings with 180-degree views, skylights for star gazing, fireplacesm and deep baths in which to relax upon returning from an evening game drive.
Apparently, the elephants of Gondwana also love the Kwena Lodges, especially the swimming pool. Usually in the late afternoon, around dinner time, elephants emerge from the undergrowth and enjoy splashing their trunks and drinking from the peanut-shaped infinity pool in the middle of the Kwena Lodges.
As of writing, rates for the Kwena Lodges begin at R4175 ($232) per person sharing or R6260 ($347.77) per single from January 5 to September 30th. From January 10 to April 30th, the aforementioned rates change from R5985 ($332.50) sharing or R8980 ($498.88) per single. At the Bush Villas, rates per season are the same as for the Kwena Lodges.
At the Fynbos Villas, rates for the low season are R5010 ($278.33) sharing to R7185 ($399.16) sharing in high season.
At the Ulubisi House, the privately staffed, exclusive-use lodge with 3 en-suite bedrooms sleeping 6, or 4 adults and 4 children, rates for low season are R42000 ($2333.33) and during high season, R59,450 ($3302.77). Rates are subject to change in March 2023.
For more specific details for each room type and options for Half Board, visit Gondwana's website at www.gondwanagr.co.za.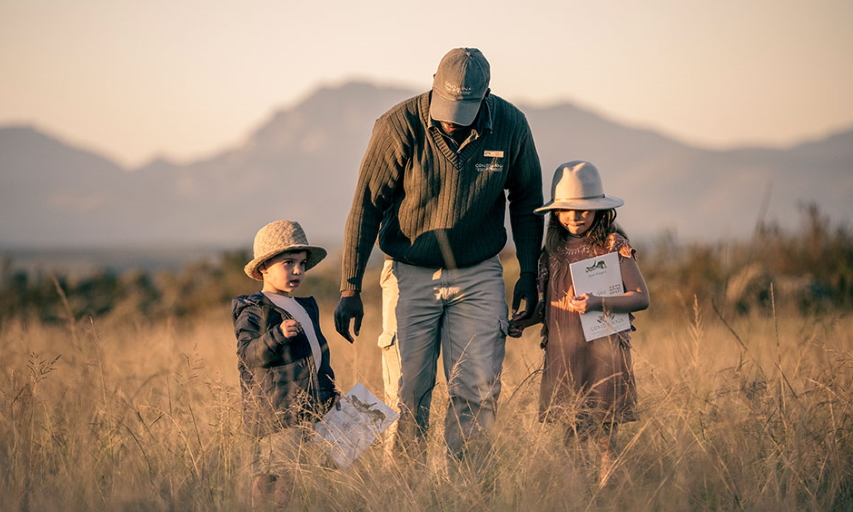 Also available at Gondwana is the Junior Ranger program. This program is complimentary for all children staying with 2 paying adults on a full or half-board package.
The program includes educational family game drives, interactive activities with a dedicated Junior Ranger Field Guide such as fishing and tracking, as well as a fun Ranger's backpack and cool custom safari booklet to fill in throughout their stay.
During game drives and other activities with their ranger, kids will be taught how to identify mammals, birds, Fynbos species, and even stars.