Heading Down The Cowboy Trail
Details

Category: Inside Golf
Published: 2022-10-13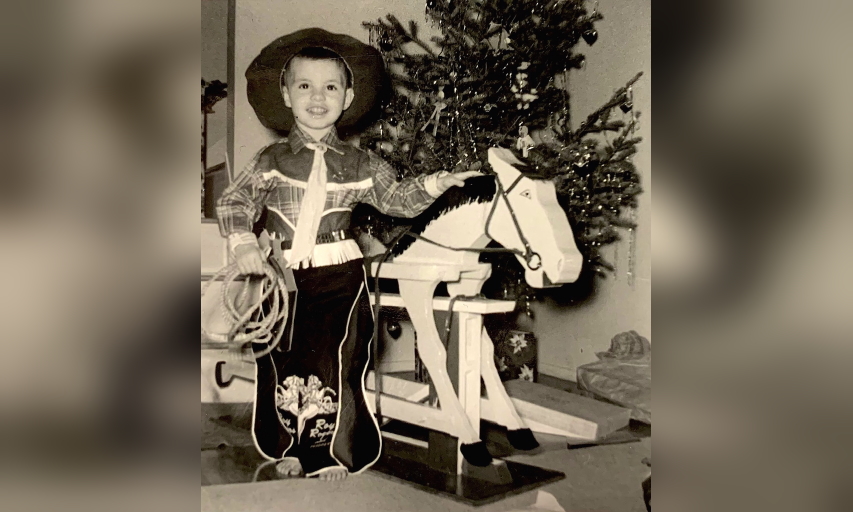 By Gord Montgomery, Inside Golf
Alright, I'll admit it, when I was younger (much...much younger), I wanted to be a cowboy. After all, I had the whole get-up — the hat, the chaps, the holster, and the shooting iron strapped to my waist. And yes, even the horse (fine, it was a pretend horse, but when you're only three years old it was real enough). For some reason, I never did realize that goal. Perhaps because the real horses seemed to enjoy tossing me to the ground instead of having me up on their back. And there wasn't much call for a city-raised cowboy.
So, I became a golf writer instead. While that may seem a bit of a stretch from desire to reality, I actually still harbour the occasional thought that, "Yeah, I could have been a cowpoke." Sure, I don't have a horse, real or imagined... but I do have a car with horsepower, so that's good enough for me. Now, instead of thinking about rounding up cows, I go out trying to corral pars. So maybe, just maybe, that cowboy wanna-be spirit still lives on, deep within.
To soothe my soul about my long-lost ambition, I headed out to, where else, but the famed Alberta Cowboy Trail. While there wasn't a lot of call for cattle herding on this trip, there was a call to stop and play a couple of the great golf courses looking for those elusive pars. The Trail itself lays along a stretch of Highway 22 starting in Mayerthorpe in the north and winding its way south to Cardston. As it turned out, because I hadn't been riding a trail for a number of years, I decided to break myself in easy and play two of the dozen or so layouts along my route. My choices: Pine Hills Golf Cub in Rocky Mountain House and then the Water Valley Golf Club.
And let me assure you, both lived up to advance billing. Or as we cowboys like to suggest, both were "in apple pie order." (Look it up at www.coloradotrails.com).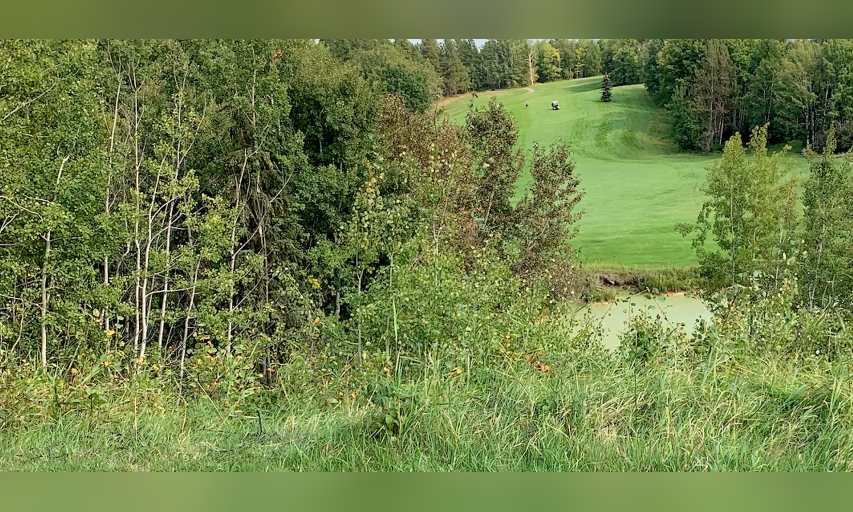 While The Tee Shot At The Pine Hills GC In Rocky Mountain House Is Demanding, It Isn't Quite As Intimidating As This Angle Makes It Look. Still, It Requires Accuracy And Some Distance Off The Tee To Hit The Fairway Far Below.
Pine Hills Golf Club
Pine Hills is no easy ride even though its home is in small-town Alberta. According to Dave Drake, the course's executive professional, this layout was built in two stages, which mix and mingle throughout the 18 holes like guys and gals at a good ol' country hoedown. The first nine were built in 1964 by the membership. That was followed by the second nine designed by Sid Puddicombe in the late 1980s intertwining with the existing nine.
"The original nine were actually holes one, two, seven, eight, nine, 10, 11, 17, and 18," explained Drake about the marriage of the two halves. "When Sid came in, he did a really good job of adding in the other nine. You really can't tell the difference between the two nines. They're all tree-lined, secluded. They did a wonderful job piecing it together."
This course, especially the starting hole on both sides, calls for a demanding tee shot. Number 1 is home to a turtleback fairway where if you don't hit the middle, your ball is going sideways. And it's not just an issue for your drive, as the second (and yes, third) shots can also find the rough along the edges of the fairway. Then you're shooting into a protected green to top things off. As for the 10th hole, the tee is elevated with brush growing up in front of you and water down below. Here the fairway is a bit more level, but it's guarded on both sides by trees and your journey onward to the putting surface is uphill. Thus, no matter where you start your round, your opening test is a stern one.
"Obviously, number one is something people remember," noted Drake, with perhaps a mischievous grin. "It's a pretty difficult hole to start off with. A very small landing area."
That issue aside, the compliments often flow like beer did in those halcyon cowboy days when it was a nickel a mug. "The thing we get a lot of compliments about [is] that our greens are always in top shape." That they are, and they are fast with lots of subtle breaks and slopes as well, meaning if you're on the wrong side of the hole, you could easily 3-putt (if you're lucky enough to do that).
Pine Hills GC stretches out to almost 7,300 yards from the back deck, but you've got to be good to play back there. To put you more at ease, move up a box or two, as distances are pared down to 6,500, 6,100, and finally 5,600 yards. There are also a number of combo tees to make use of, so this is a course for everyone.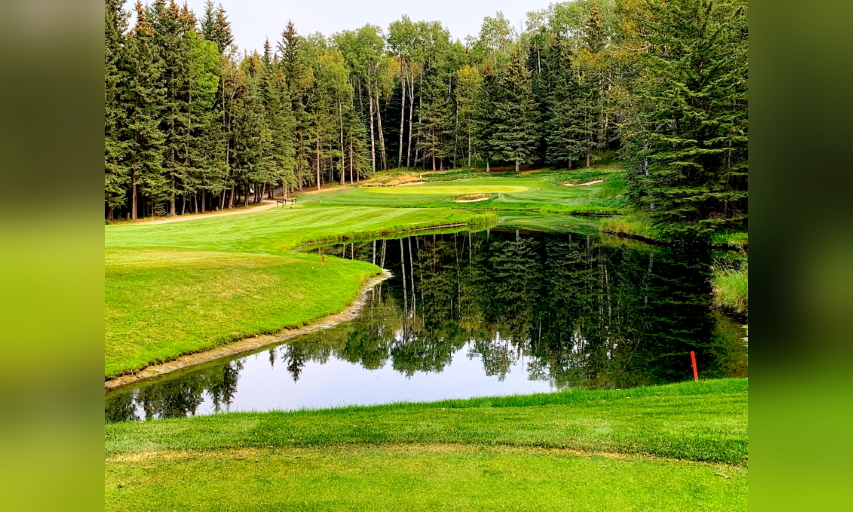 The Scenery At The Water Valley GC Is Almost Non-Stop From Beginning To End As Shown In This Shot Of One Of Their Great Par-3 Holes. There Are Also Views Of The Rocky Mountains To The West & Beautiful Tree-Lined Fairways Throughout.
Water Valley Golf Club
The next day, we jumped back into the saddle (aka the bucket seats of our SUV) and headed south toward a course I had heard nothing but good things about. Set in the foothills just north of Calgary, the Water Valley Golf Club certainly lived up to its advanced billing.
A word of caution before you take your sticks onto this layout though. Spend as much time as possible on the putting green prior to teeing off. The greens at this 18-hole layout are immaculate. They are fast, tricky, and likely to bump your score up in a hurry if you're not prepared for them.
A change in ownership this past year has apparently been a welcome thing, according to club members, who proudly show off this 6,700-yard layout. But how it makes up for a possible lack of distance is two-fold. Of course, there are those greens. Then there is an unbelievable number of dogleg holes, both right and left, to test your aim off the tee. Because of the rolling terrain here, the course offers up a number of unique shot options, from downhill to uphill to sidehill challenges. With the doglegs, if you hit through the fairway, you'll find yourself in the mix of poplar and fir trees which can pose some difficulty in getting up and down for par.
This course calls itself "The Jewel of the West" and while that's a pretty broad proclamation, it does fit the bill. The scenery is great with the Rocky Mountains visible in the distance. But more than that, the layout is seamless and scenic. This course was designed by Brian Setter with the first nine opening in 1993 and the back nine teeing off two years later.
After riding around two of the great courses on the Cowboy Trail and having played a few others including the great Sundre GC and the layout at Drayton Valley during other trips, this is a trail everyone should ride down — even if you never had the dream of being a cowboy when you grew up.