Golf & Weddings To Walk The Aisle At Glacier Greens GC
Details

Category: Inside Golf
Published: 2022-08-12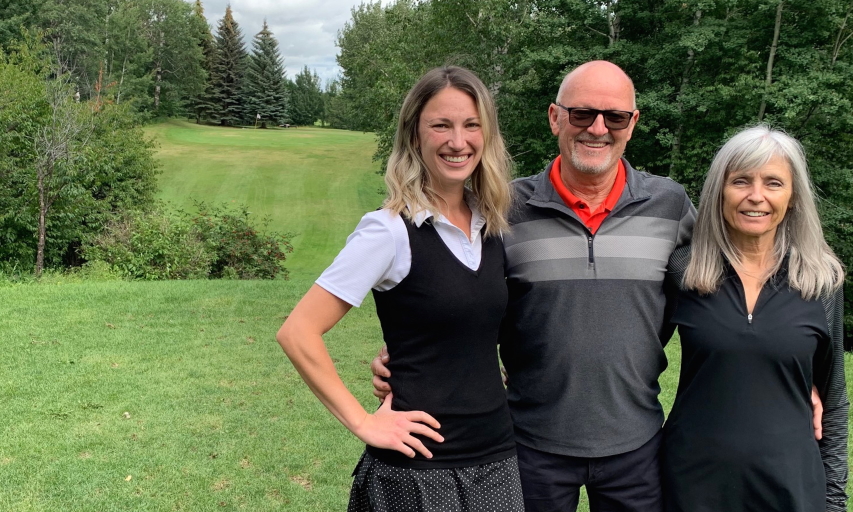 By GORD MONTGOMERY, Inside Golf
PARKLAND COUNTY, Alberta — On the odd occasion, one business idea can morph into another yet leave the original idea intact. That's the case for the Morrison and Polson families as they united golf course ownership with a planned wedding business.
The original concept was to simply build a facility for hosting wedding receptions. But that changed when a golf course, with a large indoor venue for celebrations, came up for sale in their area just west of Edmonton. Even though the course is a par-3 layout, that didn't deter the families, who are joined through marriage, from forging ahead with the now dual idea.
"The chance to buy a golf course wasn't how this all started," explained Doug Morrison who, along with his wife Peggy, backed the purchase of the par-3 course by their daughter, Meg, and her husband, Courtney Polson.
"The original idea was only to build a barn to host weddings so this went a step beyond that. This (property) became available," he said of the former Duffy's Challenge which has since been renamed Glacier Greens Golf Course. "It's a revenue-producing property that allows us to nicely get into the wedding part of it," due to that large, on-site building formerly used to host tournaments. That fact helped seal the deal as Meg and Courtney had been looking at constructing their own large up-scale facility.
Speaking about taking over and running a golf course as the manager as well as becoming an eventual wedding host, Meg noted the property wasn't exactly move-in ready when they took this leap of faith in mid-June 2022.
"It was sold to us as turn-key," she said of the property. "Were there things (related to the course) that could have been done in the spring, should have been done in the spring? Yes. But that's the problem with having a June 15th possession date. Now, we're kind of dealing with the backlash of things. My husband (an Edmonton Fire Department captain) is learning to be a golf course superintendent. He's out there fertilizing, throwing down some seed, things that should have been done in April and weren't, but we're making it work."
Meg went on to say that while this is a short course she wants it to have the feel of a championship layout. "I still want to have the course condition, the etiquette, everything that goes along with that. Everything we're doing, we're doing like a championship course."
With the course under new management and running, that brings the group to the wedding end of things. As it turns out, that seems to be heading down the correct aisle as well.
"We had zero intention of buying a golf course," Meg continued. "My husband and I were looking at different pieces of land we could do this wedding venue at because they are very popular right now. We wanted to make a high-end, beautiful, barn-themed wedding venue. We came across this one and thought we could spend this amount of money and get something that isn't a golf course or spend a tiny bit more relatively and get a golf course too. I'd never thought in my life that I'd own a golf course!"
The wedding venue idea is still front and centre as the two families move forward. That plan now though includes golf course weddings where the owners are more than happy to shut down their 18-hole layout for a time so that wedding party photos can be taken on this beautiful piece of property that was transformed by a glacier eons ago. Wedding guests can also use it to shoot away some downtime with a round while waiting for the wedding party to fulfill post-ceremony obligations.
"Forty-three acres are yours when you rent out the facility. It's something no other course offers. It's yours to enjoy at Weatherwood Ranch (the wedding venue moniker)," noted Meg. "Our application with the County is in right now so we can expand and renovate the tournament facility to make it into a beautiful barn for weddings."
As to the course, Meg noted the layout at Glacier Greens isn't huge. The longest hole may only be 182 yards, but the property rises and descends and is heavily treed so the challenges are there. But at the same time, this track can be played by anyone of any skill level.
"This isn't a farmer's field that we bought. There used to be a glacier here and when it receded, it left all these hills and valleys.
"For the beginner, you're not worried about hitting it far or bunkers as there aren't any here. You're not worried about people behind you rushing you or marshals going around. We're far more relaxed here. It's less intimidating for beginners. There's a reason it was called Duffy's Challenge before — it is a challenge. If you hit it in the trees, it's gone. It's thick in those trees! The greens are postage stamps. They're tiny. So for the scratch golfer, it's really a test for your short game. If you hit a green in regulation, it's a job well done!"
For those just starting out, additional tees have been set up to make learning this game even easier. As well, a junior program for kids aged eight to 16 has been launched and has had a successful start with over 70 already chipping in.
"This is one of the things, on the golf side, I'm most excited about," said Meg. "I was so disappointed to hear other courses in the area had shut down their junior leagues. How are we growing the game if we don't let juniors play? And let them play in that atmosphere where there's just them and their buddies (along with a parent volunteer)."
That theory has proven true here at Glacier Greens where shotgun starts are needed on Junior Mondays. Also, lessons are provided on an ongoing basis. "I don't want to turn anyone away. I've been involved in the game for so long and it's our job to grow the game, especially in this platform where the game is a lot easier than on a championship course."
In conclusion, the group was asked if owning a golf course/wedding venue was a dream come true or a nightmare beginning, considering the work that needed to be taken care of when they took over. Peggy laughed saying, "Doug's always wanted to own a golf course!"
"I think it is a dream come true," said Meg. "It's been busy," getting things updated including online information, signage, and further plans for the wedding venue. "But at the end of the day, my husband and I can say, 'We own a golf course!', and the smiles that statement brought from this gathered show this idea is certainly going to work out.
For more on the course, rates, and to book a tee time, go to glaciergreens.ca.