From Top To Bottom On The Famed Vancouver Island Golf Trail (Part 3)
Details

Category: Inside Golf
Published: 2022-06-22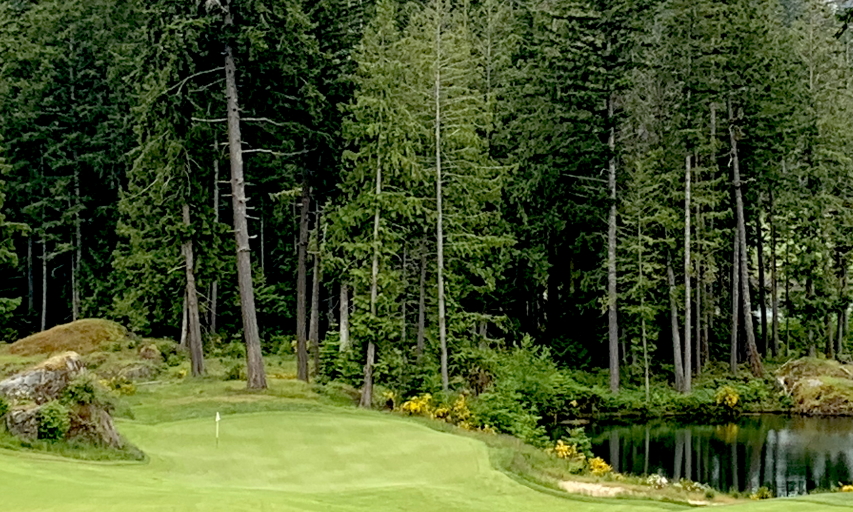 By GORD MONTGOMERY, Inside Golf
VICTORIA, British Columbia — When you plan a golf trip, the most important thing, of course, is the golf. You want top-end tracks, great hospitality from the pro shops you visit, and pristine turf conditions wherever you tee it up. You'll find all of that, and more, on the wonderful Vancouver Island Golf Trail. Here, from the beautiful city of Victoria in the south to the charm of the Campbell River in the north, this journey is a joy from beginning to end.
The great thing here is your trip around the island's great courses, complete with phenomenal views at every venue, is the ability to play a different course every day during your stay.
The Vancouver Island Golf Trail is world-renowned for its beauty. What makes this such an enticing place to play, visit, and experience, are the packages available for golf and accommodation over this 250-kilometre stretch. In total, there are 13 world-class golf courses teamed with 11 accommodation partners to enable one to put together a well-planned package of both on- and off-course activities.
So, if you're looking to escape the past two years of COVID-19-induced boredom and seeking that once-in-a-lifetime golf getaway, look no farther than the Vancouver Island Golf Trail. We know you won't be disappointed!
Bear Mountain – Valley Course
I'd played the gorgeous Mountain Course here in the past — twice in fact — but never taken on its little sister down the hill, the Valley 18. That, as it turns out, was a big mistake on my part.
From the first hole (a par-5 with a downhill tee shot ending at an elevated green) through to No. 18 (also a par-5 that followed the same sort of routing as the opener), this is a gorgeous track that is a fun play. The most noticeable thing here, other than the peace and quiet (except for a birdie putt clanking into the hole) is the fact there are no homes anywhere in play, other than those where birds, or deer, live
Playing from the Spirit tees (essentially the White), the length isn't intimidating and with a wealth of downhill tee shots, one licks their lips in anticipation of a good-looking scorecard. But, if care isn't taken, that card can be littered with big numbers as the fescue rough around fairways and some greens is penal. There are too many good holes here to pick a "best" so just let it be said they're all top-notch. And rightfully so, as this carries the Nicklaus name behind it, co-designed by the father and son team of Jack and Steve.
"Obviously the first thing is the cache, being a Nicklaus-designed golf course," Rob Larocque, the Director of Golf at Bear Mountain said in regard to the popularity of the Valley course. "It's very friendly off the tee but around the greens, it's a lot more Nicklaus. A lot of false fronts, big slopes, different opportunities to chip, bump-and-run, hit flop shots," to greens that are large with lots of contours that are quite easy to read.
Like any course, playing from the right tee is important for a fun day, Larocque noted.
"We talk about this a lot in golf: Choose the right tee box to enjoy your day," noted particularly in regard to the forced carries on many holes. "Don't choose the tee box on your ego. Nobody asks you what tee box you played from when you say you made birdie when you go home!"
As such, there's a starting point for all, with distances from 6,800 yards down to just over 4,000, meaning everyone can tee it up here and enjoy the game and the scenery. Because on this track, when you're not being wowed by the views, you can admire your playing partner's ability (or your own) to be putting for birdie on an exquisite golf course that is truly worth experiencing.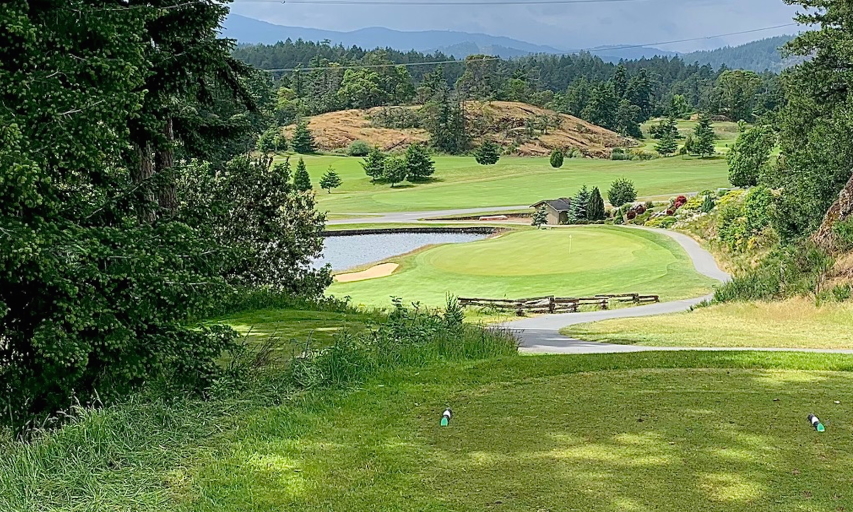 The Final Hole On The Highland Side Of The Highland Pacific Golf Course Gives You A Great Downhill Par-3 Complete With An Outstanding View Of The Mountains Beyond. (Photo by Gord Montgomery / Inside Golf)
Highland Pacific Golf
This course caught me totally by surprise, for more than one reason. Sure, it was another beautiful example of a course carved into tall trees, rolling terrain, and rock outcroppings. But more than that, this is a so-called little guy among giants
You see, Highland Pacific Golf is a family-owned and -operated business, and not a layout controlled and run by a conglomerate. To the staff and playing public here, that means a lot
In order to stay competitive against the big boys, GM Jeff Palmer noted, "I would say the family did such a great job structuring the golf course, and that is a draw for people," who support this track. "That's been a really successful approach."
The first nine was originally dreamed of in the 1950s by the late Herbert Plasterer. After he passed, his children took on the challenge of putting together the opening loop with Chris Young designing the second nine. The Plasterer family has stayed involved to this day, with the grandchildren now running the operating board.
Highland Pacific features several downhill tee shots which seem ever-present in this area, wide fairways with several blind tee shots, natural water hazards, large greens, beautiful rock outcroppings, and huge trees bordering many fairways. The Pacific side plays a bit longer than the original Highland nine but both are wonderful layouts. Combined, the 18 holes offer six teeing areas so anyone can, and should, play here and enjoy the day and not worry about scoring.
As to how these two nines, built at different times, work in concert, Palmer noted, "They do flow together quite nicely. While it flows, there are a few characteristic differences. Highlands is a bit higher up where the Pacific side goes down into a valley."
Another reason for the ongoing success of this place is its fee structure. They sit mid-stream green fee-wise with other courses, meaning a round here isn't going to break the bank — something people appreciate.
In summing things up about his course, and the wonderful Vancouver Island Golf Trail, Palmer had this to say: "It's been great for us. We're lucky because we're so close to Victoria. We'll do 1,500 rounds a year," from Trail traffic, "and it's a great collaborative effort between the 13 golf courses to promote the Trail," and its members.
And that's something anyone enjoying the Vancouver Island Golf Trail will agree with from the top end to the bottom of this beautiful part of Canada.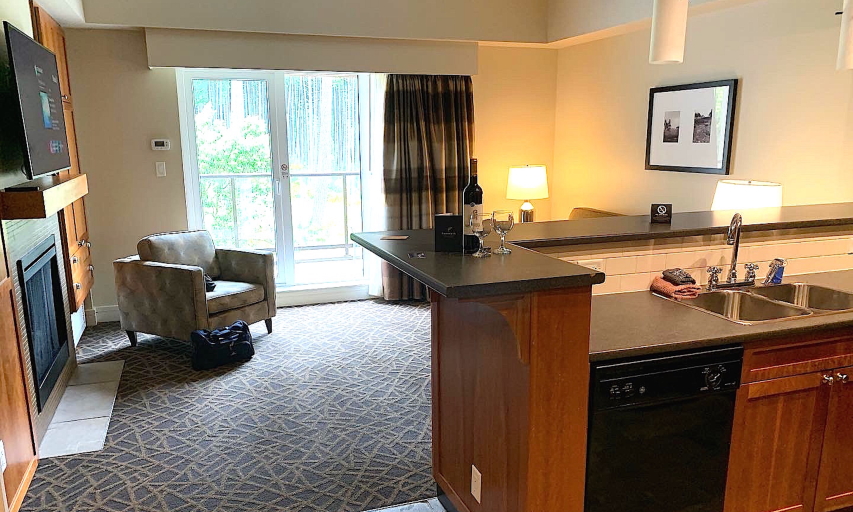 The Living Space At The Fairways On The Mountain Offers Guests Everything They Could Wish For In A Home Away From Home, Including A Great View Of The First Fairway Of The Mountain Course At Bear Mountain. (Note: Bottle Of Wine Not Included!) (Photo by Gord Montgomery / Inside Golf)
Where To Stay
Bedding down for the final time on our trip to the Vancouver Island Golf Trail, we found ourselves at the luxurious, and again a place with a view, the Fairways Hotel on the Mountain. As one would expect, this lodging was on a mountain — Bear Mountain to be exact — and it looked out onto a fairway, No. 1 on the Mountain Course, to be exact.
Overall, this was another great place to spend the night. The suite was a one-bedroom with a view of the golf course through large sliding glass doors; it had two bathrooms, one with a soaker tub and large shower; and included a full kitchen unit. There was a fireplace, two large-screen TVs, and secure, underground parking. It was just steps from the great restaurant at the Westin Hotel just down the street and access to the Bear Mountain golf courses was also nearby.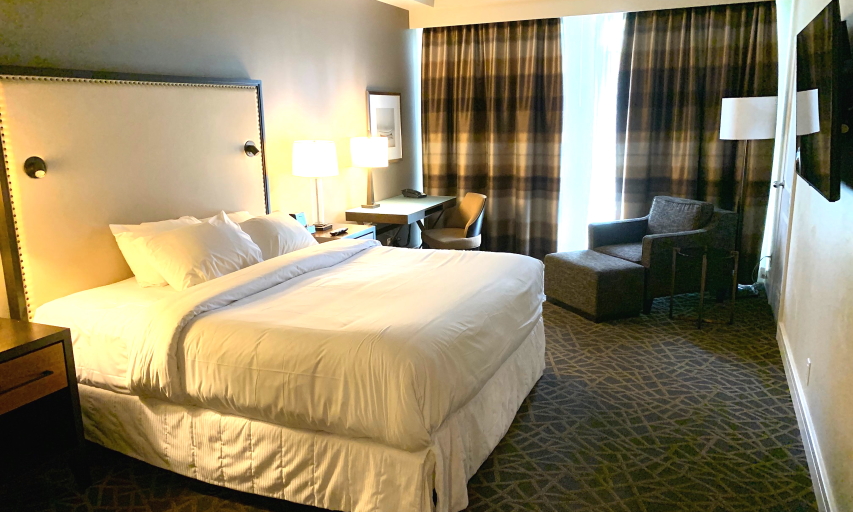 The One-Bedroom Suite Was Large & Also Included A Wonderful View Of The Adjacent Golf Course. (Photo by Gord Montgomery / Inside Golf)
For more on this wonderful Canadian golf experience, go to fb.com/VIGolfTrail.