From Top To Bottom On The Famed Vancouver Island Golf Trail (Part 2)
Details

Category: Inside Golf
Published: 2022-06-22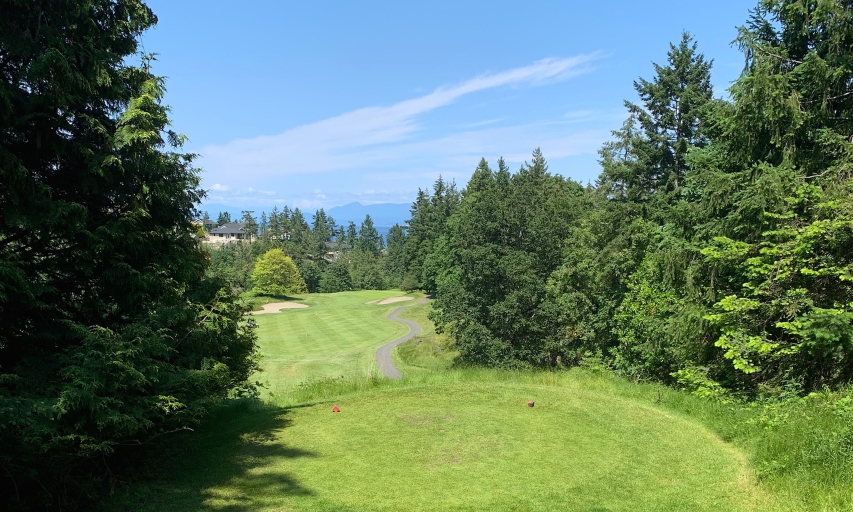 By GORD MONTGOMERY, Inside Golf
PARKSVILLE, British Columbia — When you plan a golf trip, the most important thing, of course, is the golf. You want top-end tracks, great hospitality from the pro shops you visit, and pristine turf conditions wherever you tee it up. You'll find all of that, and more, on the wonderful Vancouver Island Golf Trail. Here, from the beautiful city of Victoria in the south to the charm of Campbell River in the north, this journey is a joy from beginning to end.
The great thing here is your trip around the island's great courses, complete with phenomenal views at every venue, is the ability to play a different course every day during your stay.
What makes this such an enticing place to play, visit, and experience, are the packages available for golf and accommodation over this 250-kilometre stretch. In total, there are 13 world-class golf courses teamed with 11 accommodation partners to enable one to put together a well-planned package of both on- and off-course activities.
So, if you're looking to escape the past two years of COVID-19-induced boredom and seeking that once-in-a-lifetime golf getaway, look no farther than the Vancouver Island Golf Trail. We know you won't be disappointed!
Fairwinds Golf Club
A word or two of advice as you get ready to take on Fairwinds Golf Course, located just outside of Parksville — make sure you go in with the right mindset. Someone, trying to be helpful, may tell you how tight some of the fairways are. And yes, some are, but overall this is a great place to tee it up and let it fly... as long as you hit it straight! Head Pro Travis Busch showed us how that was done over our 18 holes.
Busch, an Alberta boy, pointed out this is a Les Furber (also an Albertan) design and, as such, it comes complete with the usual mounding and green complexes the architect likes to use. Sure, Fairwinds does have some rather thin landing areas, so you do need to be hitting the ball quite straight in order to put good numbers on your scorecard.
"There's not as many doglegs as many of his other courses have," the pro noted about this particular Furber layout, "which in my mind is kind of nice. But yeah, he uses the contours around the greens and a little elevation too," to make you think your way around this layout. And then when you add in around 70 fairway and green side bunkers, you treasure each well-struck and placed shot.
Because of those tight, tree-lined fairways complete in many places with fescue rough, this is a track that isn't going to dazzle you with length. But it doesn't need to be long to be a test for your shot-making abilities. At a tad over 6,100 yards off the deepest deck and playing to a par of 71, the protection here is based on crooked shots. If you ain't hitting it straight, you ain't got an end result to brag about.
Asked his advice on how to approach a round here if you are unfamiliar with the layout, Busch suggested the best plan is to go out and enjoy the day and not worry too much about the numbers you write down.
"Accuracy is important," he emphasized, "but other than that, it's just enjoyable. It's peaceful here. There are homes around but they are private. And you don't really see the groups around you too much. Each hole is pretty much individual."
Busch made it clear that while Fairwinds does have its membership base or pass holders as he refers to them, it is wide open for public play. And this is one place the public, especially visitors to the Parksville area, should play.
In wrapping up, the pro had this to say: "There's lots of golf in this area but our course is very accessible. There's lots of availability and the benefit is you can play year-round here. The conditions are great in the summer but they're just as good in the winter, too, so any time of the year you can find time to come out and play, it's awesome!"
In fact, it's so "awesome" I told Busch if I lived on the island in this area, I'd be a member of his club tomorrow. Enough said — make sure you find time to play this track.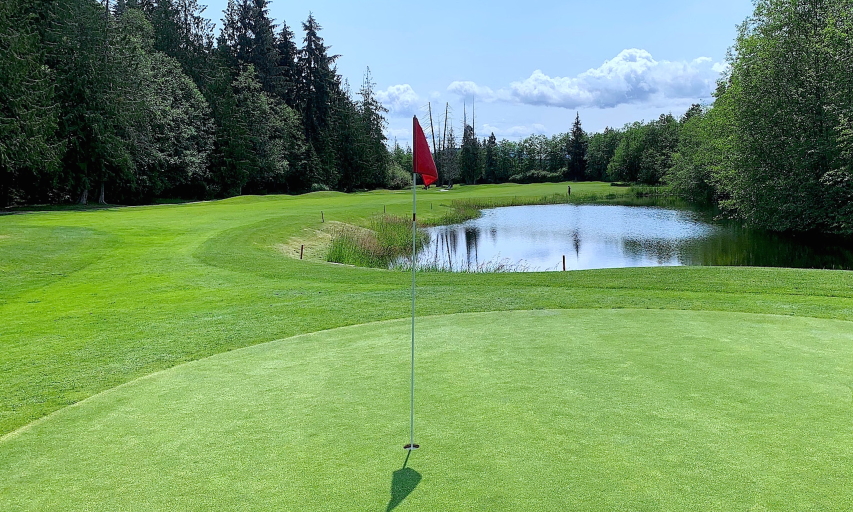 The Ninth Hole At Morningstar GC Is A Gorgeous Par 5 Dogleg With The Green Guarded By A Large Water Hazard & The Fairway Lined By Large Trees. (Photo by Gord Montgomery / Inside Golf)


Morningstar Golf Course
If you think you've got game, then we have just the place for you to prove that — the Morningstar Golf Club. Located in Parksville, this is another Les Furber design that will test not only your physical skill but also your mental stamina. After all, this is known as one of the toughest tracks on the island's famed Golf Trail. But that being said, don't let it scare you away.
Morningstar offers Furber's usual mix of mounding, bunkering, and uniquely shaped greens. When all of those are put together, you're served up a true test of one's game and that's what golf is supposed to be about.
Even though this course had some issues in the recent past, it has been brought back up to par since ownership changed, said Head Pro Barrie McWha.
"Morningstar opened in '91 as a real estate development, which is fully built out now. It had a pretty exciting 90s, 2000s," that included the Q-School for the Canadian Tour as well as hosting an event on that circuit, explained Barrie McWha. "Around 2015-16, the ownership got into difficulty," with irrigation equipment falling into disrepair. "The course deteriorated rapidly. A receiver came in in 2018. Then COVID happened. In 2020, when we reopened, it was like the doors got blown off. The secured creditor decided in 2021 to purchase Morningstar out of the court," and it is now owned, and operated properly, by the Operating Engineers Pension Fund.
As to what's out there in a beautiful tree-lined scenic front nine after the second hole, one finds all sorts of Furber trademarks. "We've had Les out three times now. A golf course always has to be tweaked," said McWha. "It's an ongoing process. Les was the artist and we have him involved on a regular basis."
"Les, through Trent Jones, designs greens that are great targets. The greens here are absolutely immaculate and they set up well. It's always been a popular course other than that period when it was so far gone nobody wanted to play it. Once it came back into good shape, it's very popular now," going from 18,000 rounds in 2019 to over 40,000 rounds this year. "People like to play here."
Now, much has been written in the past about how tough this track is, and if you get on the wrong tee, yes, it can be. But play from the right area and it's an enjoyable round, which includes the tricky 14th hole, a downhill, dogleg right with a narrow, crosswise green guarded by a massive and deep bunker. So while this track is seen by many as too hard, it can be managed, McWha ended.
"You don't get everybody around that hurdle," he said of preconceived ideas that this is too hard for the average player. "But we have four sets of tees and we're adding a fifth set," which allows anyone to take on this treasure. "It's still attractive to a beginner and we counsel them that there are tees appropriate to their ability. We're not trying to be all things to all people," but if you think you've got game or even part of a game, be sure to give MorningstarGolf Club a go.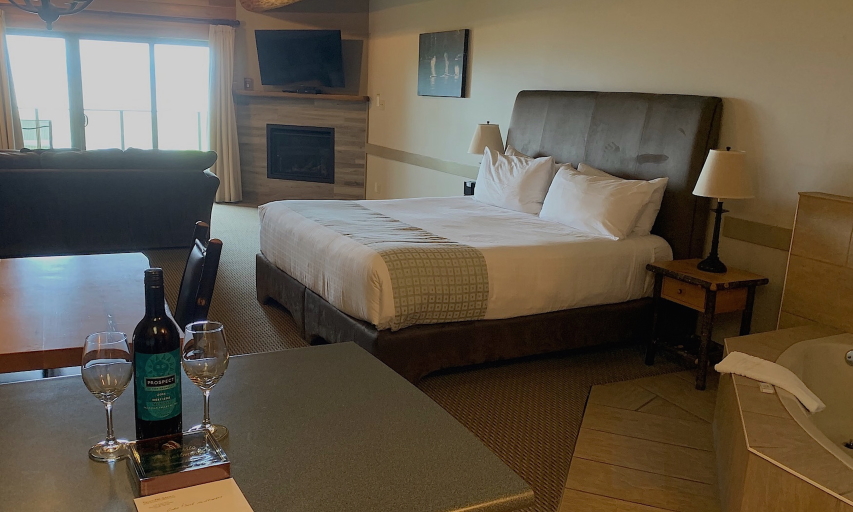 The Comfortable Rooms At The Tigh-Na-Mara Seaside Resort & Conference Centre Offer All Sorts Of Amenities, Including A Great View Of The Pacific Ocean. (Photo by Gord Montgomery / Inside Golf)
Where to Stay
For a couple of land-locked Albertans, an oceanside resort was a wonderful place to hang our hats for a couple of days and was something looked forward to. So trust me on this, we weren't disappointed when we opened the door and walked into our suite at the Tigh-Na-Mara Seaside Spa Resort.
The large single room had all the amenities one needs in a holiday spot including a large screen TV, a shower and a spa tub, beautifully soft robes, kitchen and dining facilities, a fireplace, and that fantastic wide-ranging view of the ocean! From our balcony, we looked out above the trees below and onto the sparkling, sun-dappled blue waters of the Pacific. And yes, we enjoyed every minute of it!
Besides that view, the spa at Tigh-Na-Mara is second to none and that's proven by its ranking as the best in Canada. It offers any, and all, the services one looks for in such a facility. On-site, there are also barbecue areas spread around the resort and since it sits adjacent to the warmest ocean waters in B.C., the swimming at the resort's beach area is top-notch. When the tide recesses, you can literally walk for kilometres chasing the receding waters and examine various forms of sea life left behind, which is a great learning tool for kids and adults alike.
Simply put, the Tigh-Na-Mara Seaside Resort & Conference Centre is extraordinary and well worth the visit.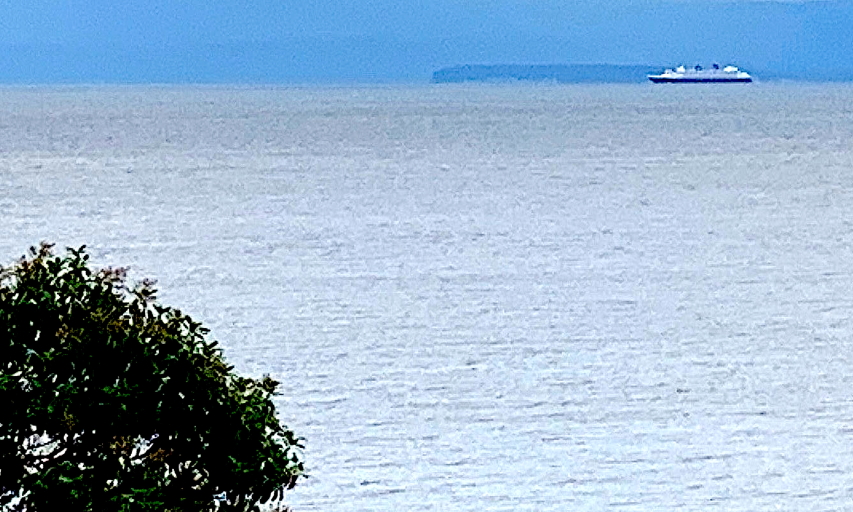 The View From Our Room Included Several Sightings Of Cruise Ships Plying The Calm Waters Of The Pacific Ocean. (Photo by Gord Montgomery / Inside Golf)