Toptracer Turns Kelowna Driving Range Into Great Playpen
Details

Category: Inside Golf
Published: 2022-06-03
By GORD MONTGOMERY, Inside Golf
KELOWNA, British Columbia — "This will make an honest golfer out of you in a hurry!" uttered Tyler Spence from the Kelowna Driving Range. And truer words were never spoken.
At the Kelowna Driving Range, which is outfitted with Toptracer technology, you aren't going to be able to tell your golfing buddies you can pound the ball 300 yards without proving it. You see, this outdoor, covered, and lighted range has a state-of-the-art gear in telling you exactly how far your last, uh, shank/slice/grounder/out-of-the-park-blast travelled.
In fact, this stuff is so accurate because it's the same equipment used on TV for PGA TOUR broadcasts and as such, it is spot-on for distances, ball height, curvature, and so on.
Spence is enthused about this system and the help it offers golfers of all abilities to study their shot patterns in an effort to improve their games.
"First off, we were the second install in Canada. We installed in the middle of COVID, so they couldn't get a team in here to install," but thanks to local knowledge of friends and range staff, it's now up and running.
As to the public's acceptance of this idea, Spence noted, "It's more educational and showing the public what it is [at present]. Topgolf uses this same system so I just assumed people would know what Toptracer is. To my surprise, they didn't. The first year we were open, it was a lot of education [and] getting people used to what it is."
The question is, of course, what can you learn from using this system? Lots, if you use it properly.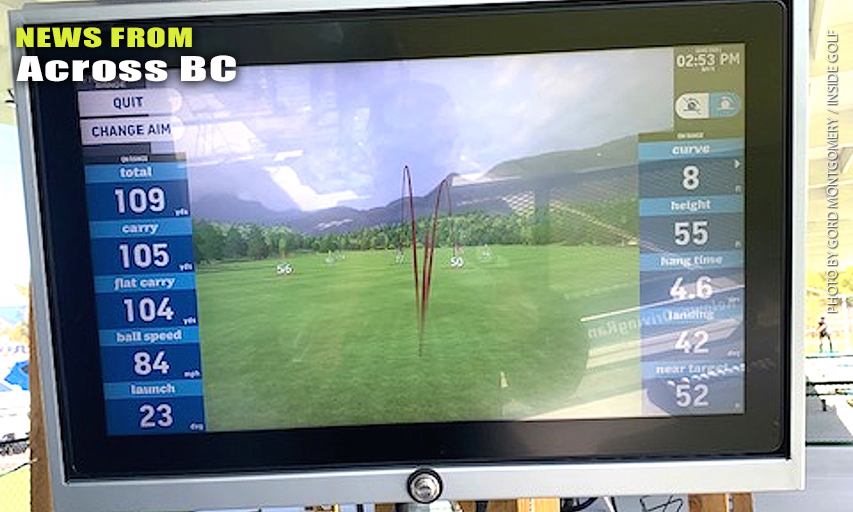 This System Gives A Golfer All The Information They Need Including Ball Speed, Distance, Height & So On As Well As Shot Dispersion, Which Can Be Sent To A Phone For More Study After Your Session.
"You can just do the basics of hitting the ball and tracking your yardages. But you can also get your gappages, the differences between your wedges and irons. The other thing you can do is really practice with purpose. We have the Approach Challenge that's nine shots on nine holes and each is slightly different. That way, you're going through your bag rather than just hitting the same shot over and over again."
The one thing to remember is Toptracer is not a golf simulator.
"This is not a simulation," Spence emphasized. "There [is] no mathematics involved whatsoever. This is 100 percent camera-backed. Where [the] ball flies is exactly what you see on the screen. There [is] no mathematics involved saying you hit the ball this hard on this launch. When you're here hitting the ball with the wind at your back in 30-degree heat, that's the result. You come the next day, it's raining and 20 degrees, it's going to travel [differently].
"This is real data in real-time of real-world situations. There's no mathematics, no simulation. It's not even apples and oranges. It's cars and spaceships!"
The data produced shows up on a monitor set within your hitting bay and can be sent to an app on your phone. It takes a bit of set-up but once that's done, it gives you all the details you're looking for in improving your game. "It's a handy tool to take to your instructor or coach and say, 'This is what I have and what do I need to work on?'"
By the way, Toptracer is also a fun gadget for games. It has 18 PGA courses loaded but this isn't sim golf — this is real outdoor golf and the machine tracks how you do in real conditions. There are also games for youngsters who are just getting into golf that lets them see success first-hand.
So now, when you see the icon on TV that says, "Powered by Toptracer," you know that at the Kelowna Driving Range, you are getting exactly the same information as the pros get ... as you look to prove you really can hit the ball 300 yards on a straight line.
For more on this unique system, go to KelownaDrivingRange.com or give the pro shop a call at 250-763-6181.