Inaugural Fortinet Cup Season Set To Begin At Uplands Golf Club
Details

Category: Inside Golf
Published: 2022-06-02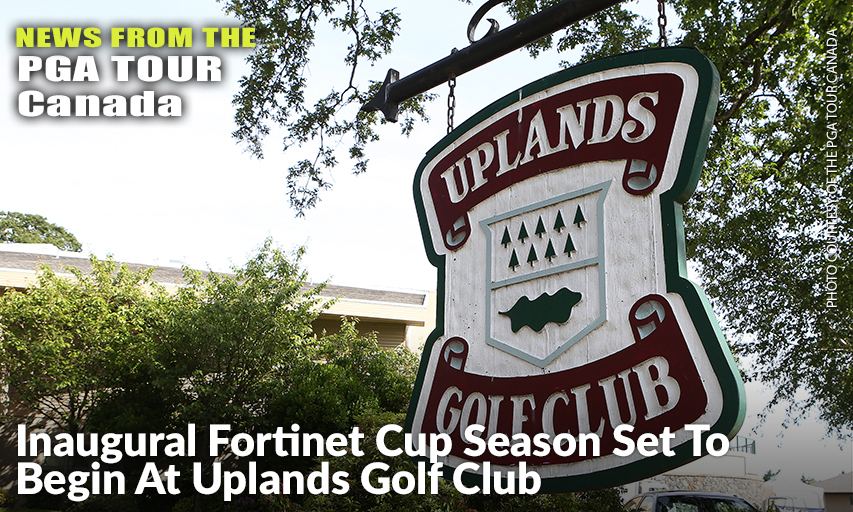 By PGA TOUR Canada Staff, PGATOUR.COM
VICTORIA, British Columbia, Canada — On a pleasant, calm June morning in 2013, standing on the first tee at Uplands Golf Club, the PGA TOUR Canada player listened to the announcer introduce him.
"Good morning, everybody. This is the first PGA TOUR Canada event. First on the tee, from Coquitlam, B.C., Adam Cornelson."
Cornelson piped his drive down the middle at Uplands Golf Club, and he went on to birdie the hole on his way to an opening, 3-under 69. PGA TOUR Canada was officially underway.
While what will go down on the first tee this Thursday morning, again at Uplands, won't perhaps carry with it the historical significance of what Cornelson participated in nine years ago, the opening tee shot of the 2022 PGA TOUR Canada season will, nonetheless, be momentous.
It will have been 990 days since Patrick Fishburn struck the last official shot on PGA TOUR Canada, at the 2019 Canada Life Championship in London, Ontario. Since Fishburn's putt that gave him a three-stroke win, a global pandemic happened, putting a halt to PGA TOUR Canada as fans knew it.
The Tour operated a series of four unofficial events for Canadian players in 2020, and it put together a consortium of eight tournaments last summer, again for those players in Canada as border issues persisted. Meanwhile, in 2021, those PGA TOUR Canada members not living in Canada played on the Forme Tour, in the United States, a one-off Tour that gave players competitive and money-earning opportunities. Now, with a full roster of players, courtesy of last year's Forme Tour Points List, along with players who emerged with status from the Tour's seven Qualifying Tournaments and others eligible via additional categories, PGA TOUR Canada is back, with a new sponsor and the same path leading players to the Korn Ferry Tour.
"It's amazing that the season is upon us. We have had so many twists and turns over the last 33 months that it's gratifying to finally be ready for official PGA TOUR Canada golf," said the Tour's Executive Director, Scott Pritchard. "It's somehow fitting that this restart is taking place at Uplands Golf Club, which has been such a great partner through the years and the site of where this Tour got its birth nine years ago."
The Royal Beach Victoria Open presented by Times Colonist begins Thursday and is the first of 11 tournaments on the official schedule. New Caledonia's Paul Barjon is the defending champion, winning in 2019, but Barjon will be a long way from here as he is playing his rookie season on the PGA TOUR, which is exactly where Pritchard wants to see his players go.
"Paul had played with us before 2019, even winning in 2016. We knew he had serious potential. When he won at Uplands to begin our 2019 season, we thought that he might be ready to break through and take that next step in his career. Of course, he did," Pritchard explained.
Three years ago, Barjon finished first on the PGA TOUR Canada Order of Merit, capturing Player of the Year honors in the process. Who is this season's Paul Barjon? That's what everybody is anxiously waiting to determine. One thing is for certain: nobody is going to win the Order of Merit title this year.
Instead, the way to track players' success and their positions will be via the Fortinet Cup. Fortinet, a global leader in broad, integrated and automated cybersecurity solutions based in Sunnyvale, California, joined the Tour as a sponsor earlier this season. Players will earn Fortinet Cup points each week, with the top-10 players at the end of the season earning 2023 Korn Ferry Tour membership to some degree, the top-five Fortinet Cup finishers picking up the best status.
The bulk of the top Forme Tour players from a year ago are toiling on the Korn Ferry Tour, but the top returning players at the Royal Beach Victoria Open are Americans Samuel Saunders, Joseph Harrison and Brian Carlson. Additional players with PGA TOUR Canada status are skipping this first event as they are using their PGA TOUR Latinoamérica membership to try to secure Korn Ferry Tour status on that circuit. Among those players who will arrive in Canada once the PGA TOUR Latinoamérica season concludes are Americans David Pastore, Matt Ryan and Colombia's Camilo Aguado.
New players on the scene this year include six of the seven medalists from the Qualifying Tournaments: Alex Herrmann, Max Marsico, Austin Hitt, Jake Vincent, Taylor Funk and Riley Wheeldon. Only Jacob Bridgeman, who medaled as an amateur at the Dothan, Alabama, Qualifying Tournament, is absent. He is currently No. 3 in the PGA TOUR University rankings and in solid position to immediately move to the Korn Ferry Tour via his top-five standing once the college season is complete.
New to the Tour is China phenom Wocheng Ye, a qualifier from the Weston, Florida, Q-School. Ye captured headlines in 2013 when he earned a playing spot in the DP World Tour's Volvo China Open as a 12-year-old. Although he missed the cut that year, he later made the cut in the same tournament, in 2017, as a season, um, veteran, at age 15.
Ye, now at the ripe, old age of 21, a native of Dongguan, China, lives in the Orlando, Florida, metro area and arrived in Vancouver last week to begin his preparations for the season.
"I'm feeling pretty solid and feel like I'm getting better and better the closer we get to this tournament," said Ye, who uses the English name of Aden. "I played on PGA TOUR Series-China, so I have a good idea how pro events go and what playing a regular schedule is like."
Since he finished runner-up at The Club at Weston Hills to earn his PGA TOUR Canada membership back in mid-February, Ye has played in a few Korn Ferry Tour Monday qualifiers while trying to stay sharp in mini-tour events in and around Orlando.
"I didn't play well enough to get in (to any Korn Ferry Tour tournaments), but it's been a good experience. "I'm getting a little tired of the one-day events, so I want to play in the real stuff, the four-day, four-round tournaments."
The "real stuff" is what Ye hopes leads him to the Korn Ferry Tour once the season concludes following the Fortinet Cup Championship on September 15-18 in Kitchener, Ontario. The 2022 Tour is visiting seven provinces, as well as a stop in the U.S.—in Minnesota. The CRMC Championship presented by Gertens will mark the first time in Tour history an official tournament takes place beyond the Canada border.
"We really feel like this is going to be a remarkable season. We have 11 great tournaments lined up, and all of our local sponsors, along with Fortinet, have been so supportive in what we're trying to accomplish and what we will offer the players on a weekly basis this summer," Pritchard added. "Now it's just a matter of getting everybody together at Uplands, starting our season and seeing what unfolds. It's going to be fun."
After qualifying in late-April at the tournament outside Tacoma, Washington, Vancouver's Chris Crisologo, a pro since 2019, succinctly summed up his feelings when he said, "I'm excited to be going back up to Canada."