TaylorMade Golf Canada Becomes Presenting Sponsor Of PGA of Canada's Professional Development Platform
Details

Category: Inside Golf
Published: 2022-06-02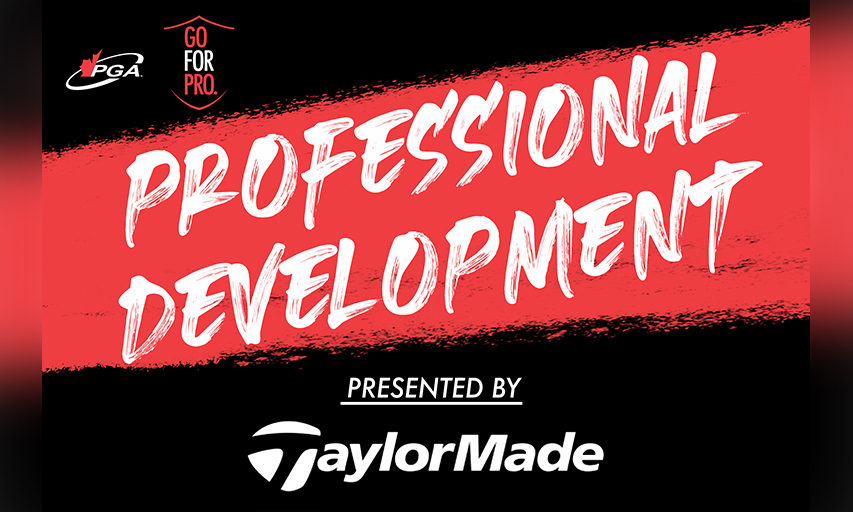 ACTON, Ontario — The PGA of Canada is pleased to announce that it has reached an agreement with TaylorMade Golf Canada that will see them become the presenting sponsor of the Professional Development area of the Association's website, which will give a significant boost to the continuing education options for PGA Professionals. 
This area of the website houses all the Tee Talks professional development assets and is one of the most widely visited sections of the website, as it provides a one-stop shop with educational content from industry and business leaders across many sectors.
"We are excited to take a new approach with the PGA of Canada supporting all professionals as they progress throughout their careers," said David Bradley, TaylorMade Golf Canada General Manager. "With added support focused on Professional Development, we strive to support continued growth for all professionals across Canada, including a wide range of new and already established industry leaders."
 "At TaylorMade, we remain Beyond Driven and this new partnership aligns perfectly with those values as we help enhance opportunities for continued career growth," finished Bradley.
In addition, TaylorMade Golf Canada will become a supporting sponsor of the upcoming Tee Talks Live Conference which was just announced to take place November 15-18 in Vancouver, British Columbia. As a focus of the supporting partnership, the opening-night reception for all attendees will be presented by TaylorMade.
 To further support the professional development of golf professionals throughout Canada, TaylorMade and the PGA of Canada will work together to launch contesting so that one PGA of Canada member per month will win a free spot at the Tee Talks Conference with a travel bursary courtesy of TaylorMade.
To kick off the Tee Talks Live Bursary Contest, PGA of Canada members will be entered when they comment on social media or within an online survey link provided. Watch for details via the PGA of Canada's social media pages as the first month's contest will ask members to comment on what content they would find most beneficial at the Tee Talks Live National Conference.
Following the first contest, winners for subsequent months will be selected among those who access the Tee Talks section of PGAofCanada.com.
 "TaylorMade Golf Canada has been a long-time supporter of golf professionals in Canada, and this partnership paves the way for both new and tenured PGA of Canada members to continue learning and perfecting their craft," said PGA of Canada CEO Kevin Thistle. "We cannot thank TaylorMade Golf Canada enough for their support of our association, and we are all looking forward to bringing Tee Talks Live back to an in-person setting this Fall in Vancouver."
 TaylorMade has been a long-time supporter of professionals throughout the country, in addition to supporting various PGA of Canada and Zone initiatives. For TaylorMade professionals throughout Canada, the support does not go unnoticed.
"It is amazing to have TaylorMade on board as one of our Associations major sponsors focusing on the growth of our members," said Ashley Zibrik, TaylorMade staff player and Director of Golf at Shaughnessy Golf and Country Club. "Team TaylorMade's continued innovation and development aligns with our PGA of Canada Professionals who are committed to improving themselves through education."
"I was thrilled to hear that TaylorMade is further evolving their partnership with the PGA of Canada," said Phil Kavanagh, TaylorMade staff player and Head Professional at Islington Golf Club. "When we bring together TaylorMade's high level of innovation with the PGA of Canada's depth of resources, golfers are treated to a partnership of top-notch expertise. PGA members are fortunate to have this relationship with TaylorMade, a company that strives to be the top of its class.' 
Registration for the Tee Talks Live Conference is open now - to take advantage of Early Bird pricing, click here.
Note: Early-bird registrants are still eligible to win a bursary to the Tee Talks Live Conference.