Nippon Shaft To Introduce New N.S.PRO 850GH neo Steel Iron Shafts
Details

Category: Inside Golf
Published: 2022-05-12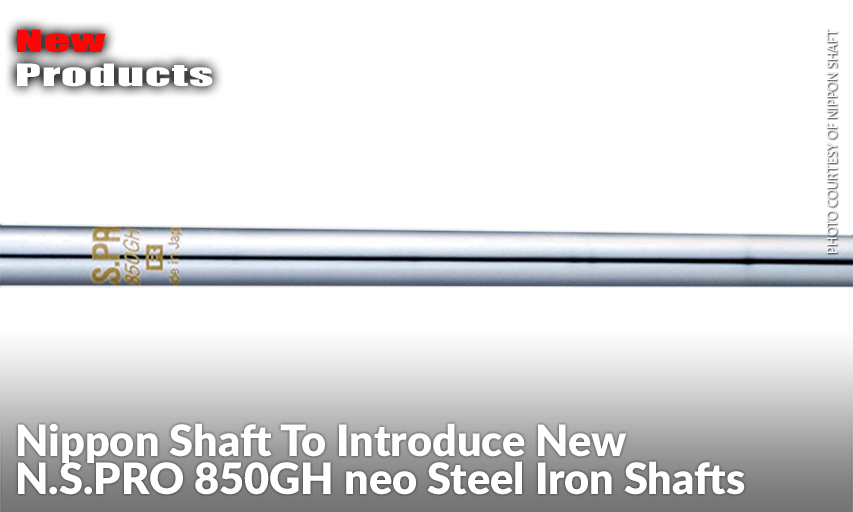 Nippon Shaft announced the September 26, 2022, launch of the new N.S.PRO 850GH neo steel irons shaft designed to maximize shot quality, performance, and feel for golfers playing with today's iron heads, company officials said.
Increases in the size of iron heads along with stronger lofts have created the need for Nippon Shaft's neo series, officials said.
"Since the N.S. PRO 850GH steel shafts were introduced in the early 2000s, irons have been assembled with larger heads and stronger lofts, resulting in reduced spin and lower trajectory," said Hiro Fukuda, sales and marketing for Nippon Shaft. "The 850GH neo will help golfers who are seeking higher trajectory and more spin; in addition, the firmer mid-section of the shaft will help golfers square the club at impact."
The 850GH has enjoyed high usage rates on women's global golf tours for more than a decade and Nippon Shaft expects many other tour players will adopt the neo series, company officials said.
The 850GH neo is designed for golfers who are seeking a lightweight shaft – especially those who play sub-100 grams irons shafts and driver shafts weighing between 40-to-50 grams.
The shafts will initially be available on an installation basis through club fitters.
In 1999, Nippon Shaft introduced the world's first sub-100-gram constant-weight steel shafts, the N.S.PRO 950GH, which went on to become the best-selling and most successful lightweight steel irons shaft in history.
The 850GH followed soon after and forged its own identity in the shaft space, serving both amateur and professional golfers.
An extension of the N.S.PRO neo lineup, the N.S.PRO 850GH neo features:
Slightly softer Tip Section, which creates a slight spin increase and a 1-2 degrees higher launch of mid/high trajectory;
Firmer Mid-Section, which stabilizes newer clubheads throughout the swing
Softer Grip Section: Smaller .590" diameter (from .600") aimed at enhancing "NS" feel.
Nippon Shaft products are available globally either as stock or custom shafts in many of the world's top iron brands. In addition, Nippon Shaft products are available through Nippon Shaft's dedicated global club fitter network. Details of these can be found at www.nipponshaft.com
---
Based in Yokohama, Japan, Nippon Shaft is the No. 1-selling steel shaft in Asia. Nippon Shaft is a privately-held subsidiary of NHK Spring Co. LTD, a Japanese automobile parts manufacturer. Nippon Shaft's North American headquarters is in Carlsbad.