Wheeldon Coasts To Five-Shot Q-School Triumph
Details

Category: Inside Golf
Published: 2022-05-07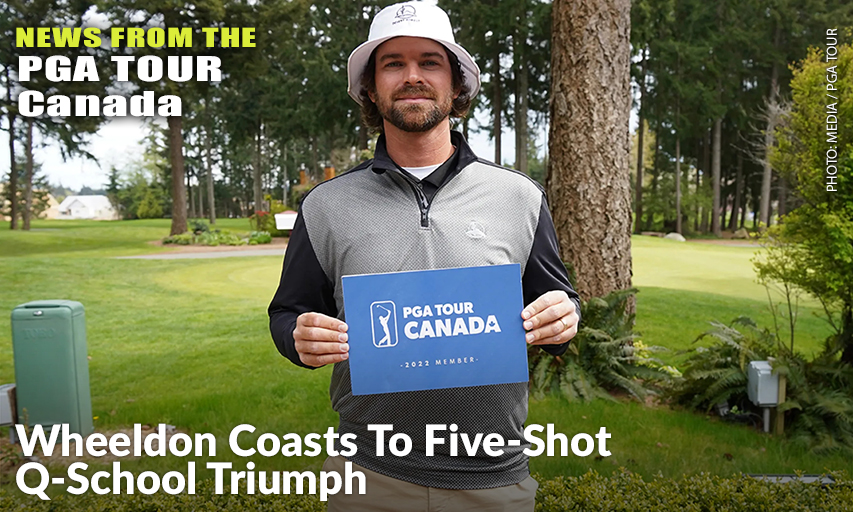 COURTENAY, British Columbia — It wasn't the most stress-filled day of Riley Wheeldon's career. With a five-shot lead when the day began, Wheeldon played a clean front nine, with three birdies and six pars and eventually saw his advantage balloon to seven strokes before he finally settled on a five-shot win over China's Yi Cao to capture medalist honours at PGA TOUR Canada's seventh and final Qualifying Tournament.
Wheeldon was clearly the best player at Crowne Isle Resort and Club all week, opening with a pair of 67s and never looking back. He trailed by one after the first round but took control and played flawless golf on a course he grew up playing. Wheeldon joins six other medalists this season, with Cao, Jared du Toit, Max Sear, Andrew Harrison, Brendan MacDougall, Jimmy Jones, Austin Ryan and Marc Bourgeois all picked up exempt through the first half of PGA TOUR Canada's Fortinet Cup schedule. An additional 22 earned conditional status.
"It's definitely a great week, a storybook week for me. I played it off all week, but it means a lot to me to get back out here and prove that I can still play for people who maybe haven't seen me play in a while," said Wheeldon, who, like a lot of players, has been competitively idle due to the global pandemic. "I definitely appreciate all the support I had this week. I was just glad to play four solid rounds and basically choose my schedule this year."
That will be the rub for Wheeldon now. With a job working at Desert Forest Golf Club in Carefree, Arizona, and with the ability to play a full PGA TOUR Canada season in the first year of the Fortinet Cup, leaves the 31-year-old with some decisions to make, especially after his tour de force performance the last four days.
"Coming into this week, I wasn't planning on playing a full schedule. I was going to see how this went. I saw a lot of good things this week and was able to get full status," he added. "We'll see. I'll have to have a couple of conversations with my bosses, my first boss being my wife and then the bosses at the club where I've been working."
Whatever he decides, Wheeldon can always look back on what turned out to be an exceedingly enjoyable week. Particularly noteworthy was the way he dominated Crowne Isle's four par-5s. He was 12-under on those holes, with 10 birdies and an eagle. He birdied No. 15 every day and had three birdies and the eagle on No. 1.
"I'll basically see where I stand with everything, and if my game continues to feel good, I'll be up here more than I thought I would," he continued.
Did you know Canada's Brendan MacDougall has played in one previous PGA TOUR Canada event but never as a professional? His lone appearance came in 2019, at the GolfBC Championship, where he couldn't overcome an opening 76. He came back with a 3-under 68 on the second day but missed the cut.
Key Information
HOW THE TOURNAMENT WORKED
There were 95 players starting this week, with 92 completing all 72 holes. Below is a breakdown of the various PGA TOUR Canada membership statuses earned this week.   
Finish Position
Status

Medalist

Riley Wheeldon

Exempt membership for the 2022 season

2nd through 9th (no ties)

 Yi Cao

Jared du Toit

Max Sear

Andrew Harrison

Brendan MacDougall

Jimmy Jones

Austin Ryan

Marc Bourgeois

Exempt through the reshuffle, which will occur approximately halfway through the season

10th through 30th (plus ties)

Tony Gil

a-Jeevan Sihota

Robert Hudson

James Davis

Will Barnett

Chris R. Wilson

Ethan Marcus

Chris Hickman

Zach Anderson

Jordan Loof

Griffin Wood

Mitchell Sutton

Bryce Barker

Tanvir Kahlon

Trevor Yu

Daniel Kim

Sang Lee

Tyler Saunders

Thomas Code

Marc Casullo

Étienne Brault

Jonathan Hewett

Conditional membership
There were seven amateurs playing at Crowne Isle Resort, with six completing 72 holes. Leading the way was Jeevan Sihota, tied for ninth after shooting a 2-under 70. He locked up conditional status. Here is the rundown on the amateurs:
| Pos. | Player | Score |
| --- | --- | --- |
| T9 | Jeevan Sihota (Canada) | 70-74-70-70—284 (4-under) |
| T59 | Kamyar Yamini (Canada) | 75-75-73-75—298 (10-over) |
| T62 | Zachary Stanger (U.S.) | 72-78-76-74—300 (12-over) |
| 81 | Cole Ruelling (Canada) | 80-74-74-79—307 (19-over) |
| T83 | Andrew Widjaja (Canada) | 82-74-77-76—309 (21-over) |
| 92 | Kirk Chen (Canada) | 87-86-84-91—348 (60-over) |
The following 34 amateurs qualified for the 2022 PGA TOUR Canada season via this year's Qualifying Tournaments, Jeevan Sihota the latest. Sihota had a shot at earning the right to play in every tournament in the season's first half, but he and Tony GIl lost in a playoff to Marc Bourgeois.
| Player | Qualifying Tournament | Finish |
| --- | --- | --- |
| Parker Gillam | Weston, Florida | T7 |
| Kieran Vincent | Weston, Florida | T7* |
| Ryan Gerard | Weston, Florida | T15 |
| Easton Paxton | Weston, Florida | T15 |
| Joseph McCarthy | Weston, Florida | T20 |
| Varun Chopra | Weston, Florida | T29 |
| Cougar Collins | Weston, Florida | T29 |
| Spencer Cross | Howey-in-the-Hills, Florida | T21 |
| Mark Reppe | Howey-in-the-Hills, Florida | T25 |
| Jacob Bridgeman | Dothan, Alabama | Won |
| Parker Coody | Dothan, Alabama | T6 |
| Harrison Ott | Dothan, Alabama | T18 |
| Mark Goetz | Dothan, Alabama | T20 |
| Joey Vrzich | Litchfield Park, Arizona | 3 |
| Youssef Guezzale | Litchfield Park, Arizona | T11 |
| Thomas Hutchison | Litchfield Park, Arizona | T11 |
| Blake Tomlinson | Litchfield Park, Arizona | T17 |
| Kyle Cottam | Litchfield Park, Arizona | T20 |
| Puwit Anupansuebsai | Litchfield Park, Arizona | T26 |
| Steve Sugimoto | Litchfield Park, Arizona | T26 |
| Patrick Sullivan | Litchfield Park, Arizona | T26 |
| Jun Ho Won | Litchfield Park, Arizona | T26 |
| Noah Goodwin | San Jacinto, California | T5 |
| Jack Avrit | San Jacinto, California | T8 |
| Amol Mahal | San Jacinto, California | T11 |
| Cameron Sisk | San Jacinto, California | T13 |
| Camden Price | San Jacinto, California | T17 |
| Eddy Lai | San Jacinto, California | T22 |
| James Song | San Jacinto, California | T22 |
| Noah Woolsey | DuPont, Washington | 3 |
| Finigan Tilly | DuPont, Washington | 13 |
| Taylor Sundbom | DuPont, Washington | T14 |
| Sean Mullan | DuPont, Washington | T25 |
| Jeevan Sihota | Courtenay, British Columbia | T9 |
*LOST IN A PLAYOFF
Amateur Jeevan Sihota already knew he would be playing in the season-opening Royal Beach Victoria Open presented by the Times Colonist in early June by virtue of the sponsor's exemption the tournament granted him. He will hope his conditional status will lead to more starts this season. Sihota, a member of the Canadian Junior National Team, considered attending college after high school, and he received north of 50 different offers from colleges and universities desiring his services. Ultimately, the 18-year-old elected to eschew college and turn pro, something he will do following this week.
The only player with four sub-70 rounds this week was champion Riley Wheeldon (67-67-65-69).
Three additional players posted four sub-par rounds this week: Max Sear, Yi Cao and Brendan MacDougall.
Jared du Toit qualified at Q-School for a second consecutive year. In 2021, du Toit earned his playing privileges by finishing second at the tournament in DuPont, Washington. He held simultaneous PGA TOUR Latinoamérica status a year ago, something he will enjoy again this year. In November 2021, du Toit picked up PGA TOUR Latinoamérica conditional status with his tie for 23rd at the Mexico Qualifying Tournament in Mazatlan. A year ago, du Toit finished 114th on the PGA TOUR Latinoamérica Points List.
A year ago, on the Tour PGA TOUR Canada conducted for players based in Canada, Andrew Harrison had a difficult finish to his season, missing a putt that hung on the lip on the final hole that dropped him into a playoff. He got knocked out in the extra session, earning no 2022 PGA TOUR Canada status. "Last year, I played really well all season. That was pretty devastating at that time. I felt like I had earned it and deserved it, so it felt good to come out and play really well in the second and third rounds (this week) and basically ride those two rounds to get the status," Harrison said.
Quotable
"That is why I came out. Being able to play in front of everybody and ultimately come in first was a storybook ending." –Riley Wheeldon
"It means a lot. I haven't had a chance to yet (turned in 2020). I'm taking a shot playing PGA TOUR Canada this summer. I'm looking forward to it." –Andrew Harrison
"Being up here all summer should be fun. I have six guaranteed starts, so I'll try to make the most of it." –Max Sear
"I've played a few Q-Schools, so I know what to expect. My game was really sharp coming into this one. I prepared really well." –Max Sear
"The last couple of days was a little easier. I was too far back to catch Riley, but more so trying to play my own game and make sure I got the job done." –Max Sear
Final-Round Weather: Mostly cloudy and cool. High of 53. Wind ESE at 8-12 mph.