Haas-Jordan Highlights Sunflector Umbrella For Spring Golf
Details

Category: Inside Golf
Published: 2022-03-19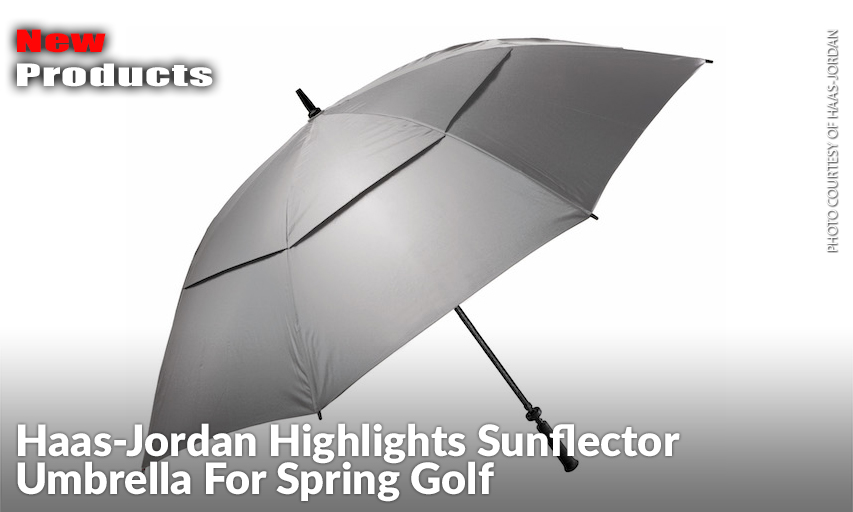 RICHMOND, Virginia — With spring sunshine around the corner, Haas-Jordan is highlighting the advanced technology of its popular Sunflector Umbrella.  
Made of a silver UV reflective outer canopy, the 62" arc Sunflector Umbrella easily reflects 99% of harmful rays to keep the temperature noticeably cooler underneath the canopy. Featuring wind-vents on all panels, the Sunflector helps you stay cool no matter how hot or humid the weather gets.  
"The Sunflector Umbrella really is a game-changer on those sunny, hot days," said Renee Pfau, Product Manager at Devant. "The UV reflective technology makes it an essential item both on and off the course." 
For more information on the Sunflector Umbrella, visit haasjordan.com.  
---
About Haas-Jordan
Haas-Jordan has been manufacturing umbrellas since 1899 and utilizes trusted materials and superior techniques to provide unmatched golf, folding and fashion umbrellas. They were the first to do many things in the rain and golf umbrella industry and began manufacturing the world's first golf umbrellas. From hand-selecting umbrella frames and fabrics that will withstand the strongest of storms to screen-printing permanent designs on the outer canopy, their umbrellas are promised to last a lifetime. Today, Haas-Jordan remains committed to the same innovation, impeccable quality, customer service and outstanding value that the Haas-Jordan Company earned in over 60 years of service to the golf industry. For more information visit haasjordan.com.
About Dynamic Brands
Founded in 2004, Dynamic Brands is the parent company for a portfolio of premium brand name companies committed to the development of innovative, quality products and outstanding customer service in the sporting goods industry. Golf and recreational products are offered through Bag Boy®, Burton®, Datrek® Golf, Devant Sport Towels®, Haas-Jordan™, IGOTCHA®, SEARCH 'N RESCUE® and FLAGPOLE-TO-GO® brands, and include walking carts, golf bags, travel covers, umbrellas, custom sport towels, bag tags, golf ball retrievers, flags and accessories. Dynamic Brands' products are marketed in 87 countries worldwide. For more information, please visit www.dynamicbrands.com. Follow us at www.facebook.com/dynamicbrandsrva and www.linkedin.com/company/dynamic-brands.