Break Up Those Winter Woes With A Swing Through The Vancouver Island Golf Trail
Details

Category: Inside Golf
Published: 2022-03-14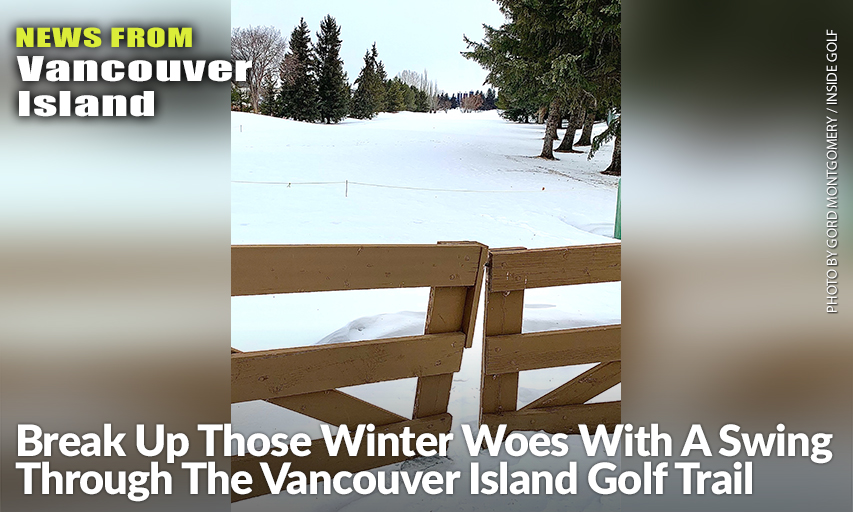 By GORD MONTGOMERY, Inside Golf
VANCOUVER, British Columbia — For those of you living in winter-bound provinces and find yourself tired of chipping ice and snow off your sidewalk, driveway, and car, the Vancouver Island Golf Trail people have some advice for you: Come to the island and chip golf balls instead. Over this 250-kilometre stretch you'll find many playgrounds where the early spring is a great time to escape the woes of winter and enjoy great scenery, food, and most of all, golf!
Chris Elder from Golf Vancouver Island had this to say about their bucketful of phenomenal courses that await you: "Right now the courses are open and conditions are really good. We had a wet winter but course conditions are fantastic across the Trail. The biggest thing we like to share is the Trail is available for year-round golf. There's only been a handful of days where courses on the island have been closed but for the most part, we've been open all year."
If Vancouver Island seems a long way away, especially if you have to dig your car out from under a foot or so of snow to head to the airport, don't think twice about grabbing that shovel. There are direct flights from Alberta airports to two destinations on the island, Victoria on the south end and Comox on the north plus one in the central area via a direct flight or through a connection. And, the flights are quick.
"We are fortunate we have three gateway airports," Elder said of the two above plus Nanaimo. "We have direct flights to Victoria and Comox from Edmonton and Calgary. Then, Nanaimo also has direct flights from Calgary, or from Edmonton to Vancouver then Vancouver to Nanaimo."
Those landing strips give travellers the ability to play a specific area if they so choose — the southern area around Victoria; the central area out of Nanaimo; and then the north end of the Trail via Comox. Or, you can deplane anywhere and do the entire Trail if you so choose.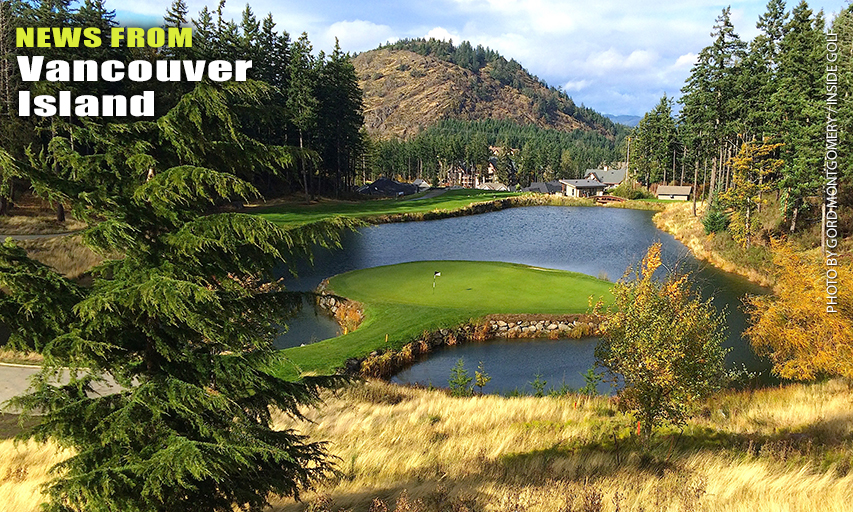 ...They Can Overcome That Sadness By Hopping On A Quick Flight To Vancouver Island Where You'll Find Early Season Golfing Delights Like This Shot Of One Of The Beautiful Holes At The Mountain Course At The Bear Mountain Golf & Country Club. The Choice Is Up To You.
Around Victoria and Cowichan, you have a host of choices including two Bear Mountain layouts (Moun-tain and Valley), Highland Pacific, Olympic Falls, Abutus Ridge and the Cowichan G&CC. The mid-island stops could include Fairwinds, Morningstar (which has undergone some major improvements recently) and Eaglecrest (9 holes). And then at the north end, one finds beautiful layouts featuring stops at the Campbell River G&CC, Storey Creek, Quadra Island (9 holes), and Crown Isle.
As for planning such a wonderful journey, there are two ways to go about that. You can book things on your own through the packages offered by Golf Vancouver Island or have them do all the arrangements for you.
"We offer anything from overnight stays to multi-day, 13 night Vancouver Island Golf Trail experience packages," explained Elder. "It depends on when you're coming in terms of your price points. We notice that a lot of people choose a destination - Victoria for example. Especially from Alberta where we see the two- to three-night package and then they;re playing two to three golf courses depending on how much play they want to get in," with prices contingent on where one chooses to stay and which course they wish to take on. "There are plans and packages on our website and one of our most popular ones is our Victoria Golf Getaway Weekend."
Elder went on to say that like everywhere in the past two years, golf on the island has boomed. As such, they've had high occupancy rates at hotels and huge demands for tee times but even so, the prices of-fered on the website for stay-and-play packages are extremely attractive.
Speaking about the bucketful of phenomenal courses that draw world-wide attention, Elder had this to say about the 13 courses on the Trail. And yes, there's anything and everything players are looking for.
"What's great about the Golf Trail is you have such a variety. You have a premium product with Bear Mountain with phenomenal views of Victoria (from high above) ... and you can contrast that with courses like Storey Creek which is tree-laden and is surrounded by nature. No homes around you, just the golf course and a bit of wildlife, maybe ... to a course like Fairwinds where on the number two hole you have the view. You're hitting right over the ocean. What's really cool is you have that variety of experiences."
So yes, there's nothing better than getting your golf season off to a great start than by swinging the sticks early in the year on the West Coast along the famed Vancouver Island Golf Trail.
And by the way, if you have a non-golfer in your party, don't worry. There's lots to do at every venue including whale watching, salmon fishing, shopping, great restaurants, wineries, an Ale Trail, and much more. All these are listed on the Trail's website at golfvancouverisland.ca.