Imperial Partners With Women's Golf Day To Support Women In Golf
Details

Category: Inside Golf
Published: 2022-03-08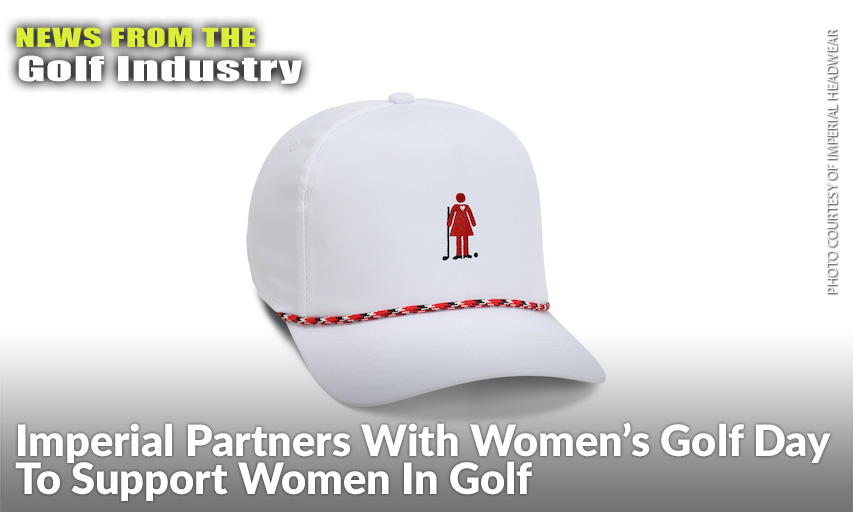 BOURBON, Missouri — Imperial, voted the #1 headwear brand for all Public, Private and Resort golf facilities by the Association of Golf Merchandisers (AGM), is proud to announce a new partnership with Women's Golf Day, a global community focused on engaging, empowering and supporting women through golf.
"Imperial is excited to enter into a new partnership with Women's Golf Day," said David Shaffer, Senior Vice President of Sales at Imperial. "One of our core values is supporting the growth of the game, and WGD is leading the charge on a global scale."
Women's Golf Day (WGD) hosts events around the globe annually on the first Tuesday in June each year, June 7, 2022, that encourage women to explore local facilities, take lessons and find other ways to get involved in the game of golf. Through their recent partnership agreement, Imperial headwear will be available in all WGD locations where Women's Golf Day brands are sold. Additionally, Imperial will include a collection of WGD logoed bucket hats, Tour Visors®, sun protection hats and performance styles on Imperialsports.com.
"We are very excited to welcome Imperial Headwear to the international WGD family as our headwear partner" says Elisa Gaudet, Founder of Women's Golf Day. "Women's Golf Day has evolved into a robust worldwide community of people, brands, and organizations whose shared passion is golf and we are excited to welcome Imperial. Our signature red and white colors that women wear on Women's Golf Day are known around the world and we look forward to introducing new fun and exciting styles from Imperial's extensive line."
---
About Women's Golf Day
Women's Golf Day (WGD) is a global movement that Engages, Empowers, and Supports women and girls through golf and facilities them learning the skills that last a lifetime. The one-day, four-hour event, has now taken place at more than 1000 locations in nearly 80 countries since its inception in 2016, and has introduced thousands of new golfers to the sport. WGD is the fastest-growing female golf development initiative.
For further information, please visit www.womensgolfday.com. Follow Women's Golf Day on social media: @womensgolfday #WomensGolfDay #WGDunites
About Imperial Headwear
Founded in 1916, Imperial Headwear is the leading manufacturer of premium quality headwear, apparel, and accessories for the golf market. Imperial's products can be found at 97 of the Top 100 and over 70% of the Top 400 golf courses in the United States. Imperial is committed to style, functionality, and perfection in fit and comfort. It is this commitment that has allowed the creation of a wide variety of headwear and apparel with quality that is second to none. Renowned for its superior customer service and art customization capabilities, Imperial offers its products using the most innovative fabrics and designs, as well as logo decoration and embellishment technologies.
For further information please visit Imperialsports.com. Follow Imperial Headwear on Twitter and Instagram at @ImperialHats and Facebook.com/ImperialHeadwear.