Imperial Announces New Additions To 2022 Collection
Details

Category: Inside Golf
Published: 2022-03-08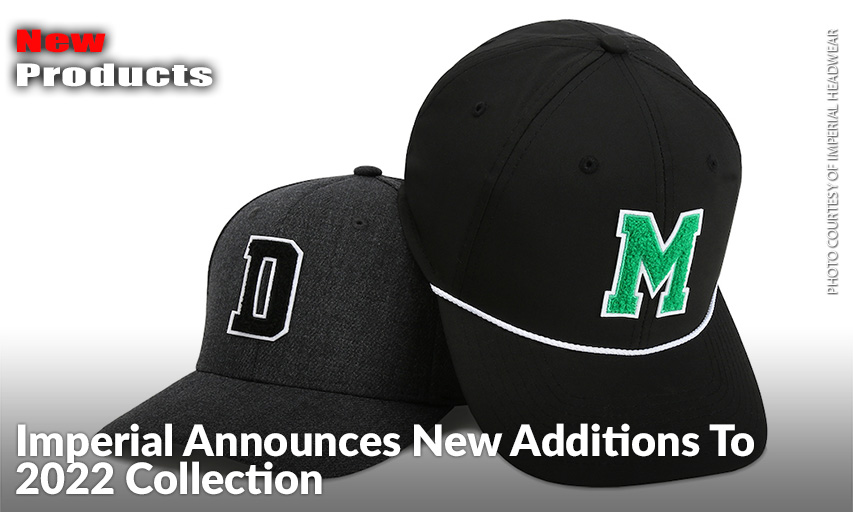 BOURBON, Missouri — Imperial, recently voted the #1 headwear brand for all Public, Private and Resort golf facilities by the Association of Golf Merchandisers (AGM), announced mid-season additions to its 2022 Collection of headwear.
New styles and colorways debuted for Imperial sales representatives this week as the brand continues to build on its growing selection of rope caps, performance styles and trending 'Micro Pattern' prints. Innovative new decoration techniques were also announced, such as new domestic Chenille letters that give a classic varsity look to any style, as well as new 3D Chain Stitch now available through the Imperial Empire Program.
One of the most noteworthy announcements from Imperial last year was the launch of a new Custom Rope Cap Program inspired by one of the best selling hats in golf – The Wrightson (style 5054). In order to provide more variety to their customers, this week Imperial announced the addition of two new six-panel styles to the program. Customers can mix and match 14 total base fabric colors with over 30 solid and multi-color ropes in small quantities.
These new six-panel rope cap styles have also been added to Imperial's 2022 domestic in-stock offering with availability starting in June:
The Wingman has the same performance polyester fabric, woven rope and plastic snap closure as The Wrightson, but with a six panel, structured mid-crown profile. The Wingman will be available in 10 different cap/rope color combinations in June.
The Night Owl (style 7055)
The Night Owl has the same crown fabric, woven rope and new six panel, structured mid-crown profile as The Wingman, but as an adjustable mesh back variation. The Night Owl will be available in 6 different cap/rope/mesh color combinations in June.
Also, new color options were included in the mid-season announcement. The Oglethorpe (style 4062)  a knit performance tonal camo cap now comes in 'True Navy', and The Manifold (style 5057) a pigment washed rope cap now comes in 'Honey' with a black rope. But perhaps the most anticipated and well-received new color additions were the six new 'Micro Pattern' prints announced for The Alter Ego (style X210R) performance cap. 'Micro Pattern' prints have been a trending look in golf apparel, which is translating to the headwear category. Imperial continues to lead the industry in micro print headwear options with the addition of new nautical, desert, winter and space-themed patterns, all available to ship starting in June.
"We are committed to developing innovative headwear styles and decoration techniques that golf consumers recognize as distinctly Imperial right now," said David Shaffer, Senior Vice President of Sales at Imperial. "And being able to deliver these new quality products quickly is what is really driving our customers' business and serving up great margins too. The strength of our brand, product line and service, coupled with all the supply chain headwinds the industry is facing are all giving Imperial a real advantage right now."
---
About Imperial Headwear
Founded in 1916, Imperial Headwear is the leading manufacturer of premium quality headwear, apparel, and accessories for the golf market. Imperial's products can be found at 98 of the Top 100 and over 70% of the Top 400 golf courses in the United States. Imperial is committed to style, functionality, and perfection in fit and comfort. It is this commitment that has allowed the creation of a wide variety of headwear and apparel with quality that is second to none. Renowned for its superior customer service and art customization capabilities, Imperial offers its products using the most innovative fabrics and designs, as well as logo decoration and embellishment technologies.
For further information please visit Imperialsports.com. Follow Imperial Headwear on Twitter and Instagram at @ImperialHats and Facebook.com/ImperialHeadwear.