Weatherman Umbrella Releases Two New Designs In Award-Winning Arnold Palmer Collection
Details

Category: Inside Golf
Published: 2022-03-08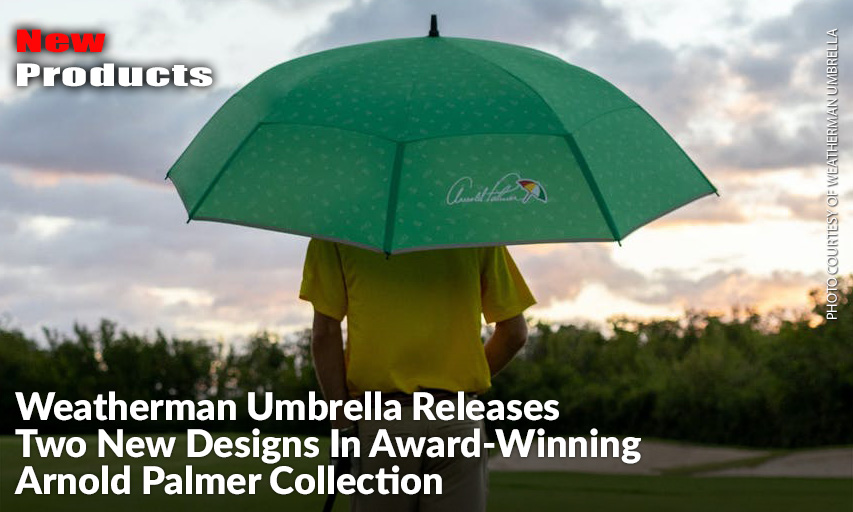 NEW YORK, New York — Weatherman Umbrella introduced the latest designs in its award-winning line of Arnold Palmer themed golf umbrellas and the two new designs are available at WeathermanUmbrella.com.
The Arnold Palmer Fairway Camo is inspired by the most extraordinary courses designed by The King himself, bringing the most iconic holes to life on a canopy built for the most tumultuous of the back nines. The umbrella featuring holes from Bay Hill Club & Lodge, among others, is available in both Collapsible ($79) and Golf ($104) sizes.
Stirred from the legend's favorite beverage, the Arnold Palmer Micro Drink features a tone-on-tone design for an elevated nod to The King's lasting legacy. The micropattern showcases tiny umbrellas as well as drink glasses, bottles and lemon wedges of the famed Arnold Palmer drink. The Arnold Palmer Micro Drink is available in both Collapsible ($79) and Golf ($104) sizes.
"We're so grateful to be partners with the team at Arnold Palmer Enterprises and we've thoroughly enjoyed bringing the Arnold Palmer Fairway Camo and Arnold Palmer Micro Drink designs to life," said Tyler Kupper, Partner at Weatherman Umbrella. "Mr. Palmer's legacy is one that reaches beyond the golf world and we're fortunate to play a small role in keeping his story alive."
The new designs bring everything a Weatherman Umbrella customer expects as the company continues to deliver sturdy and substantial products designed with not only industrial-strength fiberglass framing to withstand winds up to 55 mph and repel the rain, but also UPF 50+ coverage within the fabric for when the sun's rays are really heating up. A special water-repelling technology is used for fast drying, an ergonomic handle for a comfortable grip and reflective accents for safety are all included, and each is covered by a lifetime warranty.
Specific to the golf umbrellas, a new smaller yet still automatic handle has been developed that will universally fit every pushcart used on any golf course. Each golf product also includes a pocket inside the canopy for tees and gloves, as well as a silicon coated rib to hang your towel on — eliminating worry about it slipping off and getting wet.
More information on the entire Weatherman Umbrella Arnold Palmer Collection can be found here.