Jason Day Joins Bridgestone Tour Team
Details

Category: Inside Golf
Published: 2022-03-02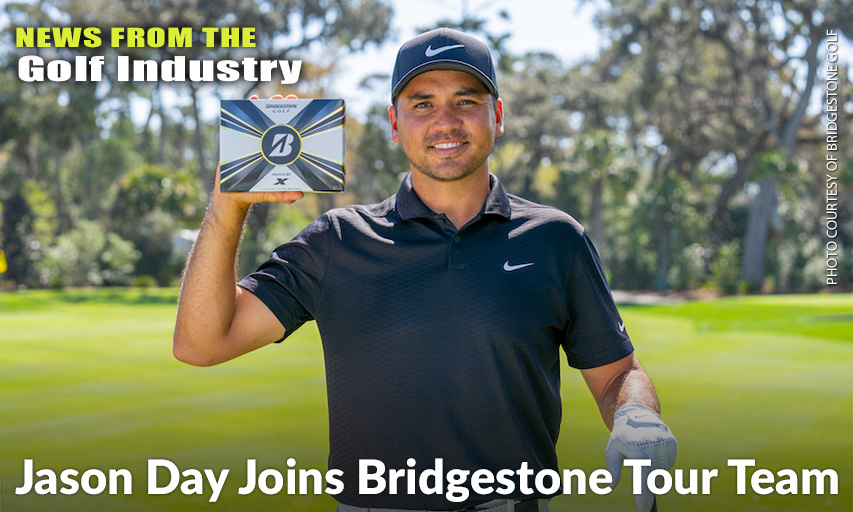 COVINGTON, Georgia — Bridgestone Golf, the #1 Ball-Fitter in Golf, announced the signing of major champion Jason Day to its Tour team. Joining the likes of Tiger Woods, Bryson DeChambeau, Fred Couples, Lexi Thompson, and Matt Kuchar, Day brings an incredible resume, which includes a former World #1 ranking, in addition to personality and charisma to the Bridgestone team.
Day first became interested in Bridgestone's TOUR B XS after seeing Tiger hit some high spinning short game shots that piqued the Australian's interest. Though he had no relationship with Bridgestone Golf at the time, he later began experimenting with Tiger's ball and was impressed enough to start playing it on Tour. Eventually though, Day came to the realization that another model fit his game even better.
"We were doing some short game work with Tiger's ball, the XS, and it caught my attention right away, said Day. "I initially played the XS and liked it but after working with Bridgestone's R&D team and really learning about the ball fitting process, it was obvious that the TOUR B X was the best fit for my game"
According to Elliot Mellow, Golf Ball Marketing Manager at Bridgestone, Day's introduction to Bridgestone golf balls is coincidentally very similar to that of many recreational players.
"We hear from a lot of players who started with Bridgestone by trying Tiger's TOUR B XS model and then eventually transitioned to the TOUR B X, RX, or RXS, after being fitted," said Mellow. "That's what happened with Jason, who felt Tiger's XS model provided a bit more spin than was optimum for his game. We've been focused on fitting for a long time and it's interesting to see that even the best in the world sometimes need help finding the right golf ball for them."
Day, who will be playing the 2022 TOUR B X for the foreseeable future, is excited to have a ball that's optimized for his game.
"Every day I look at what I can do to get better and the choice to play Bridgestone feeds right into that. Personally, I feel kind of like I am cheating playing this ball. Of course, I'm not but it's that good. The performance of the TOUR B affords me opportunities to be aggressive; off the tee, the ball speed is there but it's still super spinny around the green, which is a nice combination."
The addition of Day to the Bridgestone Tour team is significant for a number of reasons, not the least of which is the fact that he is yet another top player who actively sought out the TOUR B golf ball.
"We're extremely excited to have Jason as a member of the Bridgestone family," said Dan Murphy, President and CEO of Bridgestone Golf. "We've been gaining momentum for quite a while and adding another elite level talent like Jason is exciting. The fact that, like all of our Tour players, he requested product to test and played it on Tour before we had an official relationship just further validates our TOUR B line."
The 2022 Bridgestone TOUR B X is available now and features a price of $49.99 per dozen. For more information on the entire family of 2022 TOUR B golf balls, visit www.bridgestonegolf.com.
---
About Bridgestone Golf
Based in Covington, GA, Bridgestone Golf USA manufactures premium golf balls, clubs and accessories under the Bridgestone and Precept brands. The company started making golf balls in 1935 and today has more golf ball design patents than any other company. Beginning in 2006, Bridgestone revolutionized golf ball selection with its custom ball-fitting program, identifying a golfer's ideal golf ball based on personal swing characteristics. Today, as the #1 Ball-Fitter in Golf, Bridgestone has conducted over 3 million fittings via a combination of live-fitting, online selection and its V-FIT video ball fitting. The consumer data gathered from ball-fitting continues to inspire Bridgestone's innovative new golf ball designs, yielding industry-leading performance products for the entire range of players, from recreational golfers to the best in the world. Bridgestone Golf is proudly represented on international professional tours by icons such as Tiger Woods, Fred Couples, Matt Kuchar, Bryson DeChambeau, Jason Day, and Lexi Thompson. Bridgestone Golf USA is a wholly-owned subsidiary of Bridgestone Sports Co. Ltd., headquartered in Tokyo. More information: bridgestonegolf.com.