Big Max Puts Golfers In A Spin!
Details

Category: Inside Golf
Published: 2022-02-24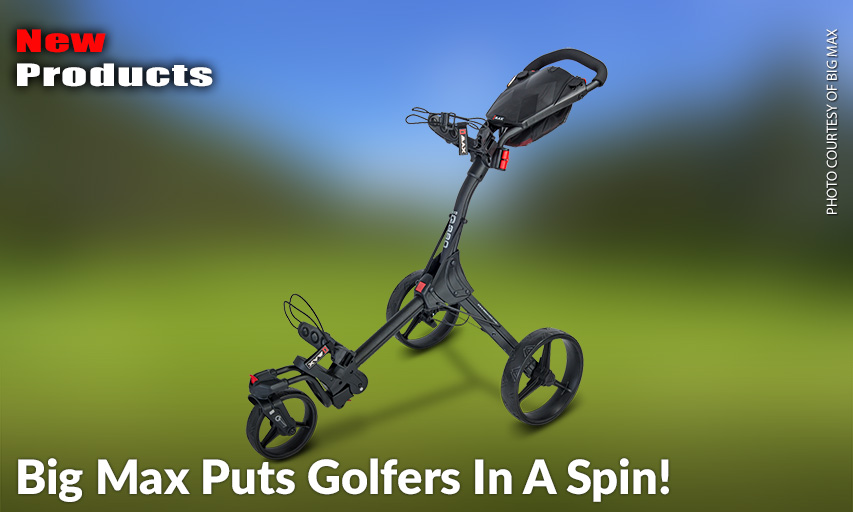 Europe's #1 push cart brand, BIG MAX, is set to put golfers in a spin with the introduction of the new IQ 360 push cart. The ultra-manoeuvrable push cart combines a 360° rotating front wheel and BIG MAX's iconic IQ+ design to give golfers unbeatable performance on the course.
"The new IQ 360 charts the evolution of one of BIG MAX's most iconic designs," comments Rick Oldach, CEO of BIG MAX USA. "The original IQ was designed in the late 1990's and changed the way push carts were viewed in Europe. It was the first push cart to challenge the boundaries of what could be expected from a folding mechanism. It's innovative, stylish and does everything you could need. And with the addition of brand new features and a rotating front wheel, the new IQ 360 has taken an iconic push cart that has sold millions across the globe and made it even better."
The IQ 360 builds on BIG MAX's first ultra compact design, the IQ. Folding down to a compact cube-like unit, the IQ set the template for push cart folding mechanisms across the world. The latest incarnation of this classic features a convenient hand brake; deluxe organizer panel with double scorecard holder, pencil holder and spacious storage compartment and QL bases on the handle for easy fitting accessories. With the addition of the new rotating front wheel that can be fixed in place for more challenging terrain, the IQ 360 delivers unrivalled manoeuvrability to get golfers round the course with ease.
Available now from the BIG MAX website for just $289.99, the IQ 360 is packed with features at a great price. And with a 5 year manufacturer's warranty covering all eventualities, this clever trolley guarantees long lived value for money.
Home - BIG MAX USA (bigmaxgolf.com)
F: facebook.com/bigmaxgolf
T: @BigMaxGolf
Insta: @bigmax.golf
---
About BIG MAX
BIG MAX has been Europe's #1 push cart brand for over 20 years following the unprecedented success of the world's first 3 wheel push cart the Ti1000. Available in virtually every country that plays golf, BIG MAX is a name that has become associated with quality and innovation. It's most recent advancement, Fold Flat technology, has seen BIG MAX pioneer push carts that fold down completely flat, in some cases to less than 5" deep. BIG MAX has furthered its reputation for innovation with its AQUA and DRI LITE technology that in the last quarter of 2017 matched BIG MAX push carts by becoming #1 golf bag and travel cover brand in Germany, a traditional marker for # 1 in in continental Europe.