Motocaddy Launches New M7 Remote-Control Electric Caddy
Details

Category: Inside Golf
Published: 2022-02-24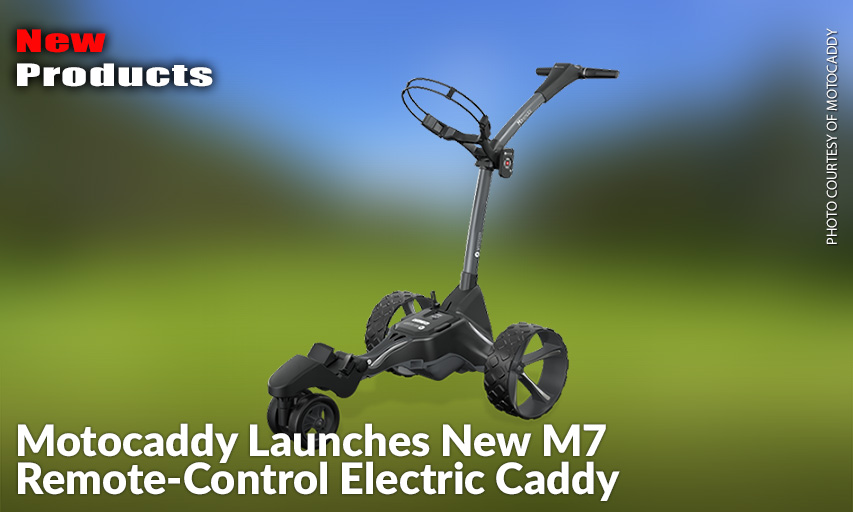 Motocaddy, the world's leading electric cart brand, has launched a brand-new M7 REMOTE powered model, featuring a rechargeable handset, removable anti-tip wheel and automatic Downhill Control technology for the ultimate in responsive control.
The award-winning compact-folding M7 REMOTE — part of the popular M-Series range — also incorporates new slimline all terrain rear wheels and new anti-glare LCD widescreen display featuring an on-screen remote battery meter to ensure the wireless handset remains charged and ready for action. It also features a removable rear anti-tip wheel keeping the caddy stable through rough terrain and course undulations.
Utilising advancements in remote control technology, the 'ergonomic' remote handset is extremely easy to use and fully rechargeable — using the caddies USB charging port if needed. It can move the caddy forward, left, right and in reverse, with a handy pause and resume feature. It can also switch readily from remote to manual mode and back again, if the user wants to control it from the handle like a regular caddy via the on/off button.
Established over a decade ago, Downhill Control Technology (DHC) has undergone extensive development and refinement since its creation. The game-changing technology is now considered an essential feature for thousands of golfers across the globe and ensures the cart maintains a constant speed while moving down a gradient, helping golfers stay in complete control around even the most undulating golf courses.
"The M7 REMOTE has been incredibly popular with U.S. golfers since it first launched almost two years ago and I know the new model will be exactly the same," said Motocaddy U.S. President, Roger Teat from the brand's Carlsbad Headquarters.
"From all of our consumer research, we know remote-control carts are the go-to choice for walking golfers here in the States and we've included game-changing technology into the new M7 REMOTE to revolutionize the game on and off the course," he added.
In addition to including Automatic Downhill Control, there is a handset lock function to prevent the handset from being engaged accidentally. Equipped with a wider wheel-base than standard M-Series models, the M7 REMOTEhas an impressive 50-meter range and is powered by two whisper-quiet 230W motors.
The sophisticated remote-control model integrates all the cutting-edge M-Series functionality, including the world's simplest folding mechanism and innovative trunk-friendly designs such as revolutionary space-saving technology like innovative inverting wheels to fit into the tightest spaces and a convenient auto-open stand, allowing the caddy to stand upright for minimised folded footprint.
The M7 REMOTE also features a next-generation high-power 28.8V system, a waterproof Lithium battery that can be charged on-board eliminating the need to remove the battery for storage, transportation, easily-adjustable handle height, over-sized tubing for ultimate caddy stability and the brand's pioneering EASILOCK bag-to-caddy connection system, allowing the golfer to securely attach a Motocaddy golf bag without the need of a lower bag strap.
Available from this month, the new M7 REMOTE comes with a graphite frame and Lithium battery at $ 1,549.00 RRP.
For more information about Motocaddy products including electric caddies, push carts, bags, batteries and accessories, please visit www.motocaddy.us or contact This email address is being protected from spambots. You need JavaScript enabled to view it..