Free-To-Play 'PGA TOUR Pick'Em Live' Powered By PointsBet Game Released
Details

Category: Inside Golf
Published: 2022-02-15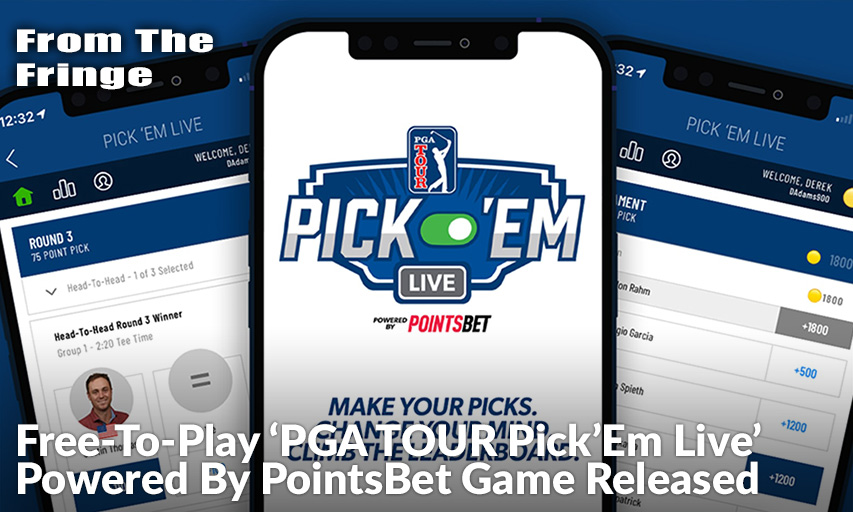 PONTE VEDRA BEACH, Florida — The PGA TOUR and NBC Sports launched "PGA TOUR Pick 'Em Live" within the official PGA TOUR app and on the TOUR's website. The free-to-play game, developed by Low6 and exclusively powered by PointsBet in the U.S., is designed to enhance fan engagement with live in-play games and weekly prizes.
Fans can enter the game at nearly any point during a tournament week and make selections on competitions including overall winner, group winner and head-to-head, with the points system directly tied to live odds.
"We look forward to working with NBC Sports, PointsBet and Low6 to provide a free-to-play game for PGA TOUR fans," said Norb Gambuzza, PGA TOUR Senior Vice President, Media and Gaming. "Sports betting products in golf continue to experience tremendous growth so we're excited to provide our fans with the option to experience exciting in-play games in a free-to-play environment."
PGA TOUR Pick 'Em Live will feature guaranteed weekly prizes valued up to USD $5,000, with the first competition opening on February 15 in advance of The Genesis Invitational. Once player groupings and tee times are confirmed each week, the full set of game options within "PGA TOUR Pick 'Em Live" will be available for users to begin making selections. 
"We are delighted to be launching this new pick'em game in partnership with NBC Sports, the PGA TOUR and PointsBet," said Jamie Mitchell, Low6 co-founder and CEO. "This product highlights our position as a world leader in developing innovative digital sports games and we look forward to engaging with the global golf market through PGA TOUR Pick 'Em Live."
PGA TOUR Pick 'Em Live is available in the PGA TOUR app, downloadable on iOS and Android, or on PGATOUR.COM at https://pickemlive.pgatour.com. PGA TOUR Pick 'Em Live will be integrated into GOLFchannel.com, NBCsports.com and GOLF Channel.
"At PointsBet, enhancing fan engagement across all markets is a key focus for us, and we're excited to be working with Low6, NBC Sports and the PGA TOUR on a product that does just that," said Eric Foote, PointsBet Chief Commercial Officer. "As we continue to increase the number of in-play betting opportunities, 'PGA TOUR Pick 'Em Live' helps us redefine and elevate the way we interact with PGA TOUR fans. This launch not only underscores our commitment to diversifying our portfolio of innovative products for customers, but it also highlights how and where we can reach users."
---
About PGA TOUR
By showcasing golf's greatest players, the PGA TOUR engages, inspires and positively impacts our fans, partners and communities worldwide.

The PGA TOUR, headquartered in Ponte Vedra Beach, Florida, co-sanctions tournaments on the PGA TOUR, PGA TOUR Champions, Korn Ferry Tour, PGA TOUR Latinoamérica and PGA TOUR Canada. Members on the PGA TOUR represent the world's best players, hailing from 28 countries and territories outside the United States (90 international members). The PGA TOUR has long-term domestic distribution partnerships for broadcast coverage on CBS, NBC and Golf Channel and video streaming service on ESPN+. Internationally, PGA TOUR coverage is available across 200+ countries and territories in 27 languages via 43 local broadcast partners, in addition to the digital streaming service platform GOLFTV powered by PGA TOUR. Virtually all tournaments are organized as non-profit organizations to maximize charitable giving, and to date, tournaments across all Tours have generated more than $3.37 billion.
Fans can follow the PGA TOUR on PGATOUR.COM, the No. 1 site in golf, on the PGA TOUR app and on social media channels, including Facebook, Instagram (in English, Spanish and Korean), LinkedIn, TikTok, Twitter, WeChat, Weibo, Toutiao, Douyin and LINE.

About Low6
Low6 is a leader in sports gaming technology that powers franchises with their own branded gaming experiences to engage and monetize their digital fanbases. For the fans, by the fans – Low6 inspires innovative and creative solutions that redefines future sports mobile gamification. Low6 is proud partners of the NFL Jacksonville Jaguars, NFL Cincinnati Bengals, NBA Detroit Pistons, PGA TOUR, DP WORLD Tour and UFC. Low6 was the recipient of "Innovation of the Year" at the 2021 EGR iGaming Awards and further awarded the "Virtual Sports & Fantasy Operator" and "Rising Star" at the EGR Operator Awards 2021. www.low6.com