Brothers Hope BRDYZ Brand Takes Flight With Golfers
Details

Category: Inside Golf
Published: 2022-02-03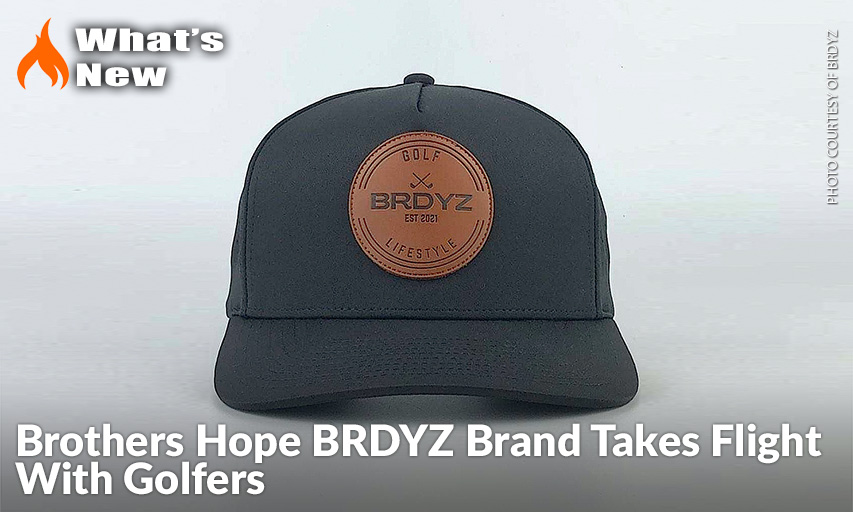 By GORD MONTGOMERY, Inside Golf
LANGLEY, British Columbia — At times when a new business hits the street the entrepreneurs behind the scene find a shift in focus is necessary because they're joining a somewhat crowded marketplace. Such was the case for brothers Jaime and Gordon Jarvis and their idea to join the golf accessory business.
Since they didn't necessarily have anything to make their products stand out from competitors who had been in the business for several years, a shift was deemed necessary. So, in order to propel their line into high standing, they've come up with the idea of branding themselves better through apparel and in particular hats, with the newly-created BRDYZ brand.
"Our hats are slowly getting out to the people," Jaime said of launching this new idea.
"I wanted to come up with something unique and sort of our tagline. Maybe come up with a brand that people can wrap their heads around and apparel and golf go hand-in-hand and every golfer wears a hat .… well, 99 per cent of golfers wear hats, so I thought I'd get really aggressive with the hats and get them out to as many golf courses as possible."
As to the thought behind all of this, "You open that door with one product then it becomes easier to get other products in."
He noted that an accessory competitor had advised the brothers to "Come up with a brand, something that's marketable," in order to help propel their accessory lines forward. Thus far Jarvis has found inroads with the hat idea through some great marketing since getting noticed in this line of wear isn't easy given the big names he'll come up against in pro shops.
"Right now, we've only been trying to get our hats into pro shops the last week-and-a-half or so, we've found people like our story, like the brand. They like the family business and everyone knows right now supporting local is a good thing. And, like that hat's good. I'll put it up against any other brand of hat."
While a hat is a hat, Jarvis suggests his lids are leading the way in comfort and keeping its users cool under pressure (well, that may be up to the golfers themselves). Their website states: "Our polyester spandex blend combined with the perforated design minimizes sweat and water retention while maximizing breathability," in its snapback design.
"Not every brand is doing that, so we decided to start with that. That blend, it seems to be when people look at it, get their hands on it, they see the quality's different."
As for the unique marketing end, Jaime decided to have a somewhat early birthday party for his area's golf course managers in the Lower Mainland. He dropped a cap into a bag proclaiming HAPPY BIRTHDAY and left them at the desk of course managers. Apparently the idea is working.
"We were heavily into cold calls (with their accessories) but I thought we'd change that. I have a lot of names and contacts at golf courses," meaning the brothers knew who to target with the birthday deliveries, whether or not those born-on dates coincided with the drop-off date. "When they opened up the bag and the card, it said, 'We know it's not your birthday but this is what we're doing. Here's our product, and any support you may want to give us would be amazing.' "
And that, as it turns out, is working. So far BRDYZ has landed in a pair of pro shops including Newlands GC in Langley, and the interest from other facilities is beginning to take flight.
If you don't live in the Lower Mainland and like the look of this new-to-the-game hat idea, Jarvis is also going the direct-to-consumer route through their website where information on prices and wholesale orders can be found at BRDYZ.com.
And sticking with their original pledge, 15 per cent of all sales will be donated by the brothers to youth sport programs in their area.