Korn Ferry Tour Announces 3-Year Extension For LECOM Suncoast Classic
Details

Category: Inside Golf
Published: 2022-02-03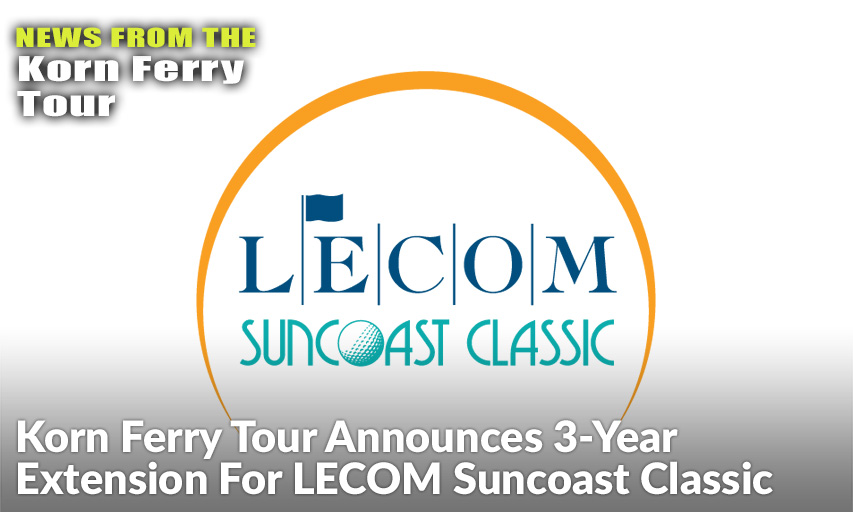 BRADENTON, Florida — The LECOM Suncoast Classic – one of the premier events on the Korn Ferry Tour schedule – will continue its run through 2026, as the Korn Ferry Tour and Lake Erie College of Osteopathic Medicine (LECOM) announced a three-year extension of the annual Korn Ferry Tour event.
"We are grateful to have LECOM as part of the Korn Ferry Tour family," said Korn Ferry Tour President Alex Baldwin. "Bradenton is an amazing community with supportive, passionate fans, and the LECOM Suncoast Classic has solidified itself as a favorite amongst our players. With an ever-growing commitment to charitable giving and making a difference in the local community, the LECOM Suncoast Classic will continue to be staple on the Korn Ferry Tour for years to come."
LECOM prepares students to become osteopathic physicians, pharmacy practitioners and dentists through excellence in education, research, clinical care and community service to enhance the quality of life for all through improved health.
The LECOM Student Scholarship Fund, the First Tee of Sarasota/Manatee, and The Bradenton Dream Center will continue as the tournament's benefitting charities, and Visible Men Academy will be a new beneficiary for 2022. Since its inception in 2019, the LECOM Suncoast Classic has raised over $600,000 for the LECOM Student Scholarship Fund and other local charities, including Meals on Wheels PLUS of Manatee County and the Tidewell Hospice Foundation.
"LECOM, a proud partner of the Korn Ferry Tour since 2016, is pleased to extend our contract with the PGA TOUR," said Dr. John Ferretti, President and CEO of LECOM. "We share its commitment to nurturing future leaders who perform at the highest levels with the utmost professionalism and integrity. For LECOM, those leaders have come in the form of next-generation physicians, pharmacists and dentists prepared to meet the challenges of 21st century healthcare. We are grateful the LECOM Suncoast Classic will benefit the school's Student Scholarship Fund, providing vital financial assistance to our students."
This year's tournament will be held at Lakewood National Golf Club's Commander Course from February 17-20, 2022, with an increased purse of $750,000. Tickets are on sale now, and volunteer registration is open.
Hayden Buckley won the 2021 LECOM Suncoast Classic in a playoff over Dawson Armstrong and Taylor Montgomery. Buckley went on to earn a PGA TOUR card via the Korn Ferry Tour Finals, while Armstrong and Montgomery both retained Korn Ferry Tour membership for the 2022 season with top-75 finishes in the 2020-21 Korn Ferry Tour regular season points standings. In 2020, Andrew Novak won by one stroke over John Chin and went on to earn a PGA TOUR card via the 2020-21 Korn Ferry Tour Regular Season Points Standings.
For more information on the LECOM Suncoast Classic, please visit www.LECOMSuncoastClassic.com.